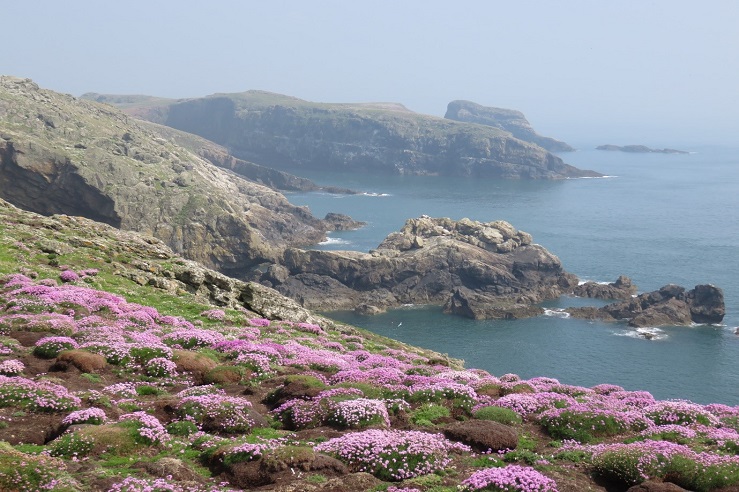 On the southwest coast of Wales lies St Brides Bay, bordered by Ramsey Island to the north and Skomer Island to the south. Both islands have strong currents on the east and west passages whilst St Brides Bay is relatively calm. For a yacht on passage north, there is tremendous sailing in St Brides Bay with views over to the hills on Ramsey Island and Carn Llidi on the mainland. A yacht on passage south has views to Skomer Island and the mainland. With the prevailing winds for the area (westerly) if a yacht is lucky enough to have west or east winds then the sailing across St Brides Bay is on a beam reach which is perfect to sit back and enjoy the view!
A yacht wishing to visit Skomer Island is always welcome to stay at North Haven where there are four visitor buoys provided, however if none are available anchoring is also permitted beyond the no anchoring buoys to seaward (north) of the visitor buoys or South Haven where anchoring is permitted but going ashore is not. If the intention is to have a walk around the Island it is always best to do this from North Haven, there is a pebbly beach at North Haven where a dinghy can be left and a track going up onto the Island. Please note, there is a charge for going ashore and dogs are not allowed and it is a good idea to contact the Island Wardens to find out if there are any issues with landing (VHF Ch 74 – "Skomer One").
Once on the island there are paths all the way round and one can enjoy tremendous views and wild life. Skomer is also home to a large colony of Puffins which is amazing to see. Some of the other birds to be seen are Manx Shearwater, Razor Bills, Little Auks, Guillemots, Fulmars and Choughs. Visitors may also spot Grey Seals swimming around the island or on the beaches (especially at South Haven).
In May, the Island is covered in bluebells.
There is also an under-sea world at Skomer which, because of its important and sensitive nature, means that the waters around Skomer Island have been designated as a Marine Conservation Zone. (MCZ). There is a marine monitoring and assessment team based at Skomer who look at the huge variety of species present and record annually how they are doing. Starfish, urchins and sponges are monitored for example and seem to be steady, however one species that appears to be declining are Sea Fans which have very delicate structures. For this reason anchoring around Skomer has been prohibited apart from North Haven and South Haven (except in emergencies). There are documents that yachtsmen should be aware of if planning a visit to Skomer:
Skomer Marine Conservation Zone Byelaws and Codes of Conduct and a map explaining where mooring and anchoring is allowed and the most sensitive areas to be avoided Skomer MCZ Zone Maps.
These are available online and are produced by Natural Resources Wales.
If you are planning a trip to Skomer Island, you can find further details on island opening times, landing charges and biosecurity on the Wildlife Trust of South and West Wales website.

Author: Dom McDonough
Photo credit: Dom McDonough