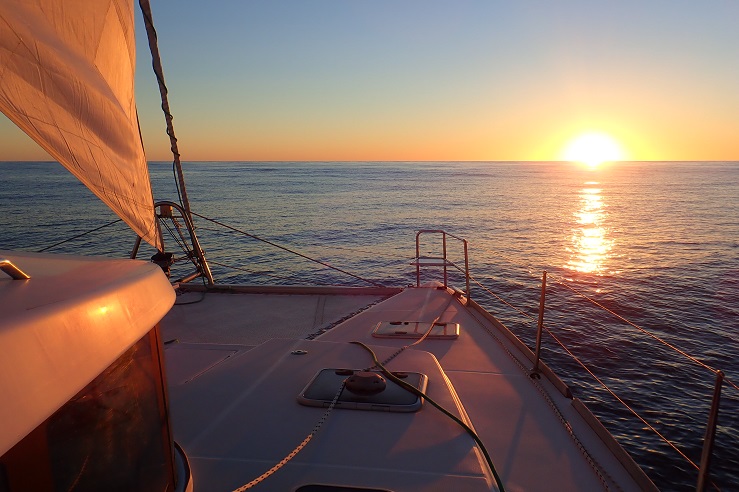 For many years, my husband and I discussed selling everything we owned to buy a yacht and sail off into the sunset. It all sounded so romantic and I thought it was a pipe dream, but then one day everything suddenly fell into place and we found ourselves the proud owners of second-hand Lagoon 440 catamaran, which we collected in Toulon, France.

Our first night on board was on Valentine's Day 2014 and it was a far cry from the romantic dream I'd envisaged. It was cold, pouring with rain and the hatches were leaking. We couldn't get the boat's heating to work, there was no gas to light the stove and, in the middle of the night, the bilge alarm kept going off. It was a tough initiation into liveaboard life and nearly had me running to the hills!

Then there was the very small matter of moving the boat. For while Fergus was an accomplished RYA Yachtmaster, I didn't know how to sail. Getting to grips with sailing our catamaran was a complete baptism by fire. In hindsight, taking a sailing course before we left the UK, would have been a very good idea!

As a novice sailor, my incompetence with lines, knots and mooring buoys resulted in their fair share of tears and tantrums. It wasn't until we reached Greece, six months later, that I felt more at ease on the boat and began working as a team with Fergus.

I realised instinct plays a huge part in sailing, such as knowing when to reef before the winds set in or judging the best place drop the anchor. I mastered the art of long-lining from a tree or rocks ashore to keep it from swinging – essential when anchoring in tight spaces or deep water.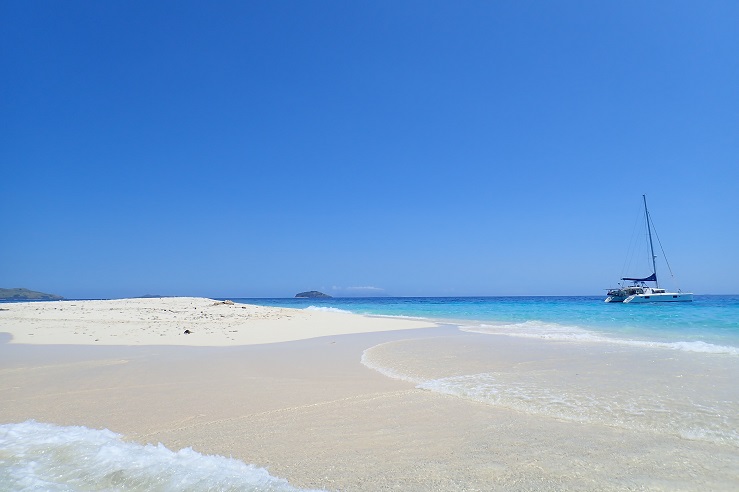 Making Memories Of A Lifetime
After three years exploring Europe, I reluctantly agreed to sail Two Drifters across the Atlantic, from Tenerife to Barbados, which I couldn't have done without the support of four friends who joined us on the crossing.

Arriving in Barbados after just under three weeks at sea was such an amazing feeling of accomplishment. I didn't agree lightly to sailing across the Atlantic, but to have done it and enjoyed it really took me by surprise. I thought it would be difficult being at sea for so long, but I loved everything about it, aside from the occasional squall that is!

Our sailing journey lasted eight amazing years and I don't regret a day. Our passion for travel has taken us halfway around the world, sailing from Greece to Australia - via the USA, Caribbean, South America, Central America and the South Pacific – on a 30,000-nautical mile journey, crossing two oceans and taking in five continents.

With an intrepid curiosity for adventure and exploration, we have visited hundreds of islands - met lots of interesting people - and ticked many once-in-a-lifetime experiences off the bucket-list along the way, such as swimming with whales and snorkelling with dolphins, sharks, turtles and manta rays.

Along with the amazing highs, we've also had stupendous lows and have navigated our way through some ferocious storms, been chased by modern-day pirates and also dealt with countries closing their borders in March 2020 while we were sailing 4,000 nautical miles across the Pacific Ocean.

We have worked together as a team on this extraordinary journey and, at times, I have had to push myself way past my comfort zone, such as sailing double-handed from Panama to French Polynesia and onwards to Fiji and Australia.

Fancy Setting Sail?
If taking the plunge on a liveaboard life sounds appealing, read as much as you can on a cruisers' life before you set off, including sailing guides, blogs and watching some of the YouTube sailing channels. Also, tap into those who have already done it. There are so many people, like us, who are more than happy to offer advice and to pass on their knowledge and experience.

If you're hoping to cross an ocean, the Ocean Cruising Club is a great source of support, suggestions and information (oceancruisingclub.org). Its members are a diverse group of offshore sailors that have a common aim of adventure and helping each other out at sea. We have shared so many amazing experiences with OCC members, who are now life-long friends.

Sailing the dream comes with a multitude of challenges, but each day is an opportunity to make a new memory and have an adventure of a lifetime - and the sunrises and sunsets while offshore sailing are simply the best.

It may take us a few years to save up for the next boat, but I can't wait to do this all over again. Next time, we will complete our circumnavigation!
Jenevora Swann and her husband Fergus Dunipace were liveaboards on their catamaran Two Drifters for eight years. They sailed halfway around the world from Greece to Australia before pausing their circumnavigation in 2022. They are available as motivational and after-dinner speakers. www.Facebook.com/TwoDriftersTravel / www.TwoDriftersTravel.com