When it comes to promoting your club, there are lots of free resources and tools available to support your marketing – and to help you target the audiences you would like to reach.
It may be that you would like to engage existing members more effectively, or attract new members, but like many clubs, you may have a shortage of volunteers to support making this happen. With this in mind, here's a handy guide of the resources and campaigns currently available to help!
Gareth Brookes, RYA Midlands Regional Development Officer Manager, says: "Whether you are trying to reach new audiences or existing members more effectively, there are some fantastic resources out there for your club or centre to support your marketing and communications."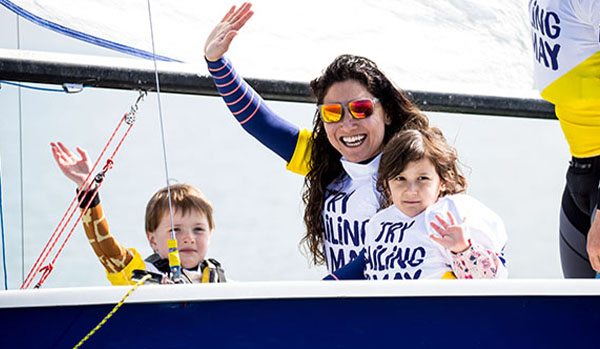 Improving communications
There are lots of ideas and resources in Club Zone dedicated to Improving Communication with Members – where you will find social media guides, templates for eye-catching graphics, do's and don'ts for member surveys, top tips for taking great videos and photos, and ideas for breaking down communication barriers.
Editable resources using the free online tool Canva enable you to design your own posters and social media graphics. You can use your own photos, add your event details and use our stock images and designs, with unlimited possibilities for creating quality publicity materials.
Also in this section of Club Zone, there is a link to the Sport England Digital Marketing Hub, launched recently in association with CIMSPA (Chartered Institute for the Management of Sport and Physical Activity). This aims to support clubs and sports organisations with free resources to improve their digital marketing skills, and includes free on-demand learning, seminars and peer networking.
If your club is keen to reach out to new members this year, you may also want to take a look at our RYA online resources and case studies for Finding New Members, which include how to improve your website and social media presence, and guidance for advertising.
Campaigns to support your cause
For clubs wanting to re-engage members or reach out to new ones, this year will again see the return of the RYA's Discover Sailing campaign, with free resources, a how-to guide and national promotion to help you get more people on the water.
Last year's campaign saw more clubs and centres offering bookable sessions rather than 'all-comers' open days. This proved easier to manage for volunteers and when visitors signed up in advance they were more likely to be genuinely interested in the sport, resulting in higher conversion rates into training courses or memberships.
Clubs and centres can order a choice of ReDiscover/Discover Sailing resources to suit their individual needs plus additional resources at cost, with each club and centre having an £80 a year contribution towards their resources from the RYA. The next print run deadline is 7 April.
Steering the Course
For clubs and centres wanting to engage existing or potential female members, we'd also recommend taking a look at World Sailing's Steering the Course campaign. Returning for 2022, this aims to celebrate women and their roles in the sport, promote opportunities and encourage participation.
Initiatives last year included sharing stories on social media, taster sessions, women helm prizes and supporting females to become instructors or race coaches. It's also a great opportunity to start a conversation with your female members about what is needed to enable them to get out on the water more often. Find out more about how to take part and sign up here.