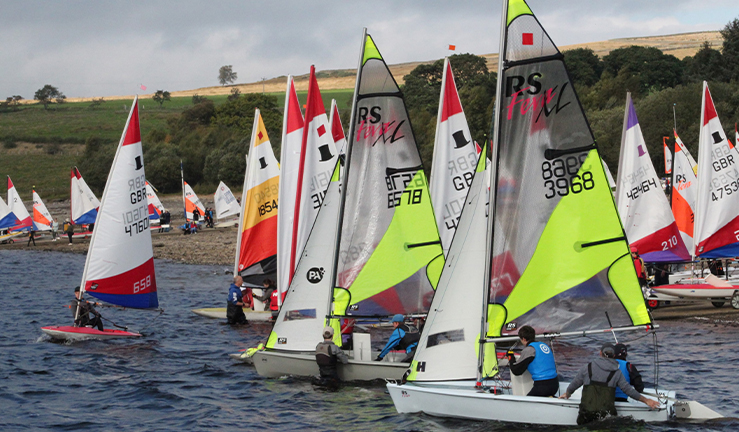 The British Youth Sailing (BYS) Regional Junior Championships will be returning to venues across England and the Home Countries but with a difference – this year's events are in June.
This annual celebration of all that's great about junior sailing traditionally takes place at the end of September but has moved to summer with the aim of making it even more fun and inclusive.
Open to junior sailors from 8 to 16 of all abilities, events will again include Championship fleets for experienced sailors, Regatta fleets with coaching support for rookie racers looking to develop their skills, and fun OnBoard fleets for those new to the sport.
Along with prizes for winning competitors, there will be a range of prizes for sailors exhibiting British Youth Sailing Values and Behaviours and showing a passion for the sport, plus club trophies.
Adam McGovern, RYA North West Regional Development Officer, said: "These events are an amazing opportunity for any junior sailors at your club: the combination of the new format mixed with the earlier summer date will really help create a festival of sailing which will provide lots of fun, friendship and learning at whatever level they are at. The weekend will aim to inspire the sailors, so they leave enthused and ready for the rest of the season. Please encourage your junior sailors and families to sign up and start planning for a great couple of days on and off the water."
Entry is due to open before Easter here. Follow British Youth Sailing and your RYA Region or Home Country social media for announcements and in the meantime find out more at BYS Regional Junior Championships.
John Merricks Sailing Trust
Do you know a junior sailor who would benefit from having their own boat or board to help them develop their racing skills?
John Merricks Sailing Trust (JMST) will again be awarding a boat or board to at least one promising young sailor or windsurfer selected from each of the nine BYS Regional Junior Championship events.
The awards will be made to those who display enthusiasm, drive, talent and commitment to the sport and who may not ordinarily have the opportunity or financial backing to achieve their goals, and will give the recipients two years of exclusive use of their own boat or board donated by the Trust, after which they will be gifted to their club so other young sailors can benefit in the future.
Applications will open 01 April- Find more information
KEY DATES & VENUES
South & South West
East
11 June - Queen Mary SC - Windsurfers

18/19 June – Grafham Water SC – Dinghies


Championship Fleet – Optimists, Toppers, RS Feva XL, Tera (Sport Rig), Cadets, ILCA 4s; Regatta Fleet – Optimists, Toppers, Tera (Sport Rig), Cadets, RS Feva XL (no spinnakers); OnBoard Fleet
London & South East
11 June - Queen Mary SC - Windsurfers

18/19 June - Datchet Water SC – Dinghies


Championship Fleet – Optimists, Toppers, RS Feva XL, Tera (Sport Rig); Regatta Fleet – Optimists, Toppers, Tera (Sport Rig), RS Feva XL (no spinnakers); OnBoard Fleet
North East & North West
11 June - Glossop SC - Windsurfers

18/19 June - Ullswater YC – Dinghies


Championship Fleet – Optimists, Toppers, RS Feva XL, Tera (Sport Rig); Regatta Fleet – Optimists, Toppers, Tera (Sport Rig), RS Feva XL (no spinnakers); OnBoard Fleet
Midlands
11 June - Glossop SC - Windsurfers

18/19 June - Draycote Water SC – Dinghies
Championship Fleet – Optimists, Toppers, RS Feva XL, Tera (Sport Rig), General Handicap; Regatta Fleet – Optimists, Toppers, Tera (Sport Rig), RS Feva XL (no spinnakers); OnBoard Fleet
Home Countries
Scottish Regional Junior Championships - tbc

Welsh Regional Junior Championships - tbc

Northern Ireland Regional Junior Championships -tbc