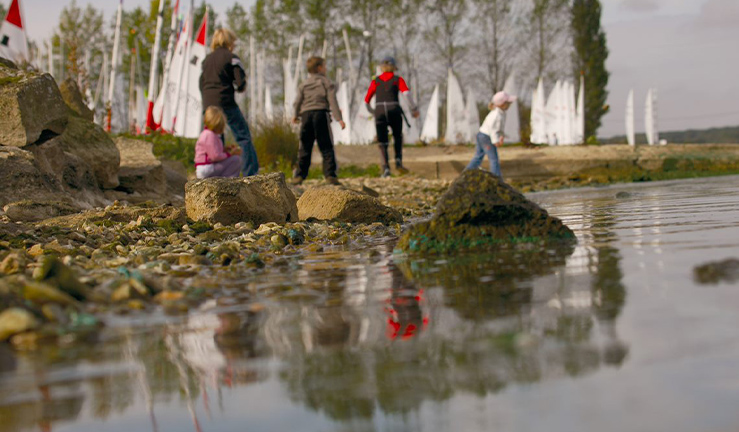 The RYA is committed to a sustainable future for recreational boating and has a wealth of expertise and resources to support clubs seeking to reduce their environmental impact.
Public awareness about climate change and plastic pollution has never been higher and the RYA's Environment and Sustainability team is available to help clubs and their members tackle environmental issues and transition towards sustainable best practice.
Alongside international pledges to tackle climate change at the 26th United Nations Climate Change Conference in Glasgow, COP26, there is an ever-growing emphasis to reduce fossil fuel consumption and cut emissions. The RYA published its Sustainability Strategy in 2020 - Pathways to Zero – and its Carbon Pathway in 2021, with clubs invited to join the journey towards achieving 'carbon zero' by 2050.
Phil Horton, RYA Environment & Sustainability Manager, explains: "For clubs it's about decreasing energy consumption, the provision of renewable energy either via a supplier or self-generated, and thinking about introducing electric vehicle charging points and electric engines for boats."
As part of the RYA's strategy, for example, British Sailing Team coach boats aim to be non-reliant on fossil fuels by 2030, with discussions already underway about electric motors and alternative approaches, including whether all RIBs need the same power and speed capability and for certain scenarios, whether a drone might better, such as for keeping up with a Nacra.
While electric outboard motors may be more expensive up front, they may have lower running and maintenance costs, and in terms of performance, be more controllable with less risk of pollution from fuel and oil handling. Likewise, now is the time for clubs to look towards renewable sources of energy for their facilities, such as water source heat pumps and solar panels.
Phil says: "Most of the equipment bought by clubs has a very long life span so if you buy a new boat or boiler today it will still be around in 2030 or 2050. You may not want to buy an electric engine or change your heating system yet but it's about looking ahead. Our approach is to embed that kind of thinking: it's not necessarily a case of having all the answers right now but about asking the questions when planning for the future and for new equipment. It's an opportunity to be innovative and while initial costs might be higher, longer term costs for clubs should be lower."
Another consideration for clubs looking to improve their green credentials is that would-be members, and particularly younger ones, will be aware of sustainability issues and want to know what your club is doing in terms of its environmental footprint.
Phil adds: "It's notable that our sustainability champions are significantly younger and it's starting to be an area which potential members will take into consideration when deciding whether to join your club. Your impact as an organisation may be small but you have to be making a visible effort towards sustainability and alongside that the messaging is important."
The Green Blue
A good starting point for clubs seeking practical know-how and signposting is The Green Blue, the joint environmental programme created by the RYA and British Marine to promote the sustainable use of coastal and inland waters by recreational boating.
The Green Blue website has lots of resources and advice for Clubs, Centres and Class Associations, including template policies and environmental checklists to help your club or centre identify areas for improvement and create an action plan. Resources also include downloadable posters for raising awareness among your club members, a green business directory for sourcing products, a sustainable events toolkit, and advice for facilities and operations.
In addition, a Single-Use Plastic Free Accreditation scheme for clubs was launched in autumn by the The Green Blue and the Final Straw Foundation with bronze, silver and gold levels of certification. Find out more about this programme to support clubs here.
Coming in the spring the RYA will also be launching sustainability accreditation for clubs alongside a pledge for individual boaters to sign up to an environmental code.
Further information
All the links for RYA Environment and Sustainability policies and resources can be found here.
There is also an RYA Facebook group for clubs wanting to share ideas and discuss how to make their facilities more environmentally sustainable. Email environment@rya.org.uk for further information about this group and to join.
Alongside Phil Horton, RYA Environment and Sustainability Manager, colleagues include:
Environmental Planning Officer Richard Hill, who looks at Marine License Applications which may have an impact on clubs, such as for renewable energy and aquaculture. Richard can also advise clubs on planning and environmental designations such as SSSIs and Marine Protected Areas, and maintains a coastal atlas of recreational boating using AIS data to support responses to planning issues.

Kate Fortnum, Campaign Manager for The Green Blue, whose work includes delivering resources, managing partnerships and projects, and outreach work through talks, training workshops and events exhibits.

Sustainability Officer Olivia Wells, who coordinates The Green Blue's annual University Sailing Sustainability Challenge and supports outreach work, volunteers and sustainability for events and facilities.

Cat Palmer, Team Administrator and environmental planning assistant.

Emma Cotton, Communications Officer for sustainability news.
To contact the team, email environment@rya.org.uk and for environmental planning issues, planning@rya.org.uk