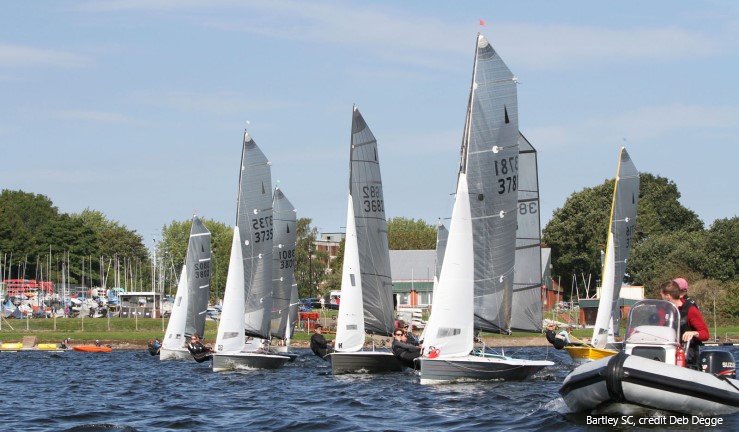 For clubs and centres wanting to run racing, a key benefit of RYA Affiliation is that this can take place under the Racing Rules of Sailing.
The Racing Rules of Sailing (RRS) are revised and published every four years by World Sailing and as a Member National Authority - and the sport's national governing body in Britain - the RYA is responsible for RRS administration in the UK.
The RYA along with other Member National Authorities is able to make submissions to World Sailing's Racing Rules Committee to seek changes to the rules as the sport develops and changes. Two members of the RYA's Racing Rules Committee are currently also members of World Sailing's Racing Rules Committee, which ultimately decides the direction the rules will progress in.
Within the Racing Rules of Sailing, it states that any organisation wanting to run racing using the RRS - including clubs, centres, class associations and any event with a Notice of Race and Sailing Instructions - is required to be affiliated to the appropriate national governing body.
While not all RYA Affiliates are interested in racing, a significant benefit of affiliation for many is the ability to run racing with the support of RRS management and rules disputes processes. RYA Racing also provides education and training for participants and volunteers to help organisations understand and apply the RRS.
In the event of a query or rules dispute that can't be resolved internally, you can seek advice or use the appeals process with the support of the RYA and its racing expertise. RYA Racing will also help you to find appropriately qualified and experienced race officials and coaches to support you in the delivery of a specific event or activity.
Any club or organisations wanting to run racing outside of Affiliation and the RRS has the difficulty of participants having no clear rules or support for the resolution of disagreements, since the racing will be outside of the jurisdiction of the RYA.
Niall McLeod, the RYA's Racing Services Manager, said: "As part of running your racing under the RRS you know that the rules will have been developed and written by experts and are the same wherever you race with the exception of any changes made in the Notice of Race or Sailing Instructions.
"It also gives you access to an appeals procedure. If you have a protest and there is a disagreement over the outcome, you can come to the RYA for advice and support, through informal discussion or a formal appeals process for disputes. We have a rules advisory team who can provide feedback and teams of volunteers who can deliver training for your club, organisation or class.
"A key benefit of Affiliation is that if you have a particular area of racing you require support with, or need advice for a specific problem, help and support is available via RYA Racing."
For further information visit the RYA Running Racing hub.
Racing support
Regional Race Management Coordinators and Rules Advisors are available in each region and Home Country to support your club over the phone, give talks or get on the water with you:
The RYA Racing Rules Advisory Service offers prompt informal advice on racing rules and race management questions from members and affiliated organisations. Led by expert volunteers, clubs can submit their racing rules queries here.
If your club needs extra support for an event, or would like to upskill any volunteers involved in running racing, our RYA Race Officials directory allows you to search for judges, mark layers, measurers, race officers and umpires by name, location and qualification type.
For planning racing management, there are a range document templates for clubs, including for Sailing Instructions and Notice of Race, and assistance for your club with checking SIs or NORs is also available via the RYA Race Management Advisory Service.
There is no charge for these services for RYA Affiliated Clubs although there may be a request to reimburse travel expenses. For support with racing rules and documents get in touch here or for any questions relating to race officials, contact raceofficials@rya.org.uk