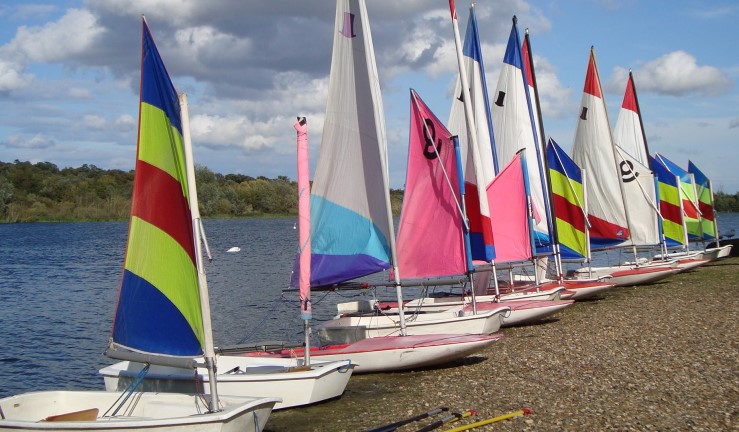 To offer your club opportunities to access free funding, we have partnered with easyfundraising – a platform that turns everyday online shopping into donations for your club!
easyfundraising works with over 6,000 online retailers - including brands like Amazon, John Lewis, eBay, Musto, Wickes, Helly Hansen, Sainsbury's and many more - who will all donate to your club for free to say thank you for shopping with them.
This means that online purchases made by your members can mean more - more equipment, more support for your club and more opportunities for your members.
easyfundraising is an accessible way of creating an additional funding stream from something you, your members, volunteers and supporters are already doing anyway.
If an average online shopper can generate £30 per year, imagine the possibilities if everyone associated with your club started using easyfundraising? Club members with their own business may also want to use easyfundraising for their purchases, stationary, travel or tech, which will mean even more funding for your club.
Sports clubs and teams have taken a share of over £4.4M since easyfundraising first began, and other good causes have taken a share of over £39M. We want your club to start benefiting too.
Free to sign-up and free to use, easyfundraising is a fantastic way to generate funds for your club!
Four simple steps to start earning:
Register your club with easyfundraising – this only takes a couple of minutes.
Share your page with everyone associated with your club, so they can start supporting you every time they shop online, and earn a £5 bonus when they reach their first £5 donation milestone!
Book a free 1-2-1 call with an easyfundraising coach for a quick demo of the site and top tips.
Register your club with easyfundraising by 23:59, 31st March 2022, and one club will be in with a chance of winning a £250 donation. Full T&Cs apply.
Register your club here today, to get started!
If you would like a chance to hear a little more about easyfundraising please join us with Ben Harper, Sports Fundraising Manager with easyfundraising's partnership team, at our webinar on 24 March at 7:30pm. You'll find out how it works, see a live demo, get advice on how to sign up and have the chance ask the easyfundraising team questions. To book simply visit here.
Supporting the RYA Foundation
As well as our Affiliated clubs benefitting from this additional funding opportunity, the RYA Foundation will benefit too. For every successful club referral through our new partnership with easyfundraising, the Foundation will receive a small commission when clubs sign up to the fundraising platform.
The RYA Foundaton has a successful track record of grant giving and is well placed to ensure that funds are appropriately and effectively spent, in line with the RYA's key strategy areas and supporting diversity, inclusion and sustainability. The RYA Foundation supports clubs, training centres and Sailability with grants to support your activities. Grants have increased participation and made a positive difference to many organisations, helping to fund:
Introducing ….. young, disabled and disadvantaged persons to the sport, with a focus on sustained participation
Equipping ….. clubs and Sailability sites with boats, hoists, safety equipment and specialised pontoons
Training …… instructors and assistant instructors for Sailability sites and volunteers – both sailors and shore helpers.
Find out more about the RYA Foundation, including how to apply for funding, here.