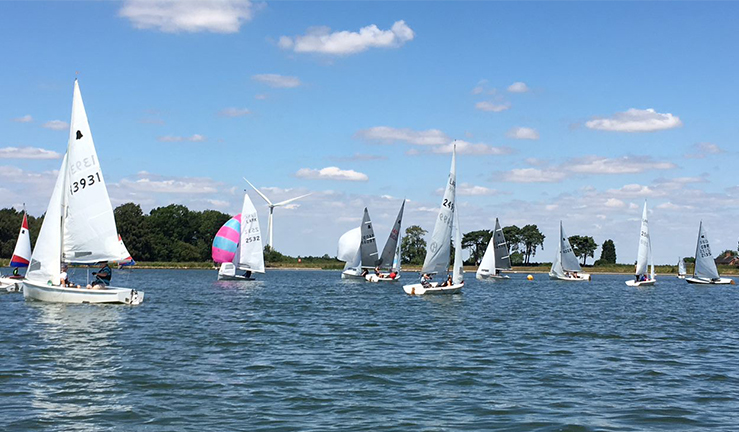 A new online course has been launched by the RYA to support club members wanting to learn about how to run club racing or who are keen to refresh their skills.
The RYA Club Race Management Course is free to access and is ideal for those who are new to helping out with racing duties or who want to develop their confidence.
While support has traditionally been available to clubs via RYA Race Management Coordinators and Tutors delivering sessions, the new online course will enable individual members to upskill and revisit content at any time and when convenient for them.
Niall McLeod, RYA Racing Services Manager, said: "We wanted to come up with accessible and easy-to-use training and decided to develop this online course, which takes people just a couple of hours to go through and they can dip in and out of it.
"It's a basic introduction to give people some of the key concepts if they are going to be doing a race duty for the first time or if they only usually have to do it once or twice a year. They can also go back to it any time to just refresh what they need to know."
The Club Race Management Course offers interactive e-learning split into bite-sized modules which include setting courses and how to start, control and finish races.
The RYA encourages clubs to make use of this free resource by promoting it to their volunteers. Club Race Management: An online course to give confidence to those not regularly participating in race management, can be accessed here.
Further training
Your club may want to deliver additional training through its own bespoke sessions tailored to local needs to build on the foundation provided by the online course – either in-house or delivered by one of the RYA's Regional Race Management Coordinators.
These volunteers are available in each region to support clubs with training and events and can be found by clicking on the contact us section at the bottom of our Running Racing page.
For club members who are keen to support events, opens and championships, there are also formal RYA race management qualifications, including regional and national race officer courses plus mark laying, judging, umpiring, sail measurement and racing safety management courses.
Would be participants are invited to register their interest on the RYA Race Official Courses Waiting List. This enables courses to be set up in response to demand and those on the waiting list will also be contacted when opportunities become available.
For all the latest updates follow RYA Race Officials on Facebook and for lots more information about running racing – including roles, templates, training and updates – visit RYA Racing.