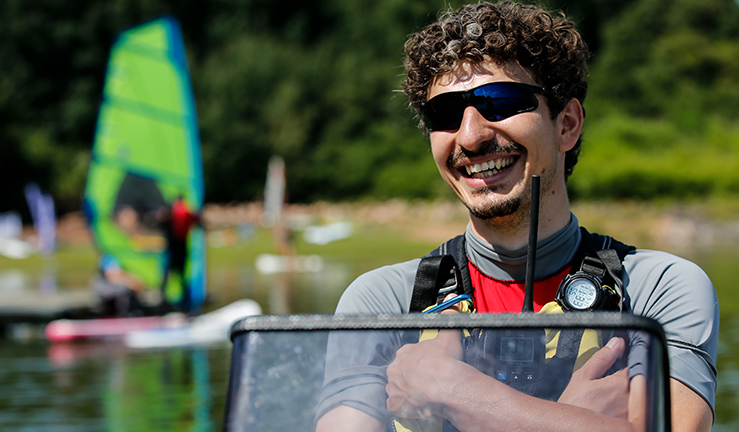 Plans have been in place to deliver in-person Instructor Training Days (ITDs) for each RYA Region and Home Country over February and March 2022.
However, due to the high number of Covid cases we are experiencing, there are some real challenges regarding the proposed indoor elements of the day. These include hosting a large number of people in fairly small rooms and the potential for some of the training team to be unavailable as a result of needing to self-isolate.
These factors have the potential to seriously impact our ability to deliver the events as we would like to, so we have made the decision to change our plans for the delivery of this year's Instructor Training Days. Instead there will now be a series of short online sessions focusing on a variety of key topics to help instructors get set for the season ahead.
These free sessions will all take place on Wednesday evenings at 7pm, starting 9th February with training scheme updates from Amanda Van Santen, Sailing and Windsurfing Chief Instructor, and Rachel Andrews, Chief Instructor for Powerboat, Personal Watercraft and Inland Waterways.
Each session will be recorded and all dinghy, windsurf, powerboat, personal watercraft and inland waterways instructors across the UK are invited to register via this booking link as this will enable them to either take part on the day or catch up afterwards with anything they have missed.
Please share the dates for the online sessions with your instructor teams as follows:
Date

Session Title

Description

Lead presenter

9th February

RYA Training Scheme Update

In this session Amanda and Rachel will provide an update on the dinghy, windsurf, powerboat, personal watercraft and inland waterways training schemes. There will be an opportunity to ask questions throughout the session.

Amanda Van Santen RYA Dinghy & Windsurf Chief Instructor

Rachel Andrews RYA Power Chief Instructor

16th February

How can the OnBoard programme and resources support instructors to deliver sessions for young people

An introduction to RYA OnBoard and the broader learning benefits of young people getting on the water. Discuss the resources available and teaching techniques to enhance your sailing and windsurfing sessions.

Hannah Cockle

RYA OnBoard Operations Officer

Robin Nicol

RYA Scotland Coach Education Development Manager

23rd February

How to prepare for a Senior Instructor course

Senior Instructors are very important for running activity at clubs and centres. In this session, Jane will share what to expect on a Dinghy or Windsurf Senior Instructor course and will explore what instructors can do to prepare themselves.

Jane Campbell Morrison

RYA Dinghy Trainer

Ben Hodgson

RYA Dinghy & Windsurf Trainer

2nd March

How people learn, thepredict - test - sense learning model

Explorehow to createalearningexperience that supports sailors to learn by making predictions, testing these predictionsand having the opportunity to make sense of what works andwhat doesn't.

This is a 1-hour interactive workshop that will use breakout rooms to allow participants to discuss and share ideas.

Tim Cross

Race Coach Tutor Team

9th March

How to embed sustainability messages within your courses

Phil will look at how sustainability messages can be embedded within RYA courses by including them as part of best practice and good seamanship. He will also run through the free resources available to instructors to help them along the way

Phil Horton

RYA Environment and Sustainability Manager

16th March

How can you look after your own and supporting other instructors and coaches' mental health

Mental health is a topic we are all becoming more aware of the importance of. In this session Leon will explore what we can do to look after our own mental health as what we can do to support those around us including other instructors.

Leon Ward

RYA Disability Development Officer

23rd March

How to feel confident delivering sessions for students with a disability, different genders, or people from ethnically diverse communities

Details to follow

Tom Davenport

RYA Sailing Development Officer and Dinghy Trainer
Skills development on the water
In addition to the online updates, each RYA Region and Home Country will also be promoting their own opportunities for instructors to get on the water for courses or Continuous Professional Development.
Ben Hodgson, RYA Midlands Regional Development Officer, said: "It's with regret that our RYA Instructor Training Days will not be going ahead as originally envisaged, as a result of the high level of Covid cases and isolations due to Omicron, but we are hoping that clubs and centres along with their instructors will make the most of the opportunities which are available.
"We have lined up a good programme of short online sessions for instructors and would also urge you to keep an eye open for CPD opportunities within your RYA Region or Home Country, as there will be a range of skills development sessions as well as RYA courses for instructors."
To find out about Instructor and Race Coach courses and CPD, visit your RYA Region or Home Country hub via the RYA website and follow your region or Home Country on social media for all the latest announcements.