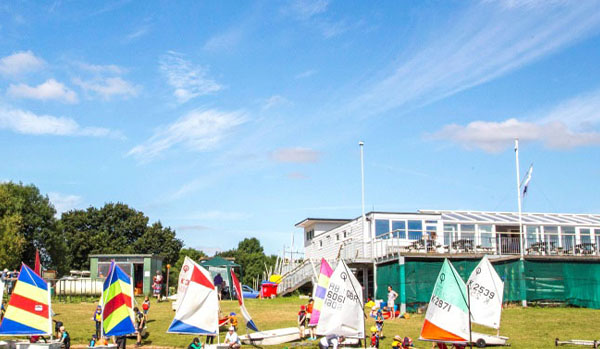 An online survey about the challenges facing RYA Affiliated clubs and centres has revealed that lease security continues to be a major concern alongside the need to develop facilities for the future.
The RYA Affiliated Club Facilities Survey invited clubs and centres to provide information across a range of headings relating to their operations and management systems, providing essential insights into risks and opportunities for development.
A quarter of all RYA Affiliated clubs/centres completed the survey in 2021, a total of 278 respondees, and the data will now be used to tailor RYA support for clubs and their members, and to help protect facilities and access to boating waters.
The top three risks highlighted by participating clubs and centres in the research were lease security, boat parking and clubhouse deterioration:
Rob Clark, RYA Director of Sport Development, said: "Lease security continues to be a major concern and one which we need to be proactive about to ensure clubs are able to develop their facilities and look to the future with confidence.
"Many clubs also raised concerns that their clubhouse would need significant maintenance or development of new facilities within 10 years, with a number of these saying their projected club lifespan was around half that time.
"When we think about the planning cycle - including how to become more efficient and sustainable, working with members, financing your plans and sorting out any necessary permissions - these clubs need to start thinking about it now rather than in five years' time when the clock is really ticking."
The headline data also suggests a need to take a look at maximising the efficiency of boat parking space. Some clubs reported boat parks being full to capacity in summer, with a potential knock-on effect for growing membership. Options might include modern storage solutions such as racking for boats and boards, or encouraging more members to access the same boat parking space by providing better clubs boats to borrow or hire, including for cruising and racing.
Rob says: "It's well worth thinking about your boating audience and now is a good time to do a situational analysis, following the growth in membership resulting from last year's Covid-enforced staycations. This may reveal you now have a membership more interested in recreational or 'pay and play' opportunities and it will enable you to better understand their motivations."
Register for our Club Development Session
To find out more about the RYA Affiliated Club Facilities Survey, sign up for the next online workshop in our January series of Club Development Sessions, which will take place on Monday 24th January 8-9pm with the theme: "How can you plan to develop or replace your facility?"
This interactive workshop will include a look at 'what next' for clubs and you can book your place at RYA Club Development Sessions. Please feel free to register even if you may be unable to make the live session on the night as a recording will be available afterwards.
If you then have any further questions or club development plans you would like to discuss, your RYA Regional Development Officer is available to help and will also be able to connect your questions to the right support either within your Region or Home Country or via our experts at head office.