Celebrating summer and supporting volunteer development
Helping your club to cater for growing water sports participation
Our clubs and centres are incredibly busy and as we move through the summer months, it's a useful time to not only enjoy what makes our sport special but also to take stock.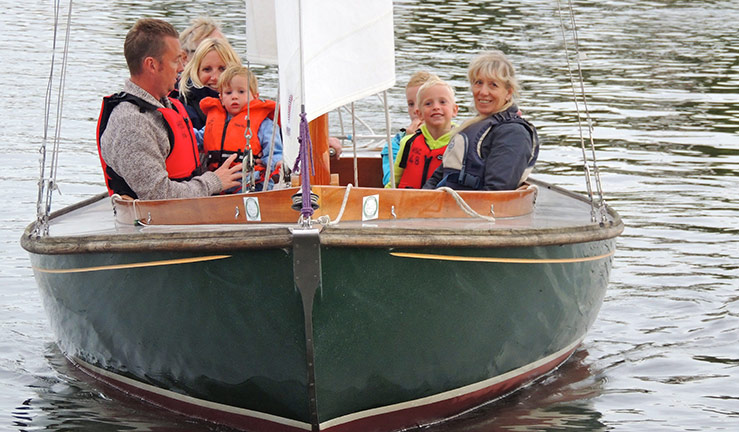 The huge amount of activity we have at our venues is in line with the recently published findings from the Watersports Participation Survey, which confirmed there had been a massive growth in the number of people taking part in watersports during the pandemic. Early results from the 2022 RYA Club Membership Census are also positive and reflect an increase in numbers.
The amount of activity at our clubs and centres this summer is amazing
Gareth Brookes, RYA Regional Development Officer Manager, said: "The amount of activity at our clubs and centres this summer is amazing – including training courses, racing and social boating - and we'd like to say a huge thank you for all the hard work which enables this to happen.
"The sun is shining both literally and in terms of watersports participation. But what we're also hearing from you is that it can be difficult to find enough volunteers and instructors to support activities, so if you are finding it tough to meet demand, we are here to help.
"At our regional Affiliated Clubs Conferences, we will be providing insights and essential information to assist you - including a focus on how to strengthen your volunteer base - and in the meantime, please do remember that your regional RYA teams are also available for you."
Affiliated Clubs Conferences
The Affiliated Clubs Conferences this November and early December will include workshops to support clubs with volunteering and a look at how to find the right person for a role and vice versa.
This will include exploring how to match volunteering opportunities to individual members so their skills, needs and wants may be dovetailed with those required by your club.
Please do save the date for your regional conference and look out for further details as they become available by following announcements in Club Room and on our social media channels.
And if your club has strengthened its volunteer base with any specific initiatives, we'd love to hear from you! Sharing best practice and the experiences of clubs which have had success in different areas of development is one of the most powerful tools at our disposal.
2022 dates for your club calendar
Free to delegates from RYA affiliated clubs, the conferences are ideal for anyone involved in managing your activities - flag officers, committee members, staff and volunteers – and the 2022 dates for your club calendar are as follows:
5th November - South West
12th November - South
19th November - Midlands
26th November - East
27th November - London & South East
3rd December - North East & Northern Ireland
4th December - North West
Instructor and race coach development
Given the growing demand for watersports, now is also a good time to think about instructor and Race Coach development for your club or centre – whether that is supporting volunteers to gain qualifications, or raising awareness among your members about training opportunities.
A scheme for volunteer instructors at Scaling Dam Sailing Club in North Yorkshire, for example, has provided a boost for training, skills development and membership growth. Scaling Dam Instructor Academy encourages volunteers to help out with running courses in return for 'credits' which can then be spent in a variety of ways, including on RYA training to develop their skills and qualifications, or towards their membership fees and watersports kit.
The website hubs for each RYA English Region and the Home Countries - RYA Northern Ireland, RYA Scotland and RYA Cymru Wales – have a range of opportunities throughout the year providing Instructor & Race Coach Courses & CPD (Continuous Professional Development).
Details and booking for RYA Race Coach Level 2 and 3 courses across the country are available.
If there is a course you would like to see, which is not currently running locally for you, please feel free to get in touch with your Regional Development Officer who will then be able to look at what instructor or race coach courses it may be possible to set up for clubs in your area.