You may have noticed that the RYA website looks very different! We recognise that as the world continues to change and evolve, so do the needs of our members and the wider boating community.
In building our new website, we chose technology that would allow us to create a user-friendly and engaging experience for our members. It's a platform that will help us engage with both current and future members in a way that highlights not only the expertise and support we provide, but also the breadth of services that we deliver to our affiliated and individual members....
We're changing the way that you log into the locked areas of our website to make it easier for you to access the information and advice that is relevant to you. Whether you are a member, guest, representative of an affiliated club or training centre, you now only need one login for the RYA website.
There's just a little work to do, and then you're all set.
To ensure your continued access to the RYA ClubZone site, you'll need:
How to get started
Sign-in or register at www.rya.org.uk
Go to

MyRYA

Select the button for Account Matching

Enter your Club name and password
If we find another record for you as a member or club official, we'll give you the option to match all your accounts so that you only ever need one set of login details for the site.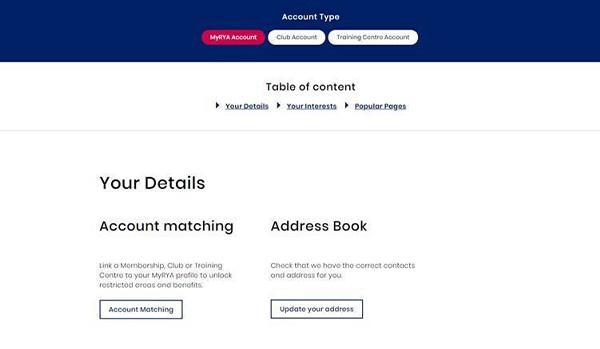 The resources within ClubZone cover legal areas, sport development, RYA programmes and much more! The future development of clubs is essential to the growth of all forms of boating and our new ClubZone resources are designed to help you make the most of the opportunity.
Need help?
If you need help with accessing your Club password, please contact clubdev@rya.org.uk.
We want to say a huge thank you for being on this journey with us and stay tuned for our exciting next chapter.