For clubs looking to provide added value and engagement for their members, running a junior or family week can be a great way to enthuse both younger members and their parents.
Whether the format is a racing-focussed regatta, a fun week or a combination of both with some training thrown in for good measure, junior and family weeks provide an opportunity to support and develop membership, generate income and raise the profile of your club.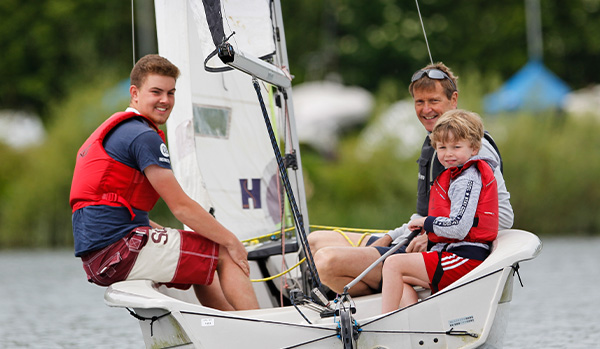 As Steve Mitchell, RYA Regional Development Officer for London & South East, explains: "Family weeks are great way of putting your club on the map, with existing members who may be looking for a staycation, or by reaching out more widely out to your local community to attract participants or simply raise awareness about your activities with a press release.
"What we learnt last year from clubs being busy over summer is that there are many benefits of running family weeks in terms of membership, income and presence. The key driver though is that if your event enables parents and children to get to know each other better and make friends, develop their skills or discover they enjoy helping out, they are more likely to end up using your club more often or volunteering because it helps to embed families into the life of your club."
We've organised a webinar looking the hows and whys of running a junior or family week which will take place on 28th June at 7pm for any club or centre wanting to find out more or share ideas. Book your place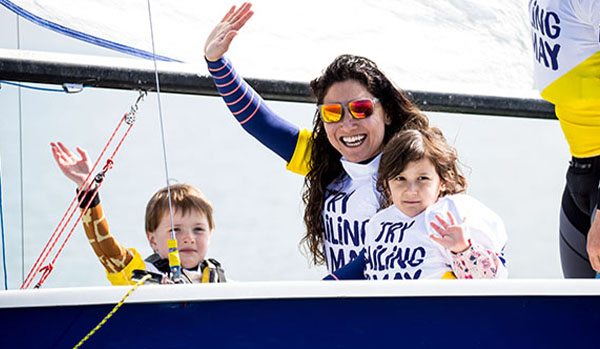 In the meantime, Steve has the following top tips:
It's not too late! There is still time to organise a junior or family week, and it could simply be a weekend or Bank Holiday Weekend. It also does not have to take place during the summer holidays. Clubs often run successful junior weeks over half term holidays and even Christmas.
Scheduling: Check your dates do not clash with existing sailing events and be aware of what's going on locally: you may want to avoid coinciding with events like village fetes/seafood festivals, or choose to run your week at the same time to showcase your family-friendly club.
Activities: These will reflect your junior membership and goals for the week. You may want a five-day regatta for keen racers, or fun and games, or a mix of the two with plenty of socials and also some training. Some clubs encourage camping to make it a real holiday week.
Costs: Plan for sustainability rather than a loss leader and consider the bigger picture if one of the aims of the week is to make money. If you inspire families to start coming to the club regularly, the long term rewards from that will be greater. Participants may like to see any additional income generated go back into the junior fleet.
Communication: Promote your chosen week/weekend across all your club's communication channels and give people enough time to save the dates into busy diaries. Be consistent with your messaging and clear about your target audience.
Management: Demand will probably be high so rather than try to please everyone, zero in on your capacity in terms of numbers and expectations. Ensure you have a good ratio of instructors/volunteers for an effective event rather than do more than you can manage.
Teamwork: Create a junior/family week team to liaise with the main club committee and delegate jobs, then depending on the number of volunteers, scale up your event accordingly. Encourage parents to provide support, including new ones to the fleet who may gain the confidence to continue volunteering afterwards.
Nuts and bolts: Plan early for all the administrative details, including whether it's using your club's online booking system or a free system like Eventbrite, and checking your insurance. Safeguarding also needs to be taken into consideration.
Covid secure: Check the RYA Covid-19 hub and FAQs for the latest guidance and remember to consider any local byelaws and sentiment. Be sensitive to what is achievable locally in terms of what passers-by might think if your venue is public-facing such as in a park or on the seafront.
Exit strategy: Assuming you have a successful week, what happens next for the children and families you have engaged? You may want to have follow-up events planned into the club calendar such as work parties, a junior open, training courses or a Christmas supper.
Do it again! Once you have set up the framework for running a junior/family week or weekend, you can copy and paste it to different times of the year or the following one, to make it a regular event which is looked forward to with anticipation by families at your club!
If your club has any questions about running a junior or family week, support is available from your Regional Development Officers for England and the Home Countries.
You can also book onto the webinar : Staycation opportunity: Ingredients for a successful junior and family activity week. This will take place on 17 June at 7pm. Book your place here
Steve adds: "I've seen clubs making a real success of junior and family weeks and it would be great to see as many people as possible at the webinar, including those that have done it before and those that haven't, so we can share ideas about how and why you might want to run one for your club."