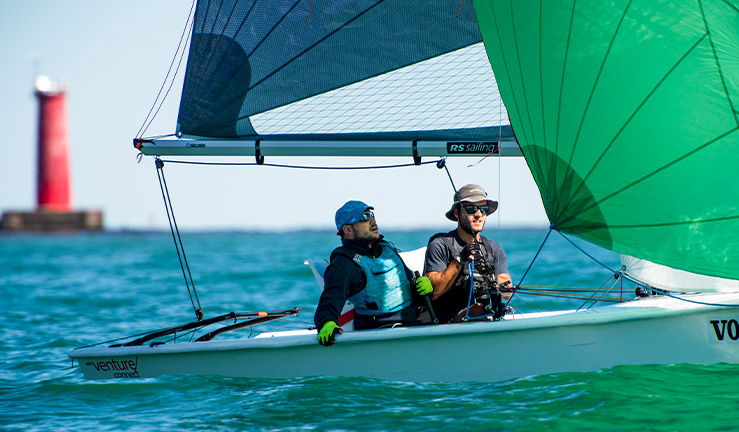 Dates for your diary and to share with club members
The 2022 season has three major Sailability championships coming up, with clubs and centres being urged to save the dates and share the details with their members.
Opportunities this summer include the return of the annual RYA Multiclass Regatta to Rutland Sailing Club, an invitation to #rockupandrace with the British Keelboat League, and for aspiring young talent, World Sailing's first ever U25 Para Sailing World Championship.
Multiclass Regatta at Rutland Sailing Club
The RYA Multiclass Regatta will take place at Rutland Sailing Club over the weekend of 6-7 August 2022 with entries due to open soon at the end of May.
This regatta was traditionally always held at Rutland SC until 2019 when it visited Weymouth & Portland National Sailing Academy for the first time, where a well attended new format saw fleet racing and a pursuit race, plus team racing and a keelboat event.
The Multiclass Regatta was unable to run due to Covid restrictions in 2020 and 2021 so this year will mark a much anticipated return for the championship. This year's event, organised in association with Rutland Sailability, will have PY racing on the Saturday and a pursuit race on the Sunday, with a social on the Saturday evening.
RYA Sailability Manager Joff McGill says: "We've welcomed between 80 to 120 sailors at previous events, along with a similar number of volunteers, which creates a really sociable and vibrant atmosphere on and off the water. We're really looking forward to the return of this friendly, competitive championship.
"It's the one opportunity in the calendar for the whole Sailability community across all the different classes to come together and race each other. Please do look out for entries opening soon and share the details with your members in the meantime!"
British Keelboat League – Sailability Championship
Although the Multiclass Regatta was unable to run for two years due to the pandemic, 2021 did see a keelboat event Weymouth & Portland National Sailing Academy, which proved so successful that this year's British Keelboat League 2022 will include a Sailability championship.
The RYA Sailability Keelboat League Championship will take place at Cardiff Bay YC, 17-18 September 2022, with an invitation for teams of 4-5 sailors to #rockupandrace over two days of exciting short course racing in a fleet of rigged and ready-to-go RS21 keelboats.
RYA Sailability has previously used a BKL style format for its own standalone events and to train and select teams for the Invictus Games, and as Joff summed up when this year's BKL was announced: "We know it works and that people really enjoy the thrill of racing with a group of like-minded people the freedom of being on the water and perhaps getting back to an activity people thought was lost to them. Now, as part of the BKL, we are showing it really is a level playing field out on the water and we're encouraging people to put a team together - you can represent your club or organisation or simply get a group of friends together!"
Entry is open for this event here with registrations closing on 4 September 2022. As an integral part of this year's British Keelboat League, the event is also a qualifier for the BKL Final at the Royal Southern Yacht Club, Hamble, 30 September-1 October 2022.
Under-25 Para Sailing World Championship
Following World Sailing's announcement that the U25 Para Sailing World Championship will debut on Dutch waters this summer, the RYA is offering young disabled sailors the chance to attend four development and selection camps.
These will take place at Weymouth and Portland National Sailing Academy on 21-22 May, 4-5 June, 25-26 June and 2-3 July. The U25 Para Sailing World Championship then takes place 19-22 July 2022 at Brassemermeer in The Netherlands, with mixed teams representing their country and competing in the RS Venture Connect.
The full story is available on our RYA news pages and further information about the selection camps, including a link to sign up, is available here.
Follow us!
To keep up with the latest announcements for Sailability this summer, follow @RYASailability on Facebook and Instagram.