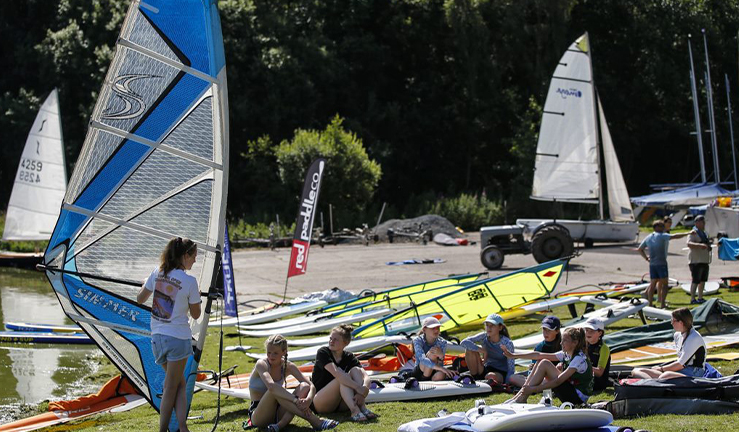 Results from the RYA Club Membership Census have revealed that participation is back up to pre-pandemic levels following a growing demand for watersports.
The data shows there were 40,000 new club members in 2021, compared with typically around 25,000 new members a year accompanied by a similar churn, and a net deficit of 12,000 members in 2020 as a result of Covid and its associated restrictions.
Rob Clark, Director of Sport Development for the RYA, said: "It adds up to around 15,000 additional members joining RYA Affiliated Clubs, which has boosted overall membership back to where we were before the pandemic. We're still in the process of fully interrogating the data so it's not yet a complete picture but the impression we have is that there's been a really big positive bounce back in membership for many clubs.
"The census has also confirmed that the pandemic, as expected, has reinforced trends that were already happening. The vast majority of clubs experienced some kind of impact from Covid last year but those that were growing in 2019 have now continued to do so, while clubs which were stable or struggling have likewise emerged on the same trajectory that they were on previously.
"This is not related to the size of the club and the big message from us is that those clubs with a clear understanding of their strengths, weaknesses and goals, are the ones that have been the most agile through the pandemic."
Opportunities
Insights revealed by the Club Membership Census will be shared at the upcoming regional RYA Affiliated Clubs Conferences which will be taking place over winter.
This year's conference theme is 'Planning ahead for a successful future' and the regional events will enable clubs to network with each other and meet their local RYA team along with experts from HQ. Each event will also have five key workshops delivering essential know-how, covering club development planning, volunteering, facilities, membership and legal/governance.
As Rob explains: "The regional and Home Country conference events are all about highlighting the trends and common practices that have helped us through the maze and looking at how we now plot a course for the future. We're encouraging clubs to sign up if they haven't already done so because now is an ideal time to take stock following the challenges of the pandemic.
"We know that demand for watersports and participation was extremely high in 2021 and we have a chance to now convert those people who did get afloat over the last 12 months into club members. It's a really good opportunity to think about club planning and what we want to achieve and how we're going to get there, while there's a receptive audience out there waiting to be engaged."
All the conference events are free for delegates from RYA Affiliated clubs and ideal for anyone involved in managing your activities - including flag officers, committee members, staff and volunteers. For all the details and booking visit: www.rya.org.uk/events/affiliated-club-conferences
English region conferences
South:

13 November 2021 - National Oceanography Centre, European Way, Southampton SO14 3ZH

South West:

20 November 2021 - South Devon College, Hi Tech & Digital Centre, Vantage Point, Long Road, Paignton TQ4 7EJ

London & South East:

21 November 2021 - New Line Learning Academy, Boughton Lane, Maidstone, Kent, ME15 9QL

East:

27 November 2021 - Royal Hospital School, Holbrook, Ipswich, IP9 2RX

Midlands:

28 November 2021 -

The National Memorial Arboretum, Croxall Road, Alrewas, Staffordshire, DE13 7AR

North East:

4 December 2021 - Catterick Race Course, Catterick Bridge, Richmond, North Yorkshire DL10 7PE

North West:

5 December 2021 - Anderton Centre, New Road, Chorley, PR6 9HG
Home Country events
Wales:

A series of online events encompassing the conference's core workshop topics running in the evenings of the week commencing 22 November 2021.

Scotland:

6 March 2022, venue TBC

Northern Ireland:

22 January 2022, venue TBC