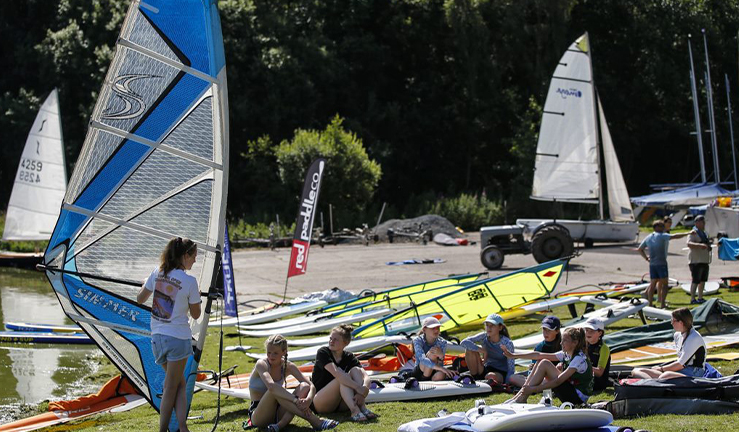 Winter is the perfect time for clubs to plan training opportunities to upskill and engage their instructor teams so they are all set for the next season.
Following the national, virtual RYA Instructor Training Day earlier this year, our Regional Development Officers are planning for a welcome return to in-person events at venues across the country in February and March 2022.
Ben Hodgson, Regional Development Officer for the Midlands, says: "We are busy sorting venues and equipment for face-to-face instructor and race coach training days and on the water activities, with the theme of reinvigorating your instructors ahead of the new season.
"A lot of instructors have been either really busy in 2021, or not on the water much at all as a result of pandemic-restricted activities and Covid-specific reasons such as shielding. Our upcoming Instructor Training Days are therefore an opportunity for instructors to get their mojo back and a little bit of upskilling so your team is ready for the new season."
The aim is to have short on-shore sessions and longer sessions afloat, suitable for all instructor levels and across the RYA Training small boat disciplines.
Bookings are due to go live soon on the RYA website. Clubs and instructors are urged to save the date for their nearest event in the meantime and follow their RYA Region or Home Country social media platforms for further announcements.
"It's usually a really popular and fully subscribed event and as always it's also a chance to catch up with people you've not seen for a while and other clubs and centres," says Ben. "Look out for when bookings open to reserve your place!"
While venues have yet to be confirmed, the dates have been set for our RYA Instructor & Race Coach Training Days 2022 and are as follows:
12th February:Midlands
19th February: Scotland
20th February: Northern Ireland
5th March: London & South East
6th March: East
12th March: North East
13th March: North West
19th March: Wales and South
20th March: South West
End of season review
Clubs are encouraged to take stock of what courses or training they may need to put in place over winter and spring in order to develop existing and new instructors.
Clubs may want to look at offering Continuous Professional Development (CPD) opportunities either 'in house' or via RYA courses to engage, upskill and refresh their instructors.
They may also want to start planning ahead for any courses required to train up new instructors, including for associated certificates like First Aid and Powerboat Level 2.
As Ben explains: "Clubs may want to have a winter wrap-up session now for their instructors - and say thank you for all their hard work over what for many has been a busy summer - then start planning their early and pre-season training ready for next year.
"An end of season review is a good thing to have on the radar as we head into winter and we're inviting people to get in touch if they have aspirations to train new instructors or upskill their existing team, particularly if that might involve formal courses.
"Have a look at what your instructors would like to achieve over the next few months and at what your club needs, get that programmed in and contact your Regional Development Officer so they can make sure those opportunities are available."
To find out more about current courses and CPD, visit Regional Instructor & Race Coach Courses & CPD for England or the Home Country training hubs for Scotland, Wales and Northern Ireland. New courses are also announced via the RYA's Region and Home Country specific social media channels and instructor groups on Facebook.
Connect with Coaching
For racing coaches and instructors, as highlighted in Club Room, October 2021, there is an invitation to join the RYA's Connect with Coaching series of online and interactive free monthly workshops. These are running from November and March and provide an opportunity to develop skills with the RYA's coach development team. Find out more here.