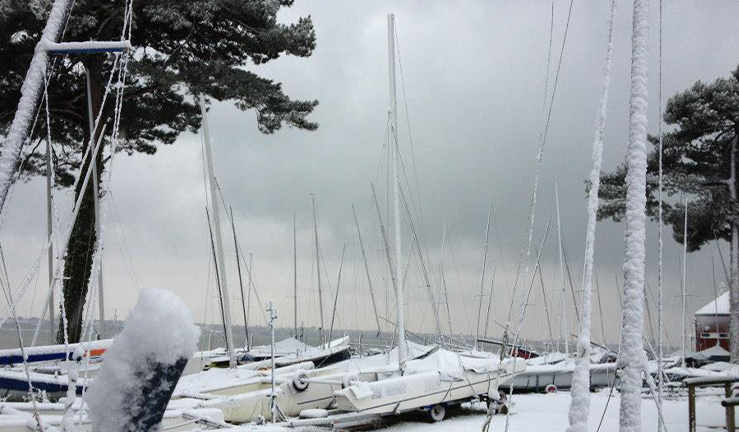 As we enter autumn and with harsher winter months just around the corner, clubs are encouraged to ensure that their insurance programme provides sufficient cover for use of club boats during the months of November through to March inclusive.
RYA insurance partner, Gallagher, arranges cover for 85%¹ of RYA Affiliated Clubs and RYA insurance scheme expert Ben Bennett advises that clubs should be aware of the conditions/requirements of their respective insurer within their policy, when operating over the winter period.
Ben has the following answers and recommends that all clubs spend time necessary to fully evaluate their respective insurance policy to ensure that boats are left on the water when not in use with the consent and authority of insurers, with any conditions/requirements being adhered to at all times:
Q. We are aware that a greater number of clubs than ever before are now extending their calendars into the winter period, with a good number operating all year round – what should those clubs be aware of, from an insurance perspective?
A. It is commonly recognised that clubs are indeed extending the traditional season and, whilst we at Gallagher will always look to find ways to accommodate these needs, it is important to be aware that the vast majority of boat insurance policies incorporate a 'winter removal condition', requiring boats to be removed from the water when not in use, during the period 1st November to 31st March.
Q. Does this condition relate to use of boats during the winter period entirely?
A. It is important to stress here that we are only referring to boats being left on the water when not in use (i.e. overnight) during the winter – not in respect of those boats which are launched/recovered for each event on a daily basis.
Q. OK, so what are the options for clubs in seeking allowance from insurers to operate during this period?
A. Firstly, we would recommend that clubs discuss and review their individual situations with their respective insurance provider. Gallagher policyholders will simply need to provide details on which boats are likely to require cover whilst left on the water when not in use, advising mooring location/details and period for which the additional cover will be required. On receipt of this information, insurers will evaluate on a case by case basis and usually seek to apply an increased excess in respect of claims arising during the winter period – in recognition of the increased storm risk, rather than seeking to apply increases in premium. The policy schedule would then be endorsed as required, noting the removal of the condition in respect of the boat/boats concerned.
Q. What are the main concerns/issues which insurers might consider to be 'high risk' enquiries relating to boat cover during winter months?
A. Insurers will always look for clubs to adopt a common sense and well managed approach to mooring of boats on the water during periods with greater risk of inclement weather. Firstly, clubs who operate within inland waterways/lakes/reservoirs are likely to receive less scrutiny than those based in coastal locations. In addition, insurers would always prefer to see mooring in more sheltered marina/harbour pontoon berths for example, as opposed to on a swinging mooring for example.
Q. So, given what has been discussed so far, would Gallagher recommend to clubs that they investigate their own individual policy conditions/requirements?
A. Absolutely. Whilst we cannot of course speak for all insurers and we strongly recommend that clubs speak to their providers, Gallagher RYA scheme insurers will always adopt a common-sense approach to this condition. Gallagher and our partner insurers will look to work with clubs to ensure that activity/participation is maximised throughout the year, whilst ensuring that the risk exposures of each club are full recognised and evaluated accordingly.
For further questions or advice regarding insurance, contact the Gallagher Team.
T: 0800 062 2309
E: rya@ajg.com
W: RYA Affiliates Insurance | Gallagher (ajg.com)
or the RYA Legal Team by emailing legal@rya.org.uk
¹Based on live policies between 1 September 20 – 31 August 21
These are brief product descriptions only. Please refer to the policy documentation paying particular attention to the terms and conditions, exclusions, warranties, subjectivities, excesses and any endorsements.
Royal Yachting Association is an Introducer Appointed Representative of Arthur J. Gallagher Insurance Brokers Limited which is authorised and regulated by the Financial Conduct Authority. Registered Office: Spectrum Building 7th Floor, 55 Blythswood Street, Glasgow, G2 7AT. Registered in Scotland. Company Number: SC108909. FP1286-2021. Exp. 05/10/2022