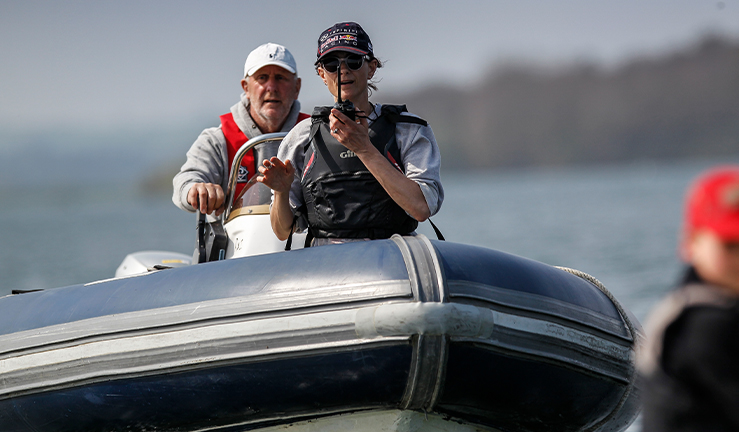 A series of workshops over winter will give racing coaches and instructors at your club an opportunity to develop their skills with the RYA's coach development team.
Part of the ongoing Connect with Coaching series, these online and interactive sessions are designed to support RYA coaches and instructors who deliver race training activity at your club.
The aim is to provide a positive environment for individuals to discuss topics with the RYA coach development team and gain inspiration through sharing experiences with other participants.
Clubs are invited to share the details with their race coaches and instructors to give them an opportunity to register for the workshops. The free sessions, which will run once a month from November to March, are as follows:
Understanding your coaching context: Reflect on who you coach and how well you recognise and support their needs and wants.
Coach Practice Planning and Reflective Framework: An introduction to the Coach Practice Planning and Reflective Framework (CPPRF), which is designed to support coaches to explore the relationship between their coaching objectives, the way they structure sessions, and specific behavioural strategies to support sailor engagement and learning.
Generating feedback: where is the learning happening? Discuss and understand how we can generate feedback throughout the different stages of the coaching process.
How the coach supports racing sailors to develop their decision making competencies: The coach development team will share and explore ideas on how we can support sailors to develop their strategic and tactical decision making.
Developing your future coaching: What will your coaching look like in the future? Dave Mellor, RYA Coach Development Manager, will lead a workshop to help you bring together and consolidate the themes and strategies from the previous four workshops and establish the ideas you wish to embed in your future coaching.
The first online workshop will be hosted by the RYA coaching development team on Wednesday 10 November, 19:30-20:45, with the four remaining workshops delivered consecutively each month thereafter. Clubs and their race coaches and instructors can find out more and register for the winter Connect with Coaching workshop series by emailing Tim Cross from the team here.