For clubs running racing, there is a wealth of resources available from the RYA ranging from bespoke handicap numbers to support with advice about the rules.
RYA Technical and Racing Services – alongside expert volunteers across all our Region and Home Countries – are available to support your club across every aspect of racing.
The dynamic Portsmouth Yardstick and National Cruising Handicap schemes are available to support participation for all, plus for those running racing we have rules and race management resources and advice, online document templates and experts available to answer any questions.
RYA Technical Manager Adam Parry says: "We have lots of information and resources online which RYA affiliated clubs are welcome use, plus a team of staff and volunteers at hand for anyone who would like a little extra support or advice with regards to running racing, whether that's at a club level or for hosting an open meeting or big event.
Most clubs offer racing and we'd urge those involved in this area of our sport to explore the RYA Running Racing hub on the website to find out more about all of the services available to them."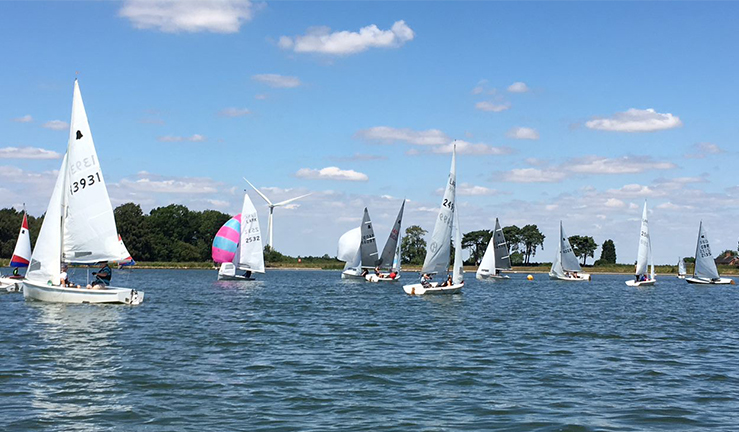 Portsmouth Yardstick
Among the services clubs will be most familiar with is the Portsmouth Yardstick scheme, which helps clubs to run mixed class handicap dinghy racing. The PY scheme is run jointly by the RYA and its affiliated clubs via the www.pyonline.org.uk website.
This website is only accessible to RYA Affiliated Clubs and enables clubs to upload and analyse race results and get handicap recommendations. While clubs may have historically used the national PY list for their racing, they are now encouraged to use the pyonline website to extract bespoke PY numbers of more relevance for their racing, based on their own data and/or that from other similar venues, such as similar sized lakes. For example, Leigh & Lowton SC near Manchester, to ensure its handicap racing is as fair as possible, uses the RYA's pyonline.org.uk website to regularly calculate and publish local PY amendments based on the club's racing results.
Adam says: "The pyonline website does the hard work for you and will spit out meaningful numbers for your bit of water. We'd encourage clubs to pull off their own PY numbers and the system will tell you how much confidence it has in the data so you can take or leave it, and because the numbers are the result of an analytical process, it takes the pressure off your results officer because they are not opinion based. We'd encourage your club to explore the website and if you have any questions, please contact us in RYA Technical and we'll help you to use it and get the best out of it."
Clubs are invited to submit their racing results data throughout the year and this is especially important now following impact of the pandemic on racing, which saw PY handicaps frozen in 2020-21 after only 2,000 returns were received compared to 22,000 to 25,000 returns in an average year.
Read more on how you can help make 2021 one of the biggest and best years for Portsmouth Yardstick data to ensure numbers are as accurate as possible for 2022.
The next annual PY list will be launched at the RYA Dinghy & Watersports Show, 26-27 February 2021, and clubs are urged to submit their data for this by midnight 20 December 2021 at www.pyonline.org.uk
National Handicap for Cruisers
For yacht clubs there is also the free National Handicap for Cruisers (NHC) scheme which is designed to encourage people into yacht racing. The system uses a simple algorithm based on 5/6 key statistics using boat brochure data to create a starting point, with the handicap numbers adjusting from race to race and providing a good engagement tool for newcomers and local racing series.
Personal handicaps
The RYA is also in the process of developing a personal handicap system, currently being trialled at a couple of clubs, which could be used for a dual scored option against another handicap system. The emphasis is on individuals not boats and the aim is to encourage those in the mid to tail-end of club racing, so they can see how they are progressing via their own personal handicap.
Currently using an Excel format, software to make it more accessible is expected to be launched in time for early next season. If your club, or a fleet within you club, is interested in trying this new personal handicap system, please do get in touch with RYA Technical Services - technical@rya.org.uk - who would be please to hear from you and can advise how to get involved.
Racing management
Regional Race Management Coordinators and Rules Advisors are available in each region and Home Country to support your club over the phone, give talks or get on the water with you:
If your club needs extra support for an event, or would like to upskill any volunteers involved in running racing, our

RYA Race Officials directory

allows you to search for judges, mark layers, measurers, race officers and umpires by name, location and qualification type.

For planning racing management, there are a range

document templates

for clubs, including for Sailing Instructions and Notice of Race, and assistance for your club with checking SIs or NORs is also available via

RYA Racing

.
There is no charge for these services for RYA Affiliated Clubs although there may be a request to reimburse travel expenses. For support with racing rules and documents get in touch here or for any questions relating to race officials, contact raceofficials@rya.org.uk
Training opportunities
Look out for a new online RYA Club Race Team online training course due to be launched very soon which will be ideal for anyone who would like to learn more and build their confidence when it comes to running your club racing.
This accessible course will comprise various modules looking at the key roles and responsibilities of a race team, including course setting and startlines, starting/controlling/finishing a race, and safety considerations. Participants will be able to tap into the online content at times to suit them and revisit it to consolidate their knowledge or catch up with anything they might have missed.
Remember to follow your RYA Region or Home Country or @RYARaceOfficials on social media for announcements about this course and other training opportunities in your area.
For more information about the benefits of Affiliating to the RYA