Five key workshops at the 2021 RYA Affiliated Clubs Conference will deliver essential know-how for clubs looking at ways to plan ahead for a successful future.
A virtual evening on Monday 8th November - hosted by double Olympic gold medallist and broadcaster Shirley Robertson - will have national updates for clubs, a club support area for meeting RYA experts, and key speakers including RYA Director of Racing Ian Walker.
This will be followed by regional conferences across England and the Home Countries, providing an opportunity for committee members, staff and volunteers to get together, take part in workshops, network with other clubs and meet their local RYA team and staff from HQ.
The regional affiliated club conferences will feature an interactive morning workshop for all delegates looking at planning for a successful future. Attendees will then be able to choose two one-hour workshops from four additional core topics: volunteering, facilities, membership and legal.
Gareth Brookes, Regional Development Officer Manager, said: "We consulted more widely than ever before about what clubs wanted and the content of this year's conference is focussed on what you told us would be most useful to your club. Some challenges are more immediate like volunteering, others are longer term ones such as developing facilities for the future, and the workshops will provide essential knowledge and insights for your club and support the sharing of ideas. Each workshop is also designed to be relevant to all clubs, so whether you have 30 or 3,000 members, a yacht club with a hotel and restaurant or a volunteer-run dinghy club on a small lake, each session will have something for you to take away."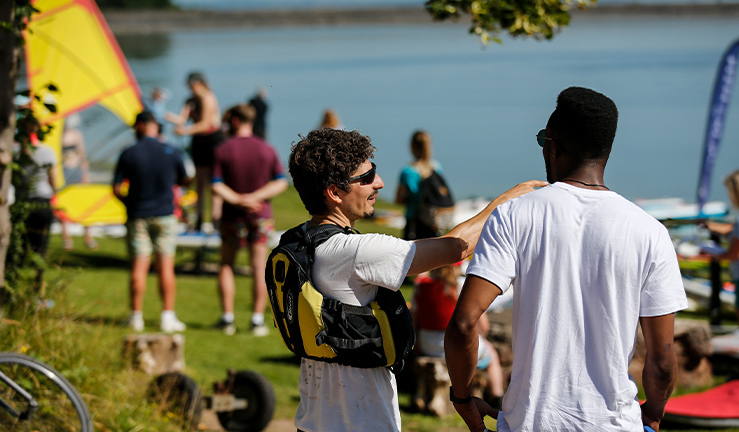 WORKSHOP TOPICS
Developing your club: The first session of the day is for all delegates and will provide an interactive workshop encouraging your club to reflect on its current situation and to think about how to develop a plan to capitalise on that position, and we'll introduce resources designed to support you in achieving your future goals. There is then a late morning and an afternoon slot where delegates can choose to attend two of the following four workshops, which will be followed by a series of online webinars to build on the content covered on the day:
Recruiting and motivating volunteers:

How can you plan to recruit and retain your volunteers? You will leave with an understanding in the latest trends in volunteering, hear from clubs that are excelling in this area, find out what support is available and share ideas with other clubs.

Developing and modernising your facility:

How can you plan to develop or replace your facility? This session will help you with planning and project management resulting in a more successful outcome.

Attracting and retaining members:

How can you plan to attract and retain members? We know clubs have had a big influx of new members over the last 12 months: how do we retain these members over winter and into renewals so we see the spike in membership numbers sustained.

Overcoming governance and legal challenges:

How you can plan to overcome any governance and legal challenges that your club is facing? Led by RYA Legal Manager Mandy Peters, this popular workshop is an opportunity to listen to an update on the latest legal and governance challenges clubs are facing and to share ideas about solutions for these.
As Gareth sums up: "Our aim is that everybody is going to leave these sessions and be able to create and develop a plan in any of these core topic areas, along with a good understanding of how to overcome any challenges, including taking a look at what we can learn from other clubs and in every scenario, what support is there for your club from the RYA."
Covid secure environment
Understandably many delegates will be cautious about attending an event like this. There will be a traffic light system in operation at the regional events where delegates will be able to add a red, amber or green sticker to their name badge to communicate how comfortable they are around others and what level of social distancing they are ok with.
In partnership with the host venues, organisers will also be adhering to Covid policies and controls including their requirement to wear masks, maximise ventilation and manage the capacity of indoor spaces. We will request that all attendees including our staff and volunteers take a lateral flow test before travelling and do not attend if testing positive, displaying any new symptoms of coronavirus or have been told to self-Isolate.
KEY DATES
Monday 8th November from 8.00pm-9.00pm (with the club support stand open from 7.30pm - 9.30pm): National online RYA Affiliated Clubs Conference hosted by double Olympic gold medallist and broadcaster Shirley Robertson with keynote speakers including RYA Director of Racing, Ian Walker, RYA Director of Sport Development, Rob Clark, and RYA Scotland CEO James Allan. Explore the latest insights from the RYA, real-life club case studies and an 'expo' area, where you can talk to RYA staff and find out about support for your club.
English region conferences
South:

13 November 2021 - National Oceanography Centre, European Way, Southampton SO14 3ZH

South West:

20 November 2021 - South Devon College, Hi Tech & Digital Centre, Vantage Point, Long Road, Paignton TQ4 7EJ

London & South East:

21 November 2021 - New Line Learning Academy, Boughton Lane, Maidstone, Kent, ME15 9QL

East:

27 November 2021 - Royal Hospital School, Holbrook, Ipswich, IP9 2RX

Midlands:

28 November 2021 -

The National Memorial Arboretum, Croxall Road, Alrewas, Staffordshire, DE13 7AR

North East:

4 December 2021 - Catterick Race Course, Catterick Bridge, Richmond, North Yorkshire DL10 7PE

North West:

5 December 2021 - Anderton Centre, New Road, Chorley, PR6 9HG
Home Country events
Wales:

A series of online events encompassing the conference's core workshop topics running in the evenings of the week commencing 22 November 2021.

Scotland:

6 March 2022, venue TBC

Northern Ireland:

22 January 2022, venue TBC
Unless specified, these conferences will be delivered from 10am - 3 pm, with additional networking opportunities available from 9 - 10am and from 3 - 4pm
All the events are free for delegates from RYA Affiliated clubs and ideal for anyone involved in managing your activities - including flag officers, committee members, staff and volunteers. For all the details and booking visit: www.rya.org.uk/events/affiliated-club-conferences