With the colder months looming ever nearer, now is a good time to start planning for how to keep your club members active and engaged over the depths of winter.
Around 90 per cent of clubs have their renewals in January, February and March, making winter a crucial time for maximising engagement so your members want to re-join.
Ensuring your club has a vibrant and accessible winter programme lined up - alongside an effective communications strategy so everyone knows about it - could make all the difference.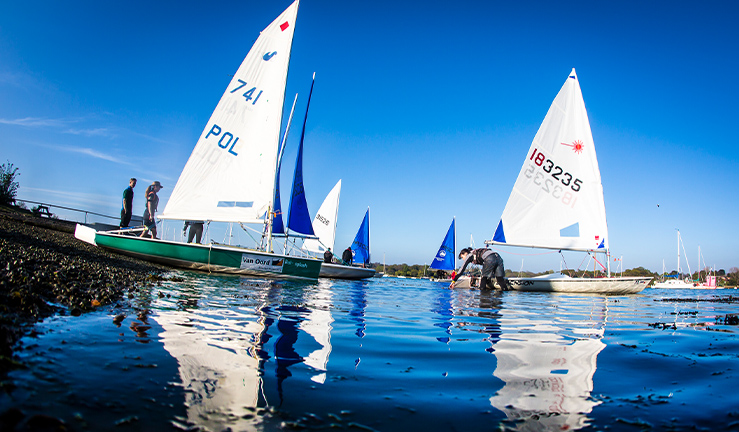 Rob Howlett, RYA Regional Development Officer for the South West, said: "Looking at the annual RYA Club Membership Census returns, many clubs have experienced membership growth, so it's important to look at how we keep both existing and new members involved in club life over the winter months when not everyone will be on the water as much.
"Clubs may find that some of their new members have different expectations as regards what they expect, as more people will have joined clubs this year as a result of not being able to go on holiday abroad and therefore looking for ways to get on the water locally.
"Membership increases at clubs this year have been partly driven by people who might not otherwise have traditionally joined their local club so alongside keeping existing members happy, it's important to consider what they might need to maintain their interest over the winter."
Rob has come up with a range of ideas for clubs to consider. You may already use some of them but take a look at our handy tips below in case there are any new ones which might work for your club!
Teamwork: Consider setting up a small sub-group or committee responsible for planning and coordinating your club's winter programme of activities.
Ask your members! What activities would they like? Do a quick survey via an online platform or simply by asking the question in your e-newsletters or on social media. In addition to providing ideas for a vibrant programme it will also make your members feel valued and show that the club is keen to provide a good service which meets their needs.
Volunteer opportunities: A new tranche of memberships might mean you also have an untapped bank of volunteers. For both existing and new members, consider encouraging specific mini-projects, tasks or working parties, either set by the club or following up any ideas which members have about what they'd like to see at the club.
Kit sale: Most people join a club in the summer months but are they kitted out for winter? Prices have gone up and some products are in short supply. Why not organise a second-hand kit sale? Lots of people have kids growing up fast or pre-loved kit they want to offload.
Training: 2021 has seen a high demand for RYA training as new enthusiasts look to get afloat, so is there a demand for courses or know-how sessions? These could be on shore or on the water, and for those who've bought SUPs, boards or boats, it's an opportunity to set up specific sessions with experienced members or fleet reps. A 'pimp my boat' hour would be a good learning experience and get-together while staying wrapped up warm!
Winter racing: Competition encourages many to keep braving the colder months so it's worth having a think now about how to maximise participation, whether through the promise of a hot chocolate or toddy and cake afterwards, or additional daily prizegivings for a racing series, to encourage less experienced or younger members: as well as for results, this could range from recognition for endeavour or improvement to fun spot prizes such as for the best woolly hat or capsize.
Informal racing: This proved popular during the pandemic, as did individual challenges, offering flexibility compared with participating in a full winter series. There are racing apps to facilitate this, and other ideas might include a timed 'Stig lap' so people can choose their weather and availability, making getting on the water fun and accessible.
RYA events: Make the most of events such as the Affiliated Clubs Conference, Instructor Training Days and The Dinghy Show, to encourage camaraderie and inspire your club members and volunteers ahead of the 2022 season.
eSailing: During lockdowns and last winter, clubs and groups up and down the country organised successful virtual racing to engage their members, providing a great way to connect off the water and socialise. Could your club invest in a monthly eSailing pass? Find out more at: www.rya.org.uk/racing/esailing
Variety: Why not use the clubhouse as a base for non-sailing activities where members can meet up and be sociable, such as for walks, talks, bird watching or cycle rides? Ensure the club is warm and welcoming with tea and coffee or the bar open.
Rob adds: "Whatever you have planned for this winter, remember to let your members know about it! Ensure you are communicating with members in every way possible from emails, social media and website posts to WhatsApp messages and even letters in the post.
"What clubs did really well over last winter and during the Covid lockdowns is step up their engagement and communications. Make sure your members are fully aware of all the fantastic opportunities your club is making available over the winter months so they stay involved and in touch and will want to renew their membership when the time comes."
If your club would like any support with developing its winter activities and member engagement programme, please get in touch with your Regional or Home Country Development Officer, and if your club has any good ideas which we've missed, let us know so we can share them!