RYA Region and Home Country teams are working to set up opportunities for lapsed dinghy and windsurfing instructors to revalidate their qualifications.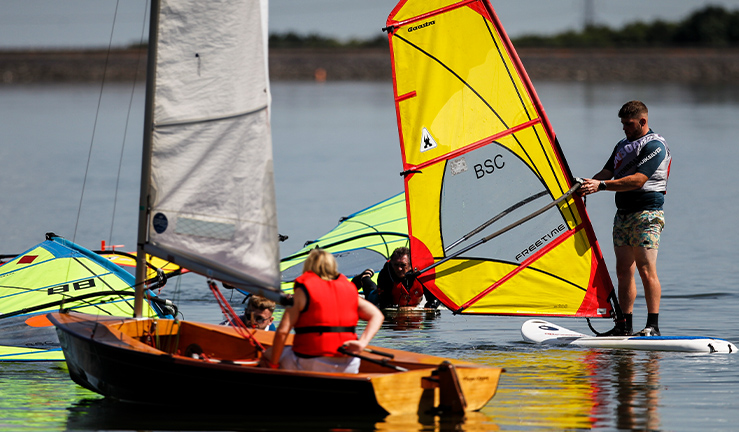 The usual process for revalidating an RYA dinghy or windsurf instructor is to complete the revalidation form available from this page. Instructors must be an RYA member, have an in date first aid qualification, be able to sign the health declaration and have completed 30 hours of instructing at an RYA Training Centre in the last five years.
However, we recognise that as a result of the Coronavirus pandemic, personal or changing circumstances, some instructors may not have completed the requisite minimum number of 30 hours in order to revalidate their qualification. If that applies to you or someone you know, there are a couple of options available to you –
If your instructor ticket expired less than 5 years ago a

suitably qualified Principal, Chief Instructor, or Trainer can observe you assisting on an RYA course relevant to your revalidation.

If your instructor qualification is 5 – 10 years out of date it must be a Trainer who observes you assisting on an RYA course relevant to your revalidation.
To make this easier for you to revalidate, the RDO team is organising a series of Instructor Revalidation Days. These aim to give those whose certificate may have expired by up to a maximum of 10 years, and will provide an opportunity to update and refresh, with assessment by a Trainer to confirm and revalidate the instructor qualification.
These days will be delivered by our team of RYA Trainers. Anyone who is out of date by more than 10 years will need to retake the full instructor course.
The scheme is open to anyone who has previously qualified as an RYA Dinghy/Windsurf Instructor no more than 10 years from expiry, with RYA Membership, an in-date First Aid certificate and current dinghy sailing skills to pre-entry standard or Intermediate windsurfing level.
In the unfortunate event that the Trainer feels further development is required or an individual is sufficiently out of practice, it may be necessary for to retake the course, even if they fall within the 10 years.
Ben Hodgson, Regional Development Officer for RYA Midlands, said: "For those whose qualification has expired, we're keen to help them revalidate their ticket rather than lose them, by providing the support they need to get back into instructing.
"Across the RYA Regions and Home Countries, we're looking to set up where appropriate some RYA Revalidation Days for instructors, who for whatever reason haven't been able to do enough hours to revalidate their ticket over the usual five year cycle.
"Some may have struggled to fit in enough activity, particularly those who volunteer at clubs, so this is another way of helping them to revalidate their qualification. The sessions are also designed to offer a genuine learning experience, where instructors can catch up with the latest scheme updates, pick up new tips, ask questions and gain the confidence to go back to their clubs or centres and start running sessions again."
On the day, an RYA Trainer will demonstrate a model session to re-affirm what is expected of an RYA Instructor and participants will have a chance to deliver an on-water session and receive feedback. The Trainer will then confirm revalidation, or offer advice and specific action to support a future re-application.
Clubs are invited to support the initiative by encouraging their instructors to look out for RYA Revalidation Days, and making opportunities available for lapsed instructors to observe and support activities as a reminder of delivery methods and good practice.
Revalidation days currently include:
Dinghy Instructor Revalidation Day, Midlands Boat Station, Birmingham, 8th October 2021, £25, book here.
Dinghy Instructor Revalidation Day, Royal Dart YC, 25th September, £15, book here.
Dinghy Instructor Revalidation Day, Stithians Watersports Centre, 10th October, £15, book here.
Any clubs and centres with a number of lapsed instructors who could benefit from the scheme are urged to let their Regional Development Officer know so that bespoke sessions can be set up.
Details of further days will be available via Region and Home Country hubs on the RYA website under the listings for Instructor and Race Coach Courses and CPD. As ever, follow your RYA region or Home Country on social media for all the latest announcements.