Clubs and centres are being urged to make the most of the safeguarding resources available through the RYA to support staff, committee members and volunteers.
A comprehensive range of safeguarding information, support and expertise, is available to members of the RYA's network of 1,500 affiliated clubs and associations via the RYA's Safeguarding Children and Adults at Risk online hub.
This includes a library of downloadable information, policy templates and videos, guidance for Club Welfare Officers and safe event planning, plus all the latest news and updates and 'what to do if you're worried' signposting information for children and adults.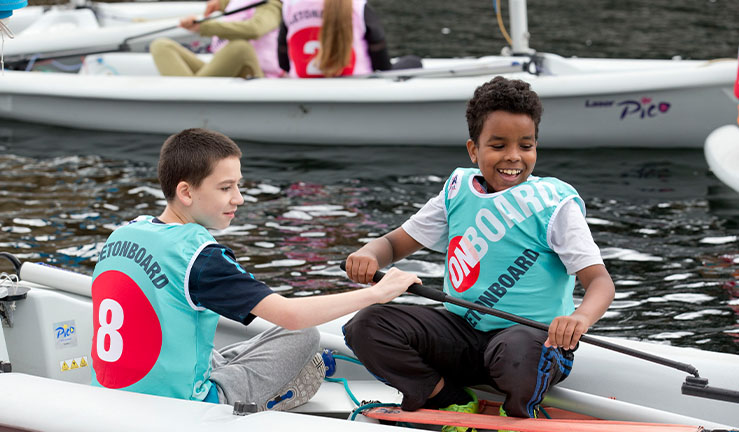 You can also find all the contact details for the Safeguarding Team at RYA HQ, run by Safeguarding and Equality Manager Katie Loucaides and supported by Safeguarding Officer Andrea Gates and the safeguarding leads for the Home Country teams: Gayle Logan from RYA Northern Ireland, Liza Linton from RYA Scotland and Pete Muskett from RYA Cymru Wales.
The team is keen to ensure that clubs are aware of the plethora of resources available to them. One example would be that clubs and centres can use the RYA as an umbrella body to process all their enhanced disclosure checks for volunteers and paid members of staff (DBS for England and Wales, PVG for Scotland and AccessNI for Northern Ireland). Currently, volunteer checks are always free, and we currently do not charge an administration fee. Checks for paid staff are costed at £43.00 which includes the administration fee.
As RYA Safeguarding and Equality Manager, Katie Loucaides, explains: "People may not be aware of all the information and support we have available as this has increased hugely over the last 18 months, particularly with regards to enhanced disclosure checks and Club Welfare Officer support, so it is well worth clubs taking a look at our safeguarding hub on the RYA website or getting in touch with us directly
"For safeguarding we have a wealth of difference resources, including policy templates and tool kits, and an information pack for Club Welfare Officers or whoever is taking on the responsibility for safeguarding at your club or centre. Additionally, we are a point of contact for clubs if you need to talk through any referrals and we also have advice if you need it from the RYA legal team. We are a really friendly, approachable team and always willing to chat with anyone who needs that guidance and support as we are committed to ensuring that boating is as safe as accessible as it can be.
"Andrea and I are available during office hours and are just a phone call, email, text or WhatsApp message away for anyone who needs support or would like to find out more about the resources available for Affiliated clubs and centres."
Safeguarding support and training
There are also closed Facebook groups which provide support for Club Welfare Officers here and Disclosure Coordinators here across our network of Affiliated clubs and centres, plus a variety of courses available club committees, staff and volunteers, including one-off webinars to raise awareness.
If you're a club/RTC committee or board member, a 'Safeguarding Children, Young People and Adults at Risk' training session on 22 September at 18:30 (lasting 90 mins) will provide an informative overview about safeguarding, exploring why it's important and how you can create a safe and fun environment for all.
Led by the NSPCC's Child Protection in Sport Unit, and the Ann Craft Trust, a leading UK authority on safeguarding for adults and young people at risk, it will provide valuable insights for anyone involved with or responsible for welfare at clubs. You can register for this session here.
The Safeguarding Team endeavour to provide personal development opportunities for the boating community through webinars and other opportunities. The coming months will also see a brand new Safeguarding Newsletter, which will be available for download from the website.
Clubs can also access RYA safeguarding courses, including the RYA Safe and Fun course for instructors and anyone else working with children and/org vulnerable adults at an RYA club or training centre, or a more in-depth RYA Welfare Officer course, which you can find more information about in the additional resources section of the Club Welfare Officer section of the website here
To find out more about any aspect of safeguarding and the resources available, or contact the safeguarding team, visit our online RYA Safeguarding Children and Adults at Risk hub here.
Expertise for Affiliated clubs
We recognise that clubs are key to promoting training and activities and encouraging participation, and through RYA Affiliation aim to provide all the information and support you need to provide a safe and successful club experience and boating environment for your members.
The RYA and its regional and Home Country teams are here to help with expertise and resources ranging from club development and management to finances and legal matters. Find out more at RYA Club and Centre Support and RYA Affiliation benefits for your organisation