RYA Cymru Wales
Following the announcement by the First Minister on Friday 12 March, RYA Cymru Wales has produced Frequently Asked Questions Documents concerning the current phase of the Lockdown release.

The document should be read in conjunction with the Club & Centre Facilities Guidance & Current Guidance for RYA Training Centres in Wales (no change since 08/01/21).
The headlines are as follows:
Stay Local - this has implications for all Clubs & Centres. The 5-mile rule of thumb will be set out in guidance – people living in some parts of Wales, especially rural areas, may need to travel further than 5 miles to access shops and other public services.

Local Outdoor Sports Facilities can re-open 13 March- this has implications for both our Clubs & Centres. We provide clarity in our FAQs that has been emailed out, hosted on our website and placed on our social media channels.

No more than 4 people from 2 households will be able to meet in their local area outdoors, including in gardens. Children under 11 and carers do not count towards this limit. There must be no indoors mixing and social distancing should be followed.
Further details can be found on the RYA Cymru Wales Return to Boating in Wales webpage
RYA Northern Ireland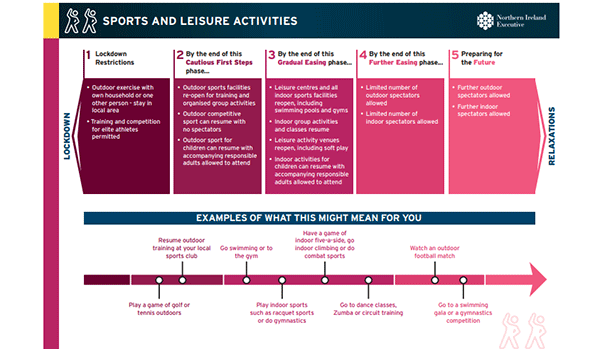 A number of matters have arisen over the course of the past month in Northern Ireland. Brexit continues to raise specific issues and the roadmap out of lockdown, although published, remains unclear:
On 02 March, the NI Executive released its roadmap on a return to normality.This includes 5 steps across 9 'themes', of which Sport and Recreation is one.Positively outdoor sport is cited as one of the first to return to activity, but clear details are yet to be confirmed by SportNI and the Execuitve will not attribute any dates to easing of restrictions – decisions will be made based on metrics such as the R rate every 4 weeks from 16 March.

The announcement in early March about a required switch to white diesel use for private leisure craft in Northern Ireland has created significant concern.The current affairs team is raising the issue with HMRC as we gather more evidence on the detrimental impacts for recreational boaters with a lack of guidance and infrastructure within the given timelines.

For our race officials, we are looking at the courses that can be delivered in NI to assist with Race Management needs, for Race Officers, Mark Layers, Rules advisers etc.

Following on from our Volunteers on the Rise survey, with feedback from a positive number of clubs, we have started the process of looking at clubs aims and planning for volunteer recruitment and development.A series of webinars planned over the coming months to help prepare for the season ahead.

We are pleased with the healthy number of people registered to attend Instructor Training Day. As a new season approaches and more clubs and centres start to prepare for a potential return to activity, re engaging instructors and coaches and ensuring they are up to date has been a priority.
RYA Scotland
Quite a bit of movement from the Scottish Government on easing of lockdown with the 26 April now a significant date for many aspects. Boating is very much ahead of the general sporting landscape and clubs and training centres are working hard on getting back to the water from now.

We are very pleased to welcome Ryan Beattie to the RYA Scotland team. Ryan is joining us as the Regional Development Officer for our new North Region. Geographically this is the most challenging area in the UK to cover with clubs and centres as far apart as Fort William to Tiree and the UKs most northerly club in Unst (Shetland). For the record, Unst is further north than Moscow or Helsinki and pretty much the same latitude as Anchorage Alaska!

Brexit remains a challenge for Scotland's cruising community with Northern Ireland being a popular destination from the Clyde and the efforts to connect with UK Government to give clarity on important procedural requirements and the situation on red diesel are appreciated.

RYA Scotland has formally adopted a revised and localised version of the RYA Sustainability Strategy and we will be rolling out the publicity on this imminently.

Likewise our volunteer development framework is now complete and will be rolled out to clubs and training centres in the coming weeks.

Nikki and Liza have restarted our Connect online sessions for clubs and centres which are aligned with the expected guidance updates. These are a great opportunity to get right beside the volunteers and centre staff to discuss how best to approach getting back on the water.

Our 'Off the Water' podcast on environment and sustainability issues has gone down a storm with great discussion on key issues in Scotland. If you haven't has a listen then grab the dogs and listen while you walk or boil a cuppa and listen in https://offthewater.podbean.com/e/off-the-water-episode-12-the-environment/ The next issue will look at equality, diversity and inclusion and promises to be equally informative and insightful. We have a very different demographic in Scotland and the priorities differ a bit from the rest of the UK.