Vacancies Updates
HR Advisor

– the closing date for applications was 10 March and we received 34 applications. These have been shortlisted with interviews set to take place on Thursday 25 and Friday 26 March 2021.News on the appointment of the successful candidate will follow in due course. For your information – my last day will be Friday 16

April

☹

Director of External Affairs

– Further to the news that Howard Pridding will be retiring in the summer we have been recruiting for a Director of External Affairs.The deadline for applications is 31 March 2021, with interviews due to take place mid-April.

Performance Manager (Wales)

– RYA Cymru Wales are currently recruiting for a Performance Manager to cover a period of maternity leave on a fixed term contract basis for 9-12 months. This position is also part-time. Applications are still open, and close on Friday 9 April 2021.
Take the Time to Think about the Future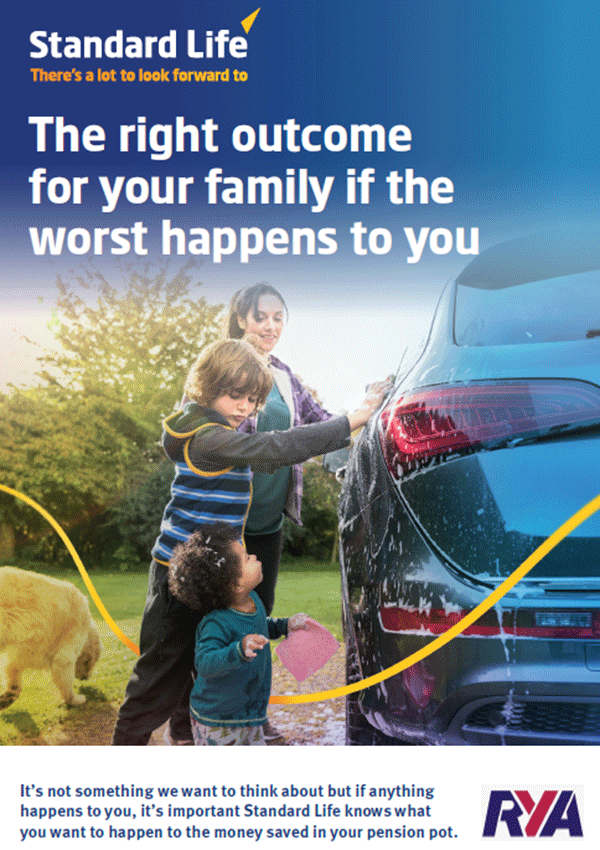 A little planning ahead now can make a big difference later on. Making sure your wishes are clear about who you would like the money saved in your pension pot to go to when you die, is part of that planning.
All you have to do is make sure you tell Standard Life who should receive your pension savings.
Depending on your circumstances, what you leave behind is normally free of inheritance tax. But remember – tax rules can change.
You can update your beneficiaries online by logging on to www.standardlife.co.uk/online and editing your plan information. You can also download or log in to the Standard Life UK app to manage your beneficiaries – just search Standard Life in the App Store.
It can be your partner, your children or your grandchildren. It could even be your favourite charity. The important thing is that you let Standard Life know now and keep them informed of any changes in the future.
Please note: the beneficiary details you have completed in relation to the Life Assurance Scheme, are different to those you need to complete in relation to your pension pot.
NEW Employee Wellbeing Benefits!!
I am pleased to remind you of some new employee benefits that we have introduced focussed on your mental and physical wellbeing.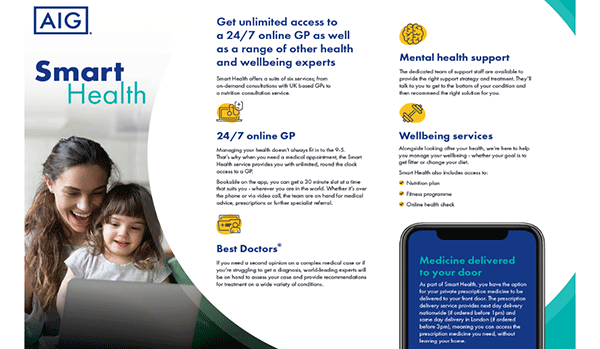 Expert health and wellbeing advice at your fingertips
As an employee of the RYA, you have access to Smart Health, which includes a 24/7 online GP and a range of other health and wellbeing services. Log on and use it as many times as you need (there's no limit), whenever you need it.
What is Smart Health?
Smart Health provides you with the experts you need to keep fit and healthy. The good news is that your partner and any children up to the age of 21 can sign up and use Smart Health too.
Smart Health includes:
Round the clock assess to an online GP, through the Smart Health app and website.

Second medical opinions

on complex medical cases.

Tailored mental health support from a team of professionals

Health checks

– proactive steps to manage your health and lifestyle

Dedicated nutrition advice, including bespoke weekly menus.

Personalised fitness plans

designed by experts.
You also have the option for private prescription medicine to be delivered to your front door.
TO GET STARTED
You will need policy number LG012568.
Visit the website –

www.aiglife-smarthealth.com

Download the App –

Search for Smart Health GP by AIG in the app store and create a new profile.

Or call

0203 499 0167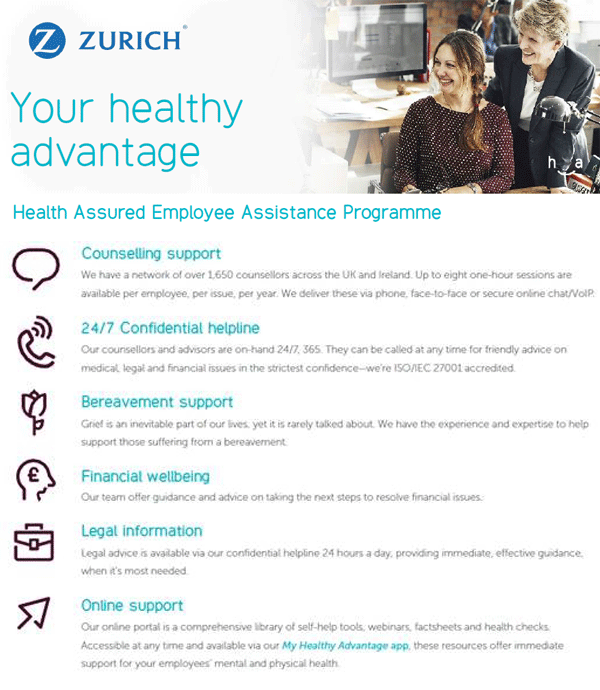 The Health Assured EAP offers you a complete support service that provides expert advice and compassionate guidance 24/7. This service is also available for your partner and children (aged between 16 and 24).
What is included:
Counselling Support -

up to eight one-hour sessions delivered via phone, face-to-face or secure online chat service.

24/7 Confidential helpline -

for friendly advice, anytime, on medical, legal and financial issues

Bereavement Support -

Health Assured have the experience and expertise to help support those suffering a bereavement.

Financial Wellbeing -

guidance and advice on taking the next steps to resolve financial issues.

Legal Information -

provided immediately and effectively.

Online support -

with a comprehensive library of self-help tools, webinars, factsheets and health checks.
To access this support:
Call

them on 0800 030 5182

Download the App –

Search for My Healthy Advantage in the app store and create an account. You will need the code ZGIP
Access the Health and Wellbeing Portal -

https://healthassuredeap.co.uk/
Log in details for the portal are:
Username: GIP
Password: EAP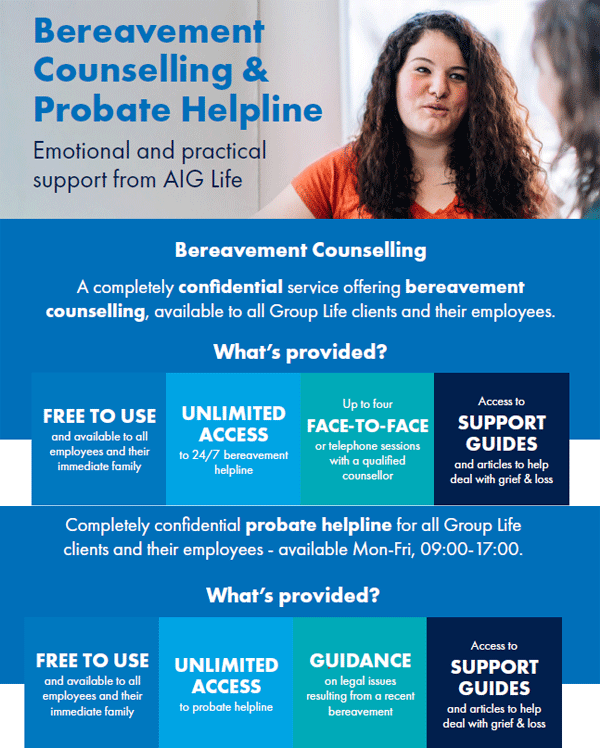 Bereavement Counselling – How can it help?
Provide you with support strategies to manage anxiety or other mental health issues.

Referral to bereavement support groups

A dedicated listening service to help you cope with grief

Referral to a therapy resource for continued support

Support in understanding and coping with the loss of a loved one
Probate Helpline – How can it help?
Explaining the process for obtaining probate after a death

Providing guidance to help deal with legal, financial and tax issues following death

Helping the employee or family navigate the administrative issues resulting from a death.
Contact the Bereavement and Probate Helplines on: 0800 069 8856
Full details of all employee benefits are contained within the
Employee Handbook.