Sport Development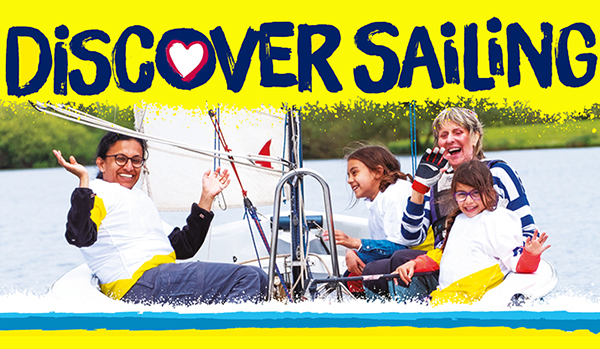 The final OnBoard Tackling Inequalities Funding grant for phase two has been awarded to the Andrew Simpson Foundation for a project at their new centre in Birmingham.
Sailability have been providing lots of advice and guidance to clubs and centres looking to restart activity - the emerging picture is one of a phased start but there is some momentum building with volunteer training happening again and several community partners (disability organisations, schools etc) keen to get back on the water soon.
We have also successfully appointed a Sailability communicator who will focus on delivering the #MoreThanSailing campaign in 2021.
The Instructor Training Day had 2,049 bookings and 1,454 attendances on the day, an increase of 1,152 on the previous year's numbers at the equivalent events. This was a UK wide project that once again demonstrated how closely the wider teams are now working.
The RDOs ran a series of club development forums to support clubs with restarting activities and making the most of the 2021 season including the staycation trend. These were attended by 518 persons from 175 clubs.
We received 60 nominations for the RYA Volunteer Awards which are now closed, but nominations for the RYA Musto Youth Award, which recognise this season's most inspiring young sailors, windsurfers and powerboaters, are now open.
Over 50 Discover Sailing 'have a go' sessions have been organised for this summer encouraging water-lovers to find their local sailing venue and find out how they can get afloat.
Training & Publications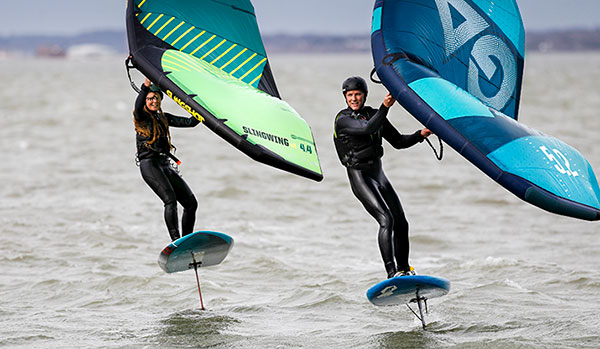 Sales of certificates and training materials for March suggest RYA Recognised Training Centres are feeling positive about the gradual easing of restrictions and improving weather, with strong sales for the month. eLearning continues to be popular and we are hopeful that with some further easing of restrictions in May more of our training centres will be able to increase the range of training they can actually deliver.
Whilst we have lost a small number of training centres due to the impact of Coronavirus, Brexit or both, our team in RYA Training Recognition are busier than they have ever been responding to new enquiries about recognition and variations to existing schools wishing to add in more training disciplines. This bodes well for the months ahead.
We are excited about the prospect of piloting the delivery of wing foiling training later this year, with a pilot for EFoiling to start sometime later.
Cruising, Legal & Safeguarding
We are still receiving a high number of enquiries on Covid related overseas travel from individual members
We have now received VAT clarification from the European Commission and the Legal team are receiving enquiries from members on Returned Goods Relief and VAT
The Legal team have also seen an increase in questions on club leases, GDPR and insurance
Discussions continue regarding Northern Ireland's access to red diesel
Preparations for this year's EBA General Assembly are going well
The RYA's annual CPSU review has now been complete
DBS applications are very busy
Environment & The Green Blue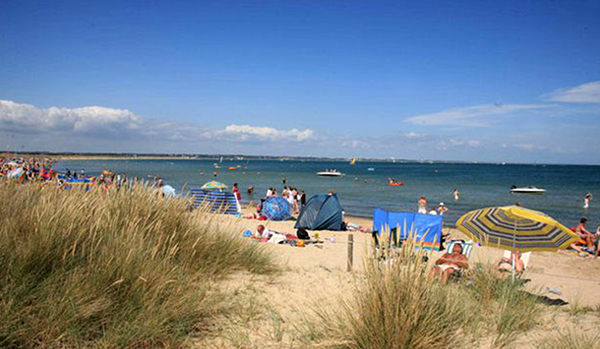 Enquiries continue regarding seaweed farming
Plans are now in place to begin implementing actions from the Environmental Management System soon.
Discussions are ongoing between the RYA, clubs and the MMO about management plans for Studland Bay.
The team are maintaining the RYA's position on the Morlais demonstration zone.
The team are continuing to support clubs re. Cotswold Water Park in their discussions with Natural England
The Green Blue are preparing to return to the Southampton Boat Show in September.
Preparations are underway for the Invasive Species Week 24-30 May.
Racing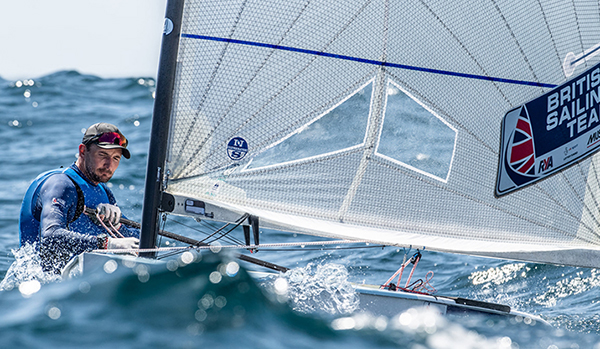 Giles Scott won silver at the Finn class European championships in Vilamoura, Portugal. Henry Wetherell was 7th and Ben Cornish 28th.
The RS:X World Championships takes place in Cadiz, Spain, from April 22-28, and the 470 Europeans is in Vilamoura from April 30 to May 7.
Entries are open for the Eric Twiname Junior Championships. Entries for the RYA Youth National Championships open on April 26.
Membership & Membership Development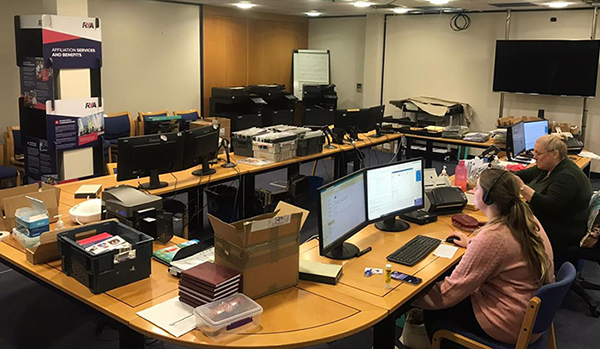 The Membership and Certification team temporarily moved to the Atlantic Room whilst the air con was replaced (see pic!).
Work is starting to get busy as the country opens up, so we have a lot of applications to get through whilst still working part from the office and part from home.
We have recently reviewed and updated our membership email templates to ensure communications with members are up to date and the language reflects the current climate. We have also reviewed and updated all our direct debit renewal letters.
There have been a number of changes among our member partners including:

Healthspan are no longer a partner
Musto and Helly Hansen offers are on hold pending review of offers
Navico have joined as a new partner
Halo Coffee have increased their offer from 20 to 30% discount

Throughout April we have been running a Refer a Friend double gift offer, plus bonus gift for 5 new members and Joining Point double commission offer and will be reviewing the results of both campaigns in early May
We will be launching the Joining Point prize box promotion in May, which will see the top performing Joining Point receive some great prizes each month from May to July
Support Services
Indicative 2020-2021 results are showing a deficit of £1.25 million, which although very significant is better than originally feared and includes the decision to delay club and centre invoicing. We've also seen some positive indications in commercial activity including and sales of certificates / publications and coding.
Work on the air-conditioning in RYA House is well underway. Return to work plans will be rolled out slowly over the Summer, with likely changes to building layout, meeting facilities and HR policies and procedures to support "New Normal" hybrid way of working.
We've recently announced two additional leave days for all staff in May (or pro-rata equivalent for part time staff). Ideally these should be taken either side of the Early May Bank Holiday but in exceptional circumstances can be taken over the Bank Holiday at the end of May as we realise that it may not be possible for you to all take leave on specific dates. This additional time off is to celebrate all we have achieved over the last year and to welcome what will hopefully be the end of this current phase of the pandemic.
Strategy
Just a quick reminder that if you're planning to engage a member of our Regional Communications team to work on a project or campaign, please let the Head of Communications know so that we can ensure a manageable workload across our network of contractors.
The 2021-22 Transition Plan is now live and we are reviewing the final KPI targets for the coming year – most will be based on adjusted 2019-20 actuals for the current metrics to enable comparison with pre-Covid trading. They will then be incorporated into the Operational Plan. Consultation on the longer-term strategy will start shortly, with a presentation being made in the coming week to our English Region Forum.
Future Sport England strategy may mean an adjustment to the structure and operation of RYA field teams. We have welcomed the verbal indications from Sport England that they value our partnership and are unlikely to dramatically reduce funding, at least in the short term.
Digital
Digital Transformation is coming along with lots of pages looking great.
Re-testing for ICC, Training and Guestpoint is underway and should hopefully be signed off soon.
The shop is also going through testing with the help of Celia.
Web stats
| | | | |
| --- | --- | --- | --- |
| | February 2021 | March 2021 | +/- |
| Total Page Views | 764,674 | 951,426 | +24.42% |
Top performing pages – Number of page views
| | | | |
| --- | --- | --- | --- |
| Page | Feb | Mar | +/- |
| /pages/home.aspx | 35,827 | 43,543 | +21.54% |
| /newsevents/e-newsletters/inbrief/pages/ryaroadmap-for-the-return-of-recreational-boating.aspx | 0 | 18,890 | +100% |
| /knowledgeadvice/currentaffairs/pages/coronavirus-covid-19.aspx | 12,505 | 16,612 | +32.84% |
| /pages/wheres-my-nearest.aspx | 10,790 | 14,477 | +34.17% |
| /newsevents/news/pages/coronavirus-advice-and-information-for-recreational-boaters.aspx | 11,996 | 13,868 | +15.61% |
| /newsevents/news/pages/rya-delighted-at-government-decision-on-tax-reform-of-red-diesel.aspx | 0 | 12,009 | +100% |
| /courses-training/courses/pages/hub.aspx | 9,474 | 11,737 | 23.89% |
| /courses-training/pages/hub.aspx | 7,402 | 10,152 | 37.15% |
| /newsevents/news/pages/ofcom-introduces-new-licence-requirements-for-limiting-exposure-to-electromagnetic-fields.aspx | 0 | 9,054 | +100% |
| /wheresmynearest/pages/whichcourse.aspx | 5,802 | 7,975 | +37.45% |