RYA Cymru Wales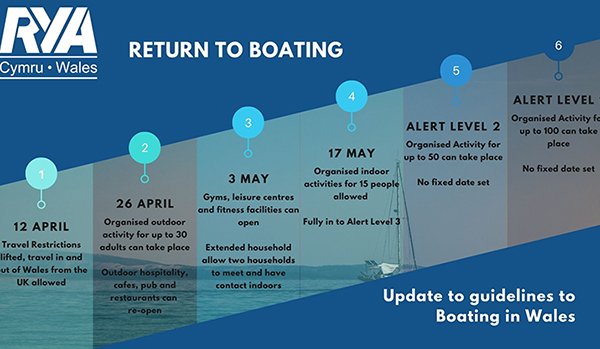 With the date of allowing organised activities for adults brought forward to 26 April, clubs and centres are busily, and excitedly, preparing to re-open fully to their members. Some have already opened with organised activities for children under 18yrs old.
Club racing and regattas have already restarted with RYA Club of the Year, Clwb Hwylio Y Felinheli / Port Dinorwic Sailing Club hosting their Junior mid-week racing programme whilst PPSA (Pembrokeshire Performance Sailing Academy) held an Easter Regatta.
Events are taking shape for the summer, but with restrictions in place they will be run within the number guidelines, the team are working hard with clubs, centres and event organisers to host them within the legislation and guidance in place.
RYA Training will restart in Wales from 26 April hopefully, outdoors only.
In other news…RYA Cymru Wales are working alongside other watersports NGBs (Swim Wales, Welsh Triathlon, Canoe Wales, Welsh Rowing) to identify a Strategic Partnership Agreement with Dwr Cymru/Welsh Water on a shared vision of use of their facilities
Be Active Wales Fund managed by Sport Wales has identified over £150,000 funding to clubs and centres throughout Wales. The team in RYA Cymru Wales are actively engaging with the clubs and centres to ensure their applications fit within the criteria expected by Sport Wales.
RYA Northern Ireland
Northern Ireland saw some easing of restrictions for sport on 02 April with clubs and other venues allowed to reopen in a restricted manner for recreational activity and a rule of 2 households up to 10 people. From 12 April, under Step 2A, affiliated clubs and organisations can deliver training for up to 15 people in total. Racing will not be possible until Step 2C of a return to outdoor sport with no indicative dates for any further easing. RYANI Updated Guidance for Step 2 and FAQs can be found under our Return to Boating Page.
With the easing of restrictions, our Youth Performance Programmes are back up and running with a number of dates planned to allow young sailors to get back to training once again.
We are looking forward to being able to support clubs and centres further with instructor, coach courses and rediscover sailing planned under the new restrictions.
The announcement of red diesel being prohibited for private recreational craft (planned for June) in Northern Ireland, we are working with Howard and the current affairs team on highlighting the issues and challenges this presents. A current FAQ document helps summarise the position for NI and also for those who may be looking to visit.
The pilot of the RYANI Youth Forum wrapped up on 29 March with a final session delivered by the young people involved. This highlighted what they had achieved over the course of the past 12-18 months and how they would see youth engagement going forward. A review of the programme, its purpose and means of delivery is under review in order to look forward.
We are glad to have received confirmation of funding from SportNI in support of our Development and Performance programmes for 2021-22. There has, however, been a drop of 5% drop in the funding for development.
RYA Scotland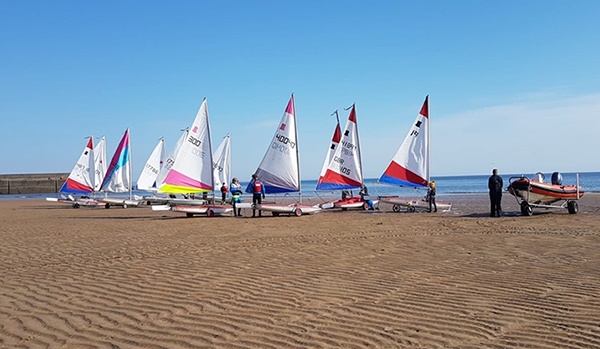 More movement from the Scottish Government on easing of lockdown with the 26 April, although travel for informal activity has opened up from last Friday after an update from the FM, although this does not apply to organised activity. We are currently working on updating the current guidance for boating in Scotland and continuing to support or RTC's which have not as yet been able to plan. The Scottish Elections on 06 May are proving difficult in getting clarity in a number of areas, so 17 May is a current date in which much more activity looks set to return.
We have launched our Strategic Consultation for the 2021-2025 cycle with online sessions and a survey to gain input from the boating community in Scotland- http://bit.ly/RYAS_Survey
Our new RDO for the North of Scotland, Ryan Beattie, starts this week so we are looking forward to opening up opportunity in the Islands and the far North.
RYA Scotland has formally adopted a revised and localised version of the RYA Sustainability Strategy and plan to have this live shortly.
Our online connect sessions for clubs and centres are aligned with the expected guidance updates as activity begins to open up and we are seeing more activity across Scotland
Our 'Off the Water' podcast looked at equality, diversity and inclusion capturing some of our new members of the team and aligned with the recent UK strategy launch.