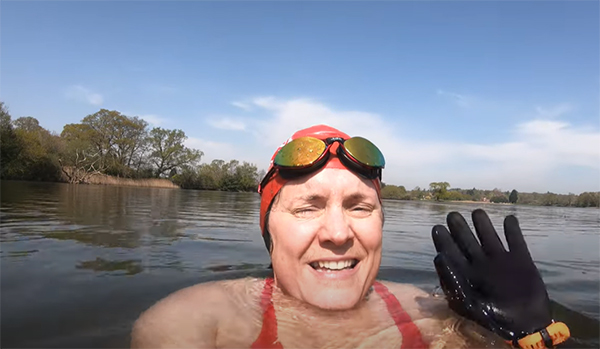 Want to know more about outdoor swimming? Well, our very own Chief Instructor – Power, Rachel Andrews is a bit of an expert. Here she tells us more about it and shares some of her top tips to help you get started…
I spend much of my spare time at the weekends, and sometimes before or after work floating about in rivers or the sea. I absolutely love it. I do all kinds of swimming from dipping (getting in for just a few minutes, mostly in the winter) to swim adventuring to training for and taking part in marathon swims.
I really like the feeling of the water on my skin and the ability to be completely immersed in nature with no other distractions.
I sometimes swim with a friend or two (if allowed!) but often do so alone.
I've had some amazing experiences in the water swooshing in the fast-moving River Dart, being followed and observed by a kingfisher on the River Usk and watching a sunrise at Lepe only to turn back towards the beach and find I had a seal for fairly close company. Swimming gives me the chance to relax and unwind but also to feel present in the moment.
If you're interested in giving it a go, here are some top tips to help you get started…
You don't need anything more than a swimsuit, a towel and preferably something on your feet to protect the soles on the way in and out of the water. Swimming where there is traffic, a tow float is a good idea
Consider joining a group to meet others for a swim or a dip, start by visiting the Outdoor Swimming Society website and checking out the list of groups. I'm a member of the Hampshire Open Water Swimming group, but there are lots of much more local ones all over the country.
Check the weather and go somewhere where the wind is offshore so that you can get changed out of the wind.
Have your towel and clothes laid out in the order you will put them on, perhaps in something like a forever supermarket shopping bag.
Let someone know when you go for a swim and when you are back out of the water, I use the RYA SafeTrx app for this.
When you get in it will feel cold, but your tolerance will increase. Stay in your depth and wait for your breathing to regulate before starting to swim. For the first dip just get in for a couple of minutes. You want to get out thinking about next time, not thinking 'never again!'
I also make videos to encourage people to give it a go safely. I have posted one a week for just over 2 years.
For more tips on how to get started, you might want to check out this playlist:
Get Involved with outdoor Swimming https://youtube.com/playlist?list=PLrBM9GuZgXX6dGkhGdXU1TPD2N69EA_UU
If you think you fancy it, but you're still a bit nervous, maybe this video will put your mind at rest: Is body confidence stopping you swimming?
Always happy to have a chat about it if you fancy trying it but want to chat about it first; here in Hampshire we're in an outdoor swimming paradise!
Rachel
Fantastic, thanks Rachel, sounds amazing and the videos are fab….I might be brave enough to give it a go myself!!!