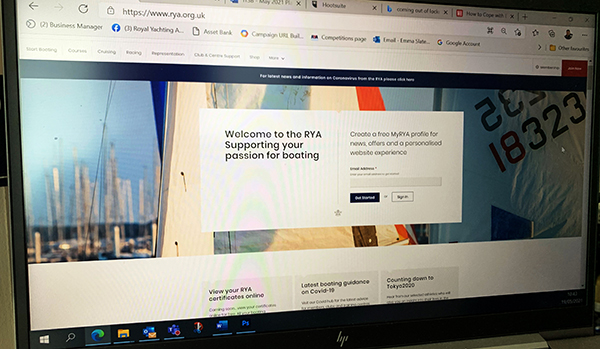 The new website launched but we are not quite there yet. Despite rigorous testing there are some issues that the RYA team, Isobar and Sitecore are working through as a matter of urgency. We acknowledge that these issues are creating extra work and some extremely challenging stakeholder moments. Thank you for your continued support and patience as we iron out the final wrinkles. It will be worth it.
In the coming months we will learn from the online experiences of our members and visitors to further enhance the website. There is always room for improvement so please do let the Digital Team know if you hear any feedback following the launch of the site – whether it's good or constructively critical!
In other news, the realities of Brexit's impact on travel, recreational cruising and commercial training activity are all starting to hit home, leading to a very high volume of enquiries. HMRC has still not given adequate responses to tax questions and we are now pursuing a political route via senior MPs. In contrast, Border Force (the law enforcement command within the Home Office) has established a new recreational maritime team and is being far more proactive. We also have a positive update on Spanish recognition of RYA qualifications, with ICC and RYA Certificates of Competence to be reinstated in Spain, you can read more about this here.
Since our last newsletter, we have all been relieved to see further easing of lockdown restrictions across the UK. It's great that our clubs and training centres can once again open their doors for indoor hospitality and we've updated our guidance on the Covid hub to reflect the current position across England, Northern Ireland, Wales and Scotland. It's important to note that "elite sport" exemption from quarantine and other measures for travel to Amber and Red countries does not apply to recreational participation in regattas.
Instructor Training has now resumed with a really good take-up, which in turn will have a positive impact on RYA membership. And there's more good news... sales of publications and certificates to UK centres are increasing in advance of an anticipated boom in summer demand. With the staycation trend likely to have an impact on sporting participation in the year ahead, our clubs and centres will be offering opportunities for water-lovers of all ages and abilities to get afloat. It presents us with a great opportunity to encourage people to escape from modern-day life, switch off their screens and get active outdoors.
We do hope the further easing of lockdown restrictions has provided you with the opportunity to meet up with friends and family members for a long overdue cup of coffee, or even a cold pint. Covid-19 has had a devastating impact on so many people, and it's tested us in ways we never expected. But hopefully it won't be too long before we can once again meet in person at our workplaces. The RDO team has recently met face to face to reconnect with one another and we would encourage other teams to do the same. Work is progressing well on the air conditioning replacement at RYA House, ready for the phased reoccupation of the offices over the summer. So, on that note, we hope to see many of you in person soon.
Lastly, we'd also like to say thank you for taking the time to check out our latest update and we hope you enjoy hearing the latest updates from your colleagues across the RYA!
Your Senior Management Team