RYA Cymru Wales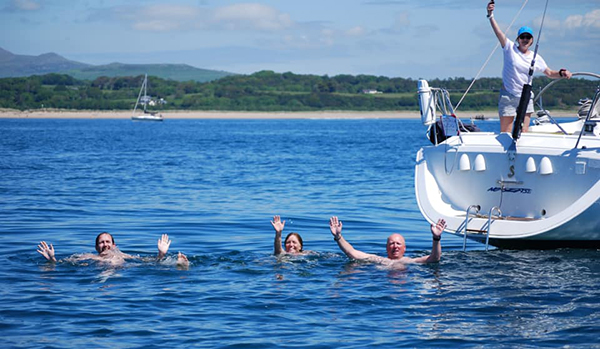 Picture: our Race Officials for the Welsh Youth & Junior Championships taking a dip during a break in racing
As of 7 June, Welsh Government announced that Wales would be moving into Alert Level 1 in a phased approach, with only the following changes to the current restrictions:
Regulated events allowed outdoors with up to 10,000 people seated or up to 4,000 people standing (subject to risk assessment)
Extended households can be formed between three households
Up to 30 people can meet in any outdoor area, including private gardens, public spaces and outdoor regulated premises such as cafes, restaurants and bars.
In addition, the First Minister announced on Friday, 18 June that there will be no further easing of restrictions considered until at least the middle of July due to the rise in the Delta variant. However, one positive technical change to current restrictions sees primary school children in the same school contact group or bubble will be able to stay overnight in a residential outdoor education centre.
The Welsh Youth & Junior Championships were held over the weekend of 12-13 June at Plas Heli for the 29ers and ILCAs, whilst the Toppers enjoyed their event at Pembrokeshire Performance Sailing Academy and the 420s and Optimists were in Cardiff Bay Yacht Club.
RYA Cymru Wales, local commercial centres and clubs, as well as the National Outdoor Centre, Plas Menai, inputted into the consultation being led by the Isle of Anglesey Council on the review of current maritime uses and their impacts: Menai Straits. This follows the death between a RIB and a PWC - background story available here. Initial recommendations by MAIB are currently being reviewed by RYA Training, whilst the full report is yet to be released.
RYA Northern Ireland
Northern Ireland has been enjoying the warmer weather and the benefits that further easing of restrictions has seen for the sport. Most clubs are back up and running activity, with cruisers now also able to travel to Scotland and other destinations once again.
As we work out of the restrictions, the principles of flexibility and support for clubs and centres has been key:
Dinghy Instructor courses are set to take place in July, following the first pre entry assessment for candidates in over 12 months. This is an area clubs and centres are looking most support for and to ensure there are newly qualified instructors going into next year also.
A number of clubs are looking at re Discover Sailing days to help engage members and Lisa has been busy in support of these. Our Sailability centres are also getting back on the water, for most this is the first time since the start of the pandemic and thanks to Joff for his input at a webinar for the clubs here, helping give them confidence to get back into action.
The Women on Water Festival is set to run 16 June for a limited number of participants. Interest in this has been high, with nearly twice as many expressions of interest to the places available.
Thank you to Michelle, who has finalised out first Dinghy Trail on the beautiful shores of Lough Erne – if you wish to see the west of Ulster, this is a worthwhile stop. Hopefully more to follow!
Our Performance Programmes continue to train at home, with some welcome news that local class events are now taking place across June and into July.
The RYANI Board has now agreed the purpose and objectives of our Youth Forum, with a view to this being officially up and running by the Autumn next year. The age group will be primarily 12-16 year olds to begin.
On a representation front, HMRC have delayed the move to white diesel to 1 October – welcome news in order to help get the main sailing season under our belts without a further adverse impact for boaters.
RYA Scotland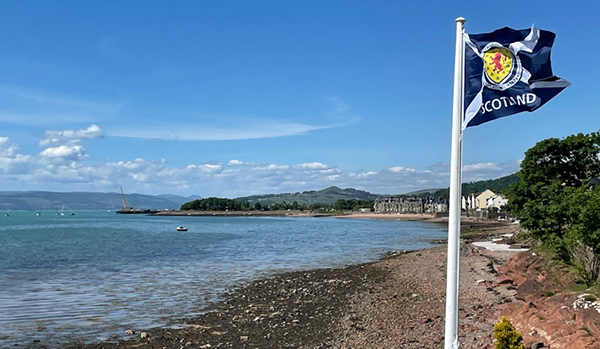 Summer has officially started in Scotland as schools across the country break up and the weather seems to have agreed in providing some tropical conditions that are encouraging more activity afloat.
The RYA Scotland team is working behind the scenes as activity comes back to life in a number of areas:
Guidance around Covid -19 restrictions is likely to extend until the 19 July with most of the mainland on level 1 while islands are level 0. For cruising vessels, we are part of a #RespectThe Destination campaign to highlight differing requirements.
Performance teams are setting up for a summer championships on Loch Venachar of the 3-4 July the and the Academy training programme for youth and junior sailors is continuing at local club venues across the country.
Our new RDOs, Ryan Beattie and Georgia Moran, have been settling in and starting to work with clubs, and Georgia is sitting her PB2 this weekend!
We hosted our first SI course at Helensburgh, while instructor training and mentoring projects are continuing at pace to expand the instructor workforce in Scotland.
There have been a number of Covid secure events taking place with a number of Scottish National Champs taking place in Windsurfing and D-eros, while the Flying Fifteen Nationals takes place next week.
Overall, we have provided support to clubs in liaison with sportscotland and Local Authorities.
We've completed a Strategic Review in recent months and the staff team are planning for the next cycle over the next couple of weeks with the feedback received from the Scottish boating community.