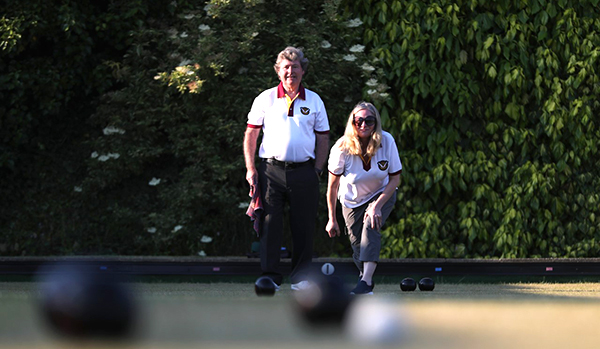 Week 68 of working from home and, I don't know about you, but I'm getting a tad bit stir crazy. I've spent more time in my makeshift office in the loft (formerly my shell art studio) than I ever thought possible. The friendly wood pigeon that often perches on the roof and I have become so well-acquainted during this past year, that we might actually be... in a relationship. He's called Steve, by the way.
With all of this time spent at home, it's been tough to separate work from pleasure, and my life seems to have become one blue light blob of working on my laptop and then trying to wind down by playing Yahtzee With Buddies on my phone screen. But we all know too much screen time isn't good for us. So, I've embarked on a few new hobbies during the pandemic – some with greater levels of success than others.
Lockdown 1.0 saw the arrival of bagpipes in the Spridgeon household – but trying to connect with my musical side didn't go especially well, in spite of the plethora of YouTube videos on how to get started. Bagpipes are undoubtedly harder to play than many other instruments because you have to play the right notes while blowing and squeezing to keep the air flowing at the right amount. So, if you are even half-way serious about learning the pipes, I strongly recommend that you find yourself an instructor.
Having tried in vain to learn sign language with an online course, lockdown 2.0 then saw the arrival of a hoverboard with flashing Bluetooth speakers in the wheels. I soon fell off and concluded this wasn't a new hobby that I should pursue.
As restrictions have eased, I have however been able to resume a much safer and more relaxing hobby, Lawn Bowls. The aim is simple – to get your bowls as close as possible to a smaller target ball called the 'jack'. My 22-year-old niece and I have entered competitions at Folland Bowls Club (at Kings Avenue in Hamble) for the first time. Having impressively knocked out the Club President in her first match, my niece has since progressed through to the semi-finals in the Two Wood Singles. Next stop, Commonwealth Games maybe!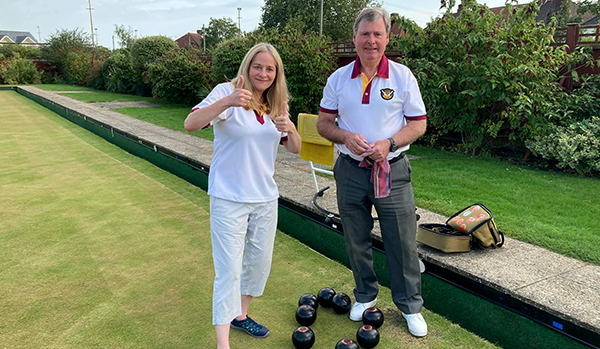 The basics of bowls are easy to pick up and you can play anytime, day or night. Traditionally it's been seen as an older person's game, but an increasing number of younger people are taking it up. If you fancy giving it a try, just pop along to the Folland Bowls Club after work on a Monday evening and the friendly club members will provide you with the bowls and all the equipment you need – just make sure you wear flat-soled footwear.
And last on my list of new hobbies to try is zoo-keeping. A friend recently gifted me a day's zookeeping experience at (wait for it....) Crocodiles of The World. Located in Brize Norton, the UK's only crocodile zoo is home to over 100 individuals representing 18 species of crocodiles. My session got underway with an all-important safety briefing before a VIP tour of the park and an introduction to the zoo-keeper team. Proudly sporting my 'Adult Croc Keeper' lanyard, I then had the amazing opportunity to handle hatchling and juvenile crocodiles.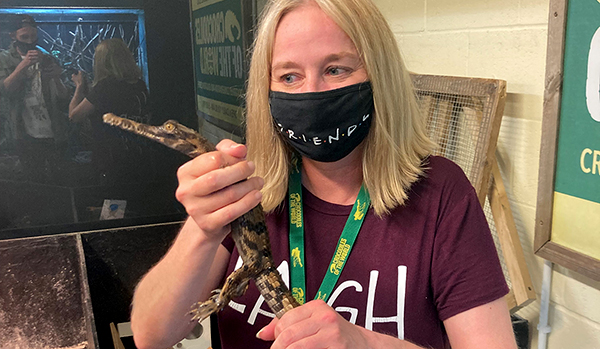 It has to be said that I was far more comfortable with handling the crocodiles than I was with the stuff we had to feed them – including live locusts and a wood pigeon! Thankfully it wasn't my friend Steve. So, whether you're looking to take a family trip or perhaps try a unique keeper experience, Crocodiles of the World is a truly memorable day.
With all the stress of the world at the moment, finding a relaxing or even exhilarating hobby seems like a sensible idea. They can give you some calm amidst the storm, and even help with your mental wellbeing. If you're looking for ways to ignite your creativity, find a different way to keep entertained, and be intentional with your "me" time, I thoroughly recommend picking up a new hobby – or at least trying to.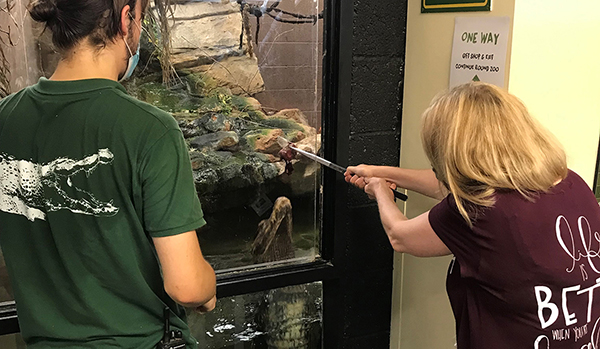 Well Loretta, you have been busy! If you've been inspired get in touch with Loretta (Loretta.spridgeon@rya.org.uk) and I'm sure she'd be happy to give you more information about any of her experiences and new hobbies.
If you've recently taken up a new hobby or would like to tell others about getting involved in a hobby or sport you enjoy, then contact me (emma.slater@rya.org.uk) and we can put something in a future issue of In the Same Boat.