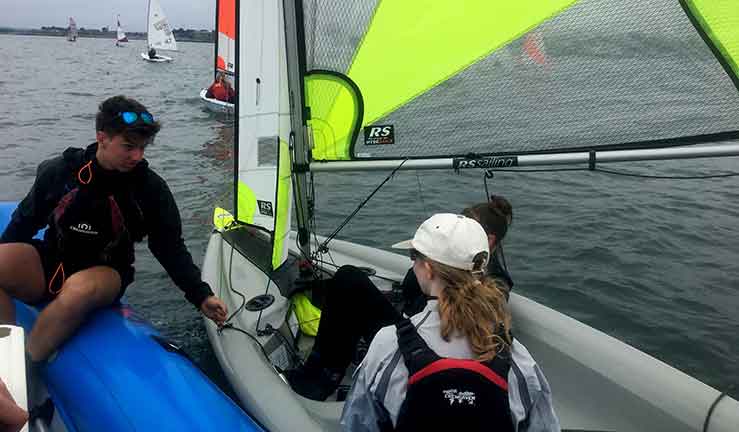 Six coaches have successfully completed the first ever RYA / National Sailing Schools Association coaching apprenticeship.
The coach education programme took place during the 2021 NSSA National Youth Regatta in Plymouth, allowing participants to successfully work towards achieving their RYA Race Coach Level 2 certification.
"The concept behind the apprenticeship programme is to provide an achievable sailor to coach pathway for experienced racers who naturally become too old to compete in the NSSA National Youth Regatta. Our intention is that they will coach and inspire junior sailors at their local club to enjoy regular dinghy racing", explained Tim Cross RYA Race Coach Tutor.
With all the participants having raced regularly in the regatta in recent years it provided the perfect opportunity for them to develop their coaching competency and gain real coaching experience by actively supporting sailors on the water in between races.
"Being in the coach boat with the course tutor was a valuable experience as I got to see how he observed the racing to see who would benefit from some coaching", commented apprentice coach, Ella Spain from Upton Warren Sailing Club.
"For example, when one race finished, we went over to a Topper sailor who was very overpowered when racing upwind and finding it hard to keep the boat flat. We discussed with the sailor what the controls did and encouraged the sailor to adjust the controls and it imminently made a big difference", Ella explained.
The apprenticeship coaches took an active role in supporting the Rookie Fleet during the regatta, this fleet is specifically for sailors experiencing their first regatta away from their local club. The team took it in turns to provide shored based teaching sessions alongside providing on water coaching.
Apprentice coach Ben Yearsley from Olton Mere Sailing Club commented: "I have taken away a plethora of new coaching skills from this apprenticeship, especially increasing the number of peer-to-peer conversations and learning situations I will now use in my own coaching. The most valuable experience for me was being able to coach on the water in an actual competition and immediately see sailors improve and have a more enjoyable time."
When asked if they would recommend the apprenticeship programme to future potential coaches' apprentice Matt Bennett from Bow Lake Young Mariners, highlighted the positives from his experience: "It would be a resounding yes, the week increases your awareness of different coaching techniques and provides you with the experience to further develop your own coaching style as you are surrounded by experienced sailors and coaches."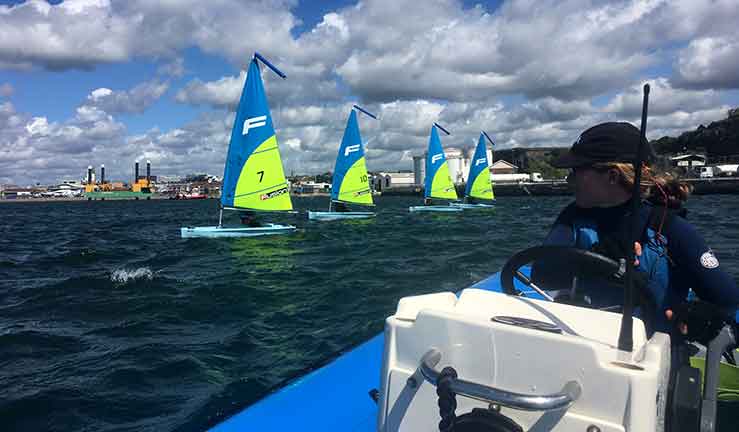 Connect with Coaching workshops
The RYA coach development team is continuing its Connect with Coaching workshop series this winter. The workshops are designed to support RYA Coaches and Instructors who deliver race training activity at their sailing club or through a Class Association.
The interactive online workshops provide a positive environment for individuals to discuss relevant topics with the team and gain inspiration through sharing experiences with the other participants.
Workshop 1 - Understanding your coaching context
Reflect on who you coach and how well you recognise and support their needs and wants.
Workshop 2 - The Coach Practice Planning and Reflective Framework
An introduction to the Coach Practice Planning and Reflective Framework (CPPRF), designed to support coaches to explore the relationship between their coaching objectives (goals), the way they structure sessions, and how and why they explore specific behavioural strategies to support sailor engagement and learning.
Workshop 3 - Generating Feedback - Where is the learning happening?
Discuss and understand how we can generate feedback throughout the different stages of the coaching process.
Workshop 4 - How the coach supports racing sailors to develop their decision-making competencies?
The coach development team will share and explore ideas on how we can support sailors to develop their strategic and tactical decision making.
Workshop 5 - Developing your future coaching
What will your coaching look like in the future? Dave Mellor, RYA Coach Development Manager, will lead a workshop to help you bring together and consolidate themes and strategies from the previous four workshops and establish ideas you wish to embed in your future coaching.
The first online workshop will be hosted on Wednesday 10 November, 1930 - 2045, with the consecutive four workshop's hosted monthly thereafter.
For more information
If you're interested in race coach courses and the coach development programmes offered to support race coaching please contact coachingdevelopment@rya.org.uk with your request.
For further information and to register for the Connect with Coaching workshop series please email Tim Cross tim.cross@rya.org.uk
More information about Race Coaching is also available at: https://www.rya.org.uk/training/teaching/race-coaching