With Coronavirus restrictions easing things are moving quickly so, if you don't already, please follow us on Facebook or Twitter
Steve Mitchell, Regional Development Officer, writes:
I had the pleasure of attending Thames SC in June for the celebration of the clubs's150th birthday and to witness the ground being broken by HRH The Princess Royal, President of the RYA, in preparation for a new facility. The activities for the evening involved youth members from the RYA's London and South East Youth Training Group, a competitive fleet of Merlin Rockets, and the graceful, highly competitive and fast moving fleet of Thames 'A' Raters; a class long established on the River Thames which have a tall mast to reach clear wind. Also present were members who enjoy stand-up paddle boarding, with their own fun race on oversized 'mega' SUPs.
It was a great evening and fantastic to see a club that is 150 years old and still going strong, located only a few miles from the City of London and offering access to the water for all ages of the local community. There is still a way to go with the new facility but it's wonderful to know the club will continue to exist long into the future.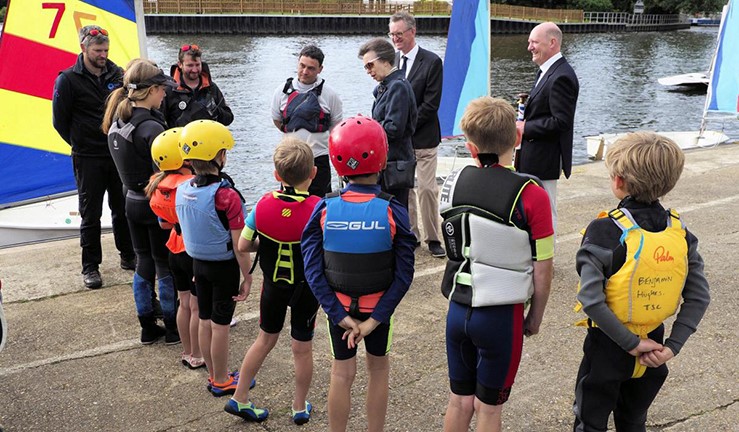 Olympic celebrations
The Olympics are not too far away now and we wish Team GBR the best of luck. If your club is hosting any Olympic themed events we will be interested to hear from you. Contact your regional communicator
Club owned boats
Does your club own boats for members to use? If so, make sure you listen to the interview Gareth did with our insurance partners Gallagher for an update.
RYA Membership Census
An email should arrive shortly asking for support with the 2021 RYA Club Membership Census.
This insight continues to play a very important part in tracking club membership health both regionally and nationally so once again we would be grateful of your support in completing this. See last year's Insight for London & South East clubs.
Opportunity to build the Affiliated Club Conference – Sunday 21 November
We are now starting to plan the content for both the Affiliated Clubs Conference and Club Development Sessions programme and we would really value your help with ideas for how we ensure these events remain useful and relevant to clubs. This is your opportunity to feed in the ideas that you have always wanted to learn more about so that you can improve the offering your club gives to its members or potential members.
There is no such thing as a bad idea at this stage, together we will find the information and ideas that you are looking for. Let us know what you think!
From the Chair
Regional Team Chair Helen Hofmann writes:
Anniversaries give a chance to celebrate, reflect and look to the future, and the NHS has rightly marked its 73rd anniversary in recent days. Delayed from 2020, it's been uplifting to see Thames Sailing Club - Britain's oldest river sailing club - celebrating its 150th anniversary with a visit by HRH The Princess Royal. It's a huge achievement, and we look forward to many more years to come for the club.
In 2021, Herne Bay SC celebrates its centenary, so many congratulations to the club and with best wishes for a successful future.
As we look to further easing of restrictions, clubs and centres can continue to play their part in providing a cautious approach, bearing in mind that most children will likely not yet be Covid vaccinated. The more we can do to encourage responsible behaviour towards other club members and visitors, the more our sport will also gain deserved respect.
2020 Volunteer Awards
Some of the 2020 Volunteer Awards for our region have been made following delays due to lockdowns. Congratulations to Julie and Jeff Maidment and Malcolm Brown at Maidenhead SC, with more to follow in the next blog.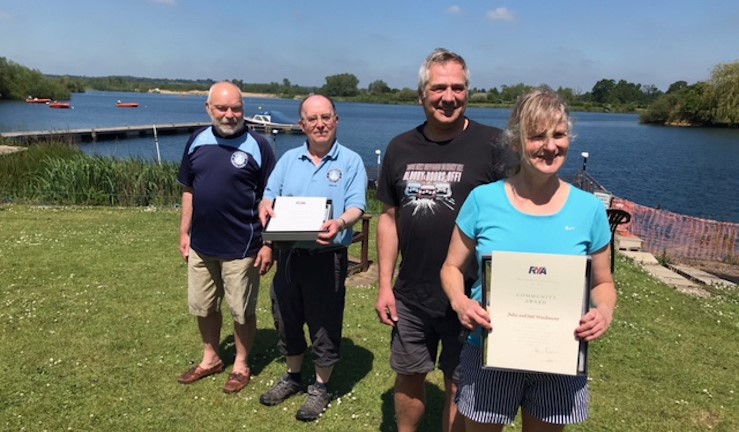 Share your experience
Please do share your club/centre's experiences with us: how are you returning to boating, what are your challenges, what are your solutions? These could be anything from a two or three lines we can share on social media, to short case studies, say three of four paragraphs, and good news stories for the RYA web site and to share with your local media. Other clubs may benefit from your experience. Please send them to Mike Haigh