There's been a continuation of good news stories and pictures highlighting how people are getting back out on the water. Club racing is back and some venues are also starting to host open meetings, courses and coaching sessions, including for our junior Regional Training Groups.
We had a good few days at Burton SC recently, where not only was there an SI course but also a Derbyshire Youth Series open meeting, windfoil coaching and club racing: lots of different activities going on, all within Covid restrictions. Other clubs have been similarly busy.
I've really enjoyed seeing event reports from the many activities around the region, online and shared on social media, and there has been lots of good feedback about these being facilitated in a way which feels comfortable for everyone involved.
It all reflects the really high interest in coming back to boating. And what's been really good in conversation with different clubs is that their membership figures seem to be quite healthy.
Anecdotally people are definitely signing up for renewals, even if it is sometimes a bit later than usual, and membership overall appears to be starting to catch up to where we'd want it to be, with more still to look forward to as our 'staycation summer' progresses.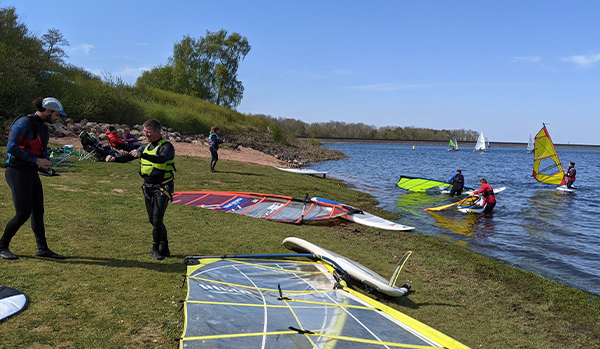 Security
Following the theft of sit-on kayaks cut free from locking chains at Rutland Watersports Centre it is a reminder for all our venues to ensure that you regularly review and check the security and alarm systems at your club or centre.
Please do make sure your kit is as safe and secure as possible and be vigilant for unknown persons hanging around your buildings or boat park. If you do need any crime prevention advice, you may want to consider contacting your local community police.
Club development
We have a series of webinars in June designed to provide support on different aspects relating to running clubs, including taxation and marketing, with more to follow. For more details and to book, visit Club Development. To keep up with all the latest news, follow @RYAMidlands on Facebook and/or Twitter.
You may also want to bookmark our online RYA Midlands Instructor & Coach Courses hub as our regional training programme for the season is now underway. Look out for instructor courses across the RYA training schemes and also opportunities for skills development.
Courses currently include half-day sessions looking at how to make the most of RYA OnBoard resources for running engaging sessions with children and young people. There is also an RYA Senior Instructor course coming up soon at Staunton Harold/Rutland which is bookable here.
RYA Affiliated Clubs Conference
We are now starting to plan the content for both the Affiliated Clubs Conference and Club Development Sessions programme and we would really value your help with ideas for how we ensure these events remain useful and relevant to clubs. This is your opportunity to feed in the ideas that you have always wanted to learn more about so that you can improve the offering your club gives to its members or potential members.There is no such thing as a bad idea at this stage, together we will find the information and ideas that you are looking for. Let us know what you think!
Save the dates
Finally, here are a few dates you may want to make a note of on your club calendar:
Following the latest major easing of restrictions over May, all the latest information can as ever be found via the RYA Covid-19 Hub. I am looking forward to seeing a continued boost for our clubs and centres in addition to the benefits we've already seen over recent weeks from getting back out on the water.
Until next time,
Ben.