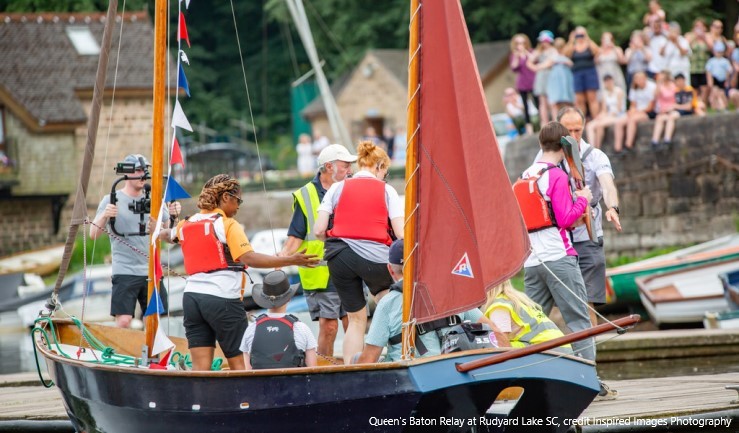 It's been a busy month for celebrating sport with the Lionesses bringing it home for England and football and the 10th anniversary of the London Olympics, which gave us Ben Ainslie's history-making fourth gold medal, set Hannah Mills on the path to becoming the greatest female Olympic sailor of all time and left a lasting legacy of world class facilities at Weymouth and Portland National Sailing Academy, which many of you will have enjoyed for training or championships.
On our very own doorstep of course we have had the Commonwealth Games in Birmingham, with Rudyard Lake and Tamworth sailing clubs each having the honour of hosting the Queen's Baton Relay and finding themselves and our sport in the media spotlight, which you can read about here.
All in all it's proving to be incredible summer for sport and it continues to be a great time to draw attention to our offer and encourage all ages to get active and on the water with us. Remember that in ClubZone we have lots of top tips and free resources to help you promote your club.
Women on water
Successful female athletes and teams have been very much in the spotlight which serves as a good reminder that encouraging women in sport is important. If your venue is interested in setting up a women on the water group or specific sessions, or would like to encourage more female instructors, our Sailing Development Officer Patricia Ordsmith is available to help and can be contacted here.
Sailability
August has also seen the return of the RYA Multiclass Regatta at Rutland SC where the sun shone, the wind blew (a bit), the competition was close and there was a celebratory buzz on shore! If you would like to know more about making sailing more accessible for more people at your club, find out about RYA Sailability or get in touch with our regional Sailability officer Brett Cockayne.
Regional Training Groups
Youth and junior sailors from across the region have been posting some fantastic results at national and international events this summer, including Joseph Rowe from Draycote Water SC who claimed the Topper World Championship title in Italy, well done Joe!
If you have any aspiring junior sailors at your club, our Regional Training Groups provide a series of training weekends over the winter months and offer a great pathway for those who are keen to develop their racing skills. Applications for the 2022-23 Regional Training Groups, which are delivered by expert RYA coaches, are open until 11 September 2022. Find out more here and please share the deadline with your youth and junior parents.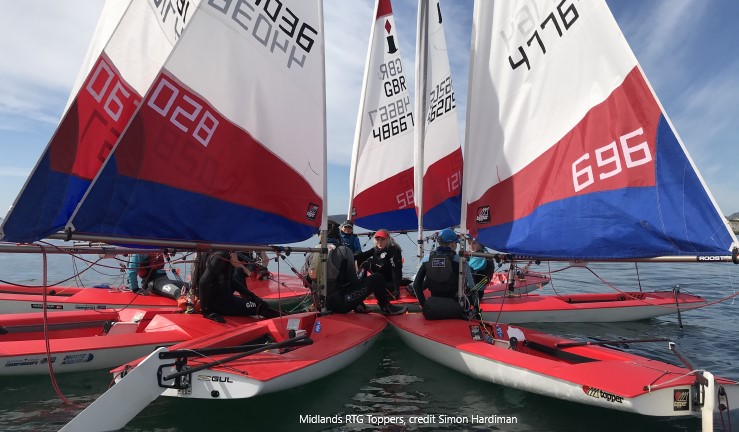 Low water levels
A number of venues are starting to be adversely affected by low water levels. Now is a good time to start making contingency plans and utilising assets such as trolleys and tractors. You may also want to encourage members and customers to help each other get boats up and down slipways - it may be an opportunity to strengthen the camaraderie and community spirit at your club or centre.
Extending the season
Although Lincolnshire, Northamptonshire and the East Midlands have now been officially declared drought zones, next month will see the beginning of autumn and so now is a good time to start thinking about how to encourage your members to keep sailing beyond the main summer season!
Club Membership Census
The deadline has now gone for completing the RYA Club Membership Census but I am keen to have as many returns as possible for the region, so we are accepting late submissions. Please contact me if you would like to know more or need any support completing it.
The results and insights from this year's census will as ever enable us to spot trends and opportunities and will be available at our RYA Affiliated Clubs Conference for the Midlands region at the National Memorial Arboretum in Staffordshire on Saturday 19 November 2022. Save the date!
Courses & CPD for instructors
We still have some courses available during autumn for anyone wanting to gain, retain or advance their instructor qualifications, with booking available here for the following:
First Aid: Burton SC, 29 October
Dinghy Senior Instructor: Aztec Adventure & Andrew Simpson Centre Bartley, 17-18 September & 1-2 October
Dinghy Racing Instructor Endorsement: Aztec Adventure, 8 October
Performance Sailing Course: Andrew Simpson Centre, Bartley, 8-9 October
Dinghy Instructor Pre-entry Assessment: Kingsbury Water Park, 16 October
Dinghy Instructor Revalidation Day: Burton SC, 22 October
Advanced Dinghy Instructor Endorsement: Andrew Simpson Centre, Bartley, 12-13 November
How to run the Safety Boat Course: Staunton Harold SC, 27 November
Club of the Year
And finally, nominations for the RYA and Yachts & Yachting Magazine Club of the Year Awards close on Monday 29th August - please do take a look because it's not too late to put your club on the stage! New for this year, all you have to do is fill out a short form online with a sentence or two about why you think a particular club should be shortlisted. Find all the information you need here.
Stay up to date with all the latest news and announcements for clubs and centres in the region by following us @RYAMidlands on Facebook and/or Twitter.
Until next time,
Ben.