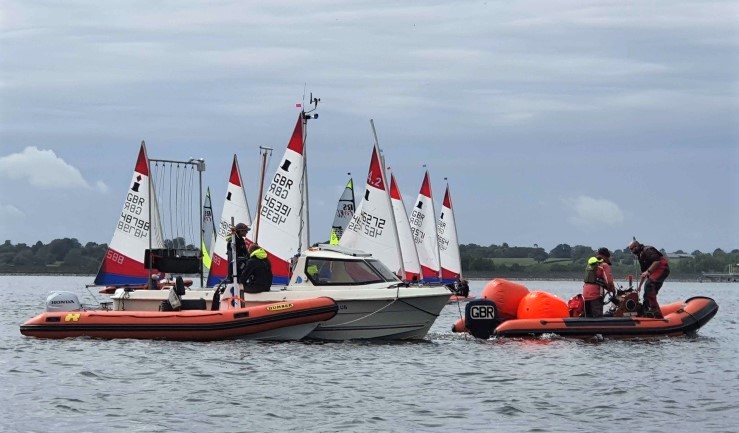 New research shows watersports participation is growing and our clubs and centres are certainly busy. Everybody is maxed out with courses, racing and social sailing and just the fact that people can get out on the water to do what they want, when they want and with good weather, is making a real difference following the Covid restrictions of the pandemic at its height.
Although sailing is not featured in the upcoming Commonwealth Games in Birmingham from 28 July - 8 August, the Queen's Baton Relay will see our sport highlighted as part of the celebrations.
Among the venues chosen to host the relay are Rudyard Lake Sailing Club on Tuesday 19 July and Tamworth Sailing Club on Thursday 21 July, creating an exciting opportunity for us to join in with the build up and capitalise on the feel-good factor the Games will generate for sport as whole.
It's a good time clubs and centres in the Midlands to be aware that people may be inspired to get active and so think about ways of encouraging potential members try sailing – whether through taster sessions or by inviting work colleagues, friends and family to have a go!
Club Membership Census
A big thank you to all those who have already completed this year's RYA Club Membership Census. More than a third of clubs in the region have so far returned their data, which is fantastic, and I know some of you are waiting to return your census on the same date as last year for comparability.
For those who haven't yet returned the census, please don't forget to submit it by the deadline of 14 August. The link to fill in this annual snapshot has been sent to club contacts and as ever it will provide valuable insights for future planning, enabling us to spot trends and opportunities and provide targeted RYA support for the sport and our Affiliated clubs and centres.
If you haven't yet seen the invitation to return the census or have any difficulties, please let me know so I can help you to access it. You can also find out all about this year's census here.
BYS Regional Junior Championships
The BYS Midlands Regional Junior Championships at Draycote Water SC proved to be a really enjoyable festival of sailing, with close competition in the Championship and coached Regatta fleets and a chance for the less experienced to develop their skills and confidence in the OnBoard fleet.
These annual events are a great way for young sailors - and their parents - to develop know-how, meet friends and make new ones. To find out more take a look at our report from the British Youth Sailing (BYS) North Regional Junior Championships at Draycote Water and also the round up from the BYS North Windsurfing Regional Junior Championships at Glossop.
We already have the details for next year's Midlands event for junior sailors, which will take place 17-18 June 2023 at Rutland SC. Please do save the date and share it with your youth and junior section, along with a reminder that applications for the 2022-23 Regional Training Groups are now open until 11 September 2022, with further information available here.
Youth travellers
Young sailors in the region have also been out and about honing their skills on Midlands traveller circuits, including with Derbyshire Youth Sailing and the Northamptonshire Youth Series.
These friendly and supportive one-day opens make for a great day out and it's not too late to join in, so please do take a look and encourage your youth and junior sailors and their parents to take part!
Training Centre Principals Forum
For RYA Training Centres in the region, we had a short online forum in June, which provided a useful opportunity for Principals to come together to share conversation, questions and ideas.
I'd like to now run these forums regularly, every six months, the idea being to provide a supportive space for Training Centre Principals to discuss their successes and challenges. Look out for these when future dates are emailed out or shared on our digital channels.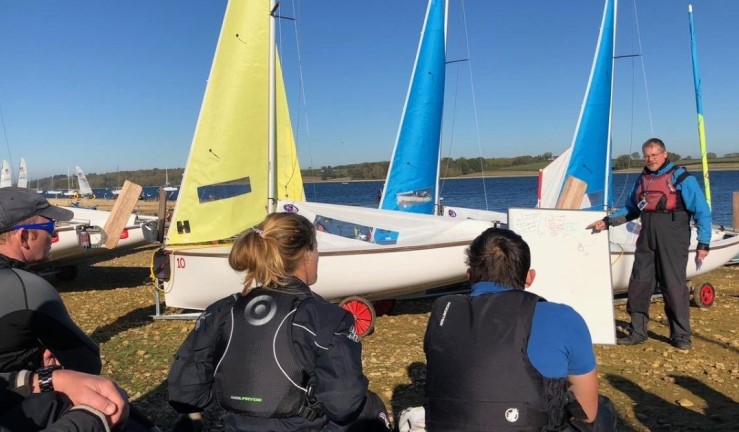 Courses & CPD for instructors
Booking is currently open here for the following training opportunities for those wanting to gain, retain or advance their instructor qualifications:
First Aid: Burton SC, 29 October
Dinghy Senior Instructor: Aztec Adventure & Andrew Simpson Centre Bartley, 17-18 September & 1-2 October
Dinghy Racing Instructor Endorsement: Aztec Adventure, 8 October
Performance Sailing Course: Andrew Simpson Centre, Bartley, 8-9 October
Dinghy Instructor Pre-entry Assessment: Kingsbury Water Park, 16 October
Dinghy Instructor Revalidation Day: Burton SC, 22 October
Advanced Dinghy Instructor Endorsement: Andrew Simpson Centre, Bartley, 12-13 November
How to run the Safety Boat Course: Staunton Harold SC, 27 November
Although these are scheduled for autumn, with the summer holidays in between these courses will soon come around, so if any are of interest try to book your place sooner rather than later.
Win with SailGP
SailGP is back on British waters 30-31 July with a return visit to Plymouth and a 15% discount on tickets for RYA members - plus a chance for your club to win SailGP prizes by hosting a 'watch party' for your members.
You could get the bunting out, turn on the TV and cheer on home favourite Sir Ben Ainslie and his Great Britain Team – the best watch party photo will win an exclusive club visit from a member of the Great Britain SailGP Team and there are other goodies to be won too! Find out more about this exclusive offer here.
And finally…
It's that time again when we invite nominations for the RYA and Yachts & Yachting Magazine Club of the Year Awards and this year anyone can nominate any RYA Affiliated club.
All you have to do is fill out a short form online with a sentence or two about why you think a particular club should be shortlisted. The aim is to make the awards more accessible and you can find out more in Club Room.
Encourage your members to take a look and you may find it's the turn of your club to be in the spotlight in 2023!
For all the latest news and announcements for clubs and centres in the region, find us @RYAMidlands on Facebook and/or Twitter.
Until next time,
Ben.