As we celebrated the Queen's Platinum Jubilee, several clubs and centres seized the day to join in with open days, mini flotillas and parades or special races, to engage existing and new members with a whole variety of memorable occasions.
The next opportunity on the horizon for boating venues to make the most of the feel-good factor that surrounds an event which captures the national imagination, will be the upcoming Commonwealth Games in Birmingham.
It's likely to generate huge amounts of interest around sport and getting active, creating a fantastic time and space for clubs and centres to hold taster sessions or Discover Sailing events which encourage people to try something new!
Steering the Course
Another celebration which saw lots of participation in the Midlands was World Sailing's Steering the Course festival highlighting women in sailing. Lots of clubs were inspired to share their stories, including Banbury SC with its Women on Water group (pictured below), and Rudyard Lake and Tamworth sailing clubs who spotlighted the role of women on their committees, which you can read about here.
For lots more inspiring stories from around the region and beyond, search for #steeringthecourse on social media.
To continue the theme, we remain passionate about ensuring women and girls have the opportunities they need to get out on the water, and we're inviting clubs and centres to join us for an informal webinar on Wednesday 29 June at 7pm when we will be sharing ideas and hearing from those who are actively encouraging more women to get out on the water. Sign up for the RYA Steering the Course webinar here.
Aspiring Female Instructors
Coinciding with the Steering the Course festival, for women who would like to become RYA Dinghy Instructors, or advance to Senior Instructor level, a third wave of our Aspiring Female Instructors programme was launched.
This programme bridges the gap in confidence and skills for women wanting to become instructors and has been hugely beneficial for clubs seeking to grow their instructor teams and have more women involved in providing training.
Places are still available for this year's programme so please do share the details with your members, who are encouraged to sign up by the end of the month and find out more at Aspiring Female Instructors 2022 or contact our project leader, Sailing Development Officer Patricia Ordsmith.
Club Membership Census
The RYA Club Membership Census is now live and the details have been sent out to all our club contacts across the region. It genuinely is an important survey so if you could take the time to complete it by the deadline of Sunday 14 August it would be much appreciated.
This annual collection of data provides valuable insights and enables us to spot trends and opportunities for the future so we can provide targeted and effective RYA support for our affiliated clubs and centres, including through our regional team of Sailing Development Officers, whether that's guidance, training or practical know-how.
New for 2022, those using Sailing Club Manager will have the option to share their data direct from there, which will hopefully be a big time-saver, and the census has also been updated to provide a more user-friendly experience.
Please do look out for an email with an invitation to complete the census and if you are unable to find it or haven't yet seen it, please get in touch and I'll get it sent out to you!
BYS Regional Junior Championships
It was fantastic to have so many windsurfers taking part in the British Youth Sailing (BYS) North Regional Junior Championships at Glossop SC on Saturday 11 June (pictured below) and we're now looking forward to seeing our sailors in action for this annual festival of junior sailing at Draycote Water Sailing Club on Saturday and Sunday 18-19 June.
Remember, if you know a young sailor or windsurfer who would benefit from having exclusive use of their own boat or board for two years - after which it is gifted to their home club or centre - applications to the John Merricks Sailing Trust need to be in by Monday 20 June 2022. Windsurfers and sailors attending the BYS Regional Junior Championships are eligible to apply and all the details for this scheme including the selection policy can be found here.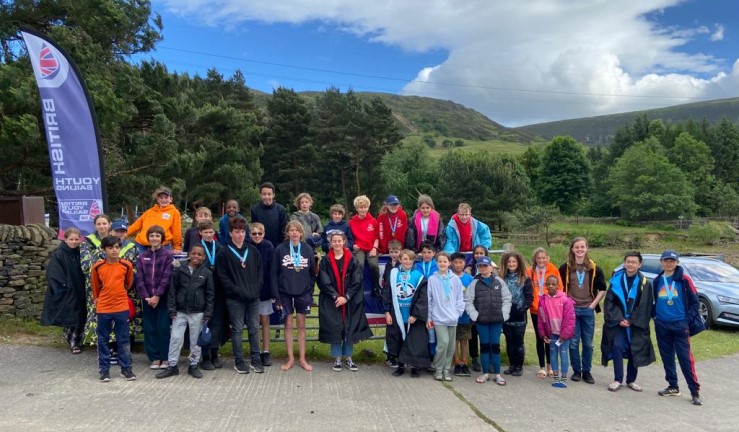 Training Centre Principals Forum
For principals of RYA Training Centres in the region, we have an online forum coming up for you on Tuesday 21 June at 4pm. It will be an opportunity to catch up with regional updates and for you to ask questions and share any successes or common challenges.
The idea is to make everyone's life easier and support those who may be new to the job or who do it as a volunteer. I've emailed out an invite which hopefully your Training Centre Principal will have received and if not, please contact me and I'll send you the details.
Courses & CPD for instructors
Training opportunities currently available via our hub for RYA Midlands Instructor Courses include an RYA Dinghy Senior Instructor Course at Aztec Adventure & Andrew Simpson Centre Bartley taking place 17-18 September & 1-2 October 2022, cost £250. Details for this and other courses as they become available can be found here.
Keep in touch
To keep up with all the latest news for the RYA Midlands region, we have a number of communications channels which you may find it useful to bookmark or follow:
Our aim as ever is to support our network of clubs, centres and boaters in partnership. Please do share these channels with your staff, volunteers and members to help them keep up to date with all the latest opportunities, join the conversation and be a part of our community.
And finally…
Now is the time to put your summer holidays programme together if you haven't already and catch up with volunteers so you can plan your capacity for courses and activities. You may even want to start thinking ahead to autumn.
And if your club is looking for grants to support participation or a project, check out the RYA's Funding Finder. This new online tool will help you search for and access the right sources of funding and provides a wealth of information, including all the latest news about pots of money currently open for applications and top tips on how to ensure your form-filling is successful!
Until next time,
Ben.