The weather is finally warming up and the days are lengthening so on-the-water activities are starting to ramp up around the region. It's been good to see things happening via social media at clubs and centres, even on the murky and challenging days, as people start to look forward to the coming season.
Lots of you made the trip down to Farnborough International for the RYA Dinghy and Watersports Show. It was an ideal opportunity to have a bit of a catch up with everybody and the feedback about its new location was really positive, with people feeling it was a good event. Although different in character to the former venue at Alexandra Palace in London, it was very airy and light and having everything in one space did mean over the course of the day you could wander up and down the avenues and see all the things you wanted without missing anything.
The RYA team was there to help out with any advice or information and exhibitors ranged from manufacturers and classes to watersports like wind foiling, plus we had the usual variety of inspirational expert talks and workshops from sailing superstars. As ever the show mirrored people's enthusiasm for now getting back out and about and getting on with it!
OnBoard instructor training
I was at Carsington Sports & Leisure earlier this month for a great weekend of CPD (Continuing Professional Development) for our regional training team, so we're ready to visit clubs and centres to support your OnBoard instructors as we look to get junior sailing and windsurfing going again.
If your club or centre would like one of our tutors to visit and run a free session for your OnBoard instructors, to provide upskilling and fresh ideas for delivering their own sessions, please do get in touch as we're keen to see a really good return to OnBoard activities this summer.
Also, if your club or centre is not yet OnBoard recognised but would like to be, please contact me or RYA OnBoard Operations Officer Hannah Cockle as we are super keen to support you with this programme to encourage our next generation of sailors and windsurfers.
As part of this initiative, there is a series of three online sessions for OnBoard instructors on Thursday evenings this month with Jake Elsbury, RYA Dinghy Trainer and OnBoard Tutor, who you may remember from his engaging lockdown videos for children! You can find out more and sign up for your free place to enjoy this OnBoard series for instructors here.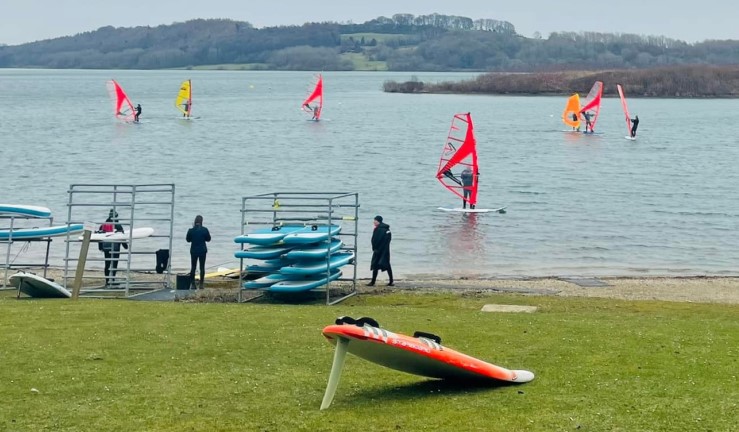 Instructor courses
Many of you have found it rewarding to join the RYA Instructor Online CPD sessions over February and March, and it's your last chance to sign up for these if you haven't already, with two left to run before the series finishes:
23 March: Tom Davenport, RYA Sailing Development Officer and Dinghy Trainer, will be looking at how to develop confidence for delivering sessions when teaching people from different and diverse backgrounds.
29 March: RYA Training Scheme Updates with Amanda Van Santen, Sailing and Windsurfing Chief Instructor, and Rachel Andrews, Chief Instructor for Powerboat, Personal Watercraft and Inland Waterways. This rescheduled session will conclude the series.
If you haven't yet signed up or you would like to catch up with a previous session which you missed, recordings and registration are all available here.
Forthcoming courses in the Midlands for instructors currently include: First Aid at Activities Away, 9 April; Dinghy Instructor Pre-entry Assessment at Whitemoor Lakes, 23 April; and a Safety Boat Course at Carsington Sports & Leisure, 9-10 April. Details about all instructor courses and CPD can be found at RYA Midlands Instructor Courses.
Facilities webinars
Clubs looking at rebuilding or developing their premises will find our latest series of Club Development evening webinars useful. The first one took place this month and provided an introduction to the 'Plan Of Work' - a definitive model for the design and construction process.
This will be followed up on 5 April with a look at marine and terrestrial planning processes and permissions, with a final facilities webinar on 17 May exploring how to ensure a successful procurement and build process when developing or rebuilding. Find out more and book your free place to join live or catch up with the recordings at RYA Midlands Club Development Sessions.
Membership news
Our annual RYA Club Membership Census revealed that many clubs are heading into the new season with a bumper membership following a pandemic boom in watersports as more people choose to spend their spare time afloat, including Leicester Windsurfing & SUP Club and Birmingham's Midland SC, which you can read about here.
A project to tackle membership churn at Tamworth Sailing Club meanwhile has nearly halved the rate of non-renewals as part of a region-wide initiative by RYA Midlands to help clubs to recruit and retain more members. Clubs interested in finding out more are invited to check out our membership churn project or get in touch if they would like support from one of our Sailing Development Officers.
Funding opportunities
There are a number of funding opportunities for clubs and centres at the moment so do look out for our #FundingFriday videos on RYA Midlands social media with our Sailing Development Officer Howard Nelson, as these are a really useful pointer towards what is currently available and how to apply.
Latest opportunities include Sport England grants from the Queen's Platinum Jubilee Activity Fund, which aims to use sport and physical activity as a means of bringing a community together and tackling inequalities. There is also a match funding Return to Play: Active Together initiative from Sport England, and a Places and Spaces Fund as part of a Birmingham 2022 Commonwealth Games package to help community sport and physical activity groups in the West Midlands.
If your club or centre is looking to put together a grant application and would like any support or guidance please get in touch with the RYA Midlands team.
There is also a new partnership between the RYA and easyfundraising, a platform which enables everyday online spending by your club members and supporters to accumulate donations towards your activities. Register for this before 23:59 on 31 March 2022 and your club could also be in with a chance of winning £250! If you'd like to find out more, come along to our free easyfundraising webinar on 24 March at 7:30pm to learn how easyfundraising is a safe and effective fundraising option for your club – you'll find out how it works, see a live demo, get advice on how to sign up and have the chance ask the easyfundraising team questions.
And finally…
It's been great to see the high quality and wide variety of pictures which have come in for the second edition of our annual Photo February competition! They showcase the different ways our members have enjoyed getting on the water over the last year from blasting along in a dinghy race to chilling out on a summer's evening or yacht sailing offshore – they really represent the range of activity in the region and our community of clubs and centres.
Our RYA Midlands Regional Volunteer Team now have the difficult task of judging and we're looking forward to announcing the winner and two runners-up very soon! Watch this space or keep up with all the latest announcements, news and opportunities from RYA Midlands by following us on Facebook and/or Twitter.
Ben.