I've been getting out to visit a few clubs recently, and it's been really enjoyable and refreshing to speak to people abut what's going on in terms of activities and plans for courses, and to hear about all the different groups using the clubs. It's quite a change from two years of working out where to put the Covid stickers and it all feels much more 'back to normal'.
Among those I've had the pleasure to visit were Carsington and Swarkestone sailing clubs, two quite different venues but with the common factor that committee members and volunteers at both are keen to do a lot of work to develop activities through 2022.
We know that clubs find it helpful to talk through their ambitions with myself or one of our Sailing Development Officers to get a steer on how to move forward. If your club has things you'd like to discuss about what you're hoping to achieve this season and beyond, and would like a visit from myself or one of the team to talk about a particular topic, please do get in touch.
Discover Sailing – book an event trailer!
It's been great to see quite a few clubs reaching out to their local communities with Discover Sailing open days and taster sessions to recruit new members.
In addition to all the free resources for clubs through our Discover Sailing campaign branding, templates and tips - remember all of these can be found in Club Zone - there are also two RYA Midlands event trailers available for clubs.
These include a gazebo, flags and leaflets to add an extra RYA branded element to your event, and one of the trailers also has a dinghy training simulator on a swivel stand, providing an interactive onshore exhibit for open days and shows.
These trailers have a busy schedule through summer but are available for RYA Affiliated clubs and centres to use free of charge. If you would like to book one, please contact our RYA Midlands Regional Volunteer Team to find out about availability, booking and where they are located for pick up.
Tell us!
Middle Nene SC was among the first to host an open day in the region, seizing the opportunity to welcome visitors on the first May Bank Holiday of the month. Draycote Water SC then hosted a Youth & Junior Discover Sailing Day on 7 May, which saw its younger members inviting their friends, family, classmates and clubs/groups to get on the water, with a bookable Discover Sailing Day following on Saturday 21 May, with Syston SC also holding an open day on 21 May.
It's been fantastic to see clubs and centres sharing their enthusiasm and encouraging potential new members to enjoy taster sessions and then hopefully sign up for training or to join. If you do have an open event planned, remember to tag @RYAMidlands on social media to let us know and if you'd like any support with marketing, contact our Regional Communicator.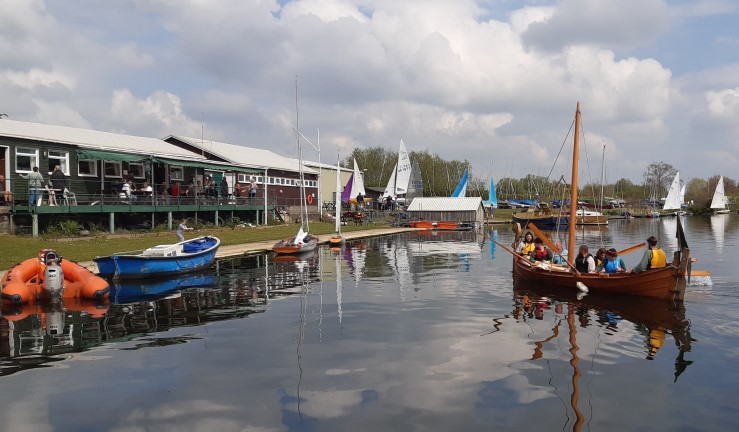 Youth and junior activities
Easter saw many clubs kicking off their youth and junior activities for the new season and if you don't yet have a plan for getting young people back on the water, or taking part for the first time via tasters or OnBoard activities, now is the time to start getting sessions underway.
If you are an OnBoard centre, I am sure your instructors are now thinking about how to ensure your young people have a good time while developing OnBoard characteristics such as confidence and teamwork, and we also have some training available for you! This could include one of our team visiting to help upskill and inspire your instructors for the season ahead, and if you'd like to get involved with this, please contact our Sailing Development Officer Tricia Ordsmith. If your club is not yet an OnBoard centre and would like to know more, visit RYA OnBoard for Clubs and Centres.
BYS Regional Junior Championships – entry now open!
Entry is now open for the British Youth Sailing (BYS) Regional Junior Championships, which for the Midlands will be at Glossop SC on Saturday 11 June for windsurfers and Draycote Water SC for dinghy sailors the following weekend, Saturday and Sunday 18-19 June.
These will again include OnBoard fleets, providing a great opportunity for youngsters coming into the sport to get afloat at a welcoming championship, which is probably at a new and different location to their home club. We know from experience that many youngsters who experience this event are inspired to continue sailing and windsurfing and can't wait to then return the following year in the coached Regatta fleet for aspiring racers.
We also of course have the Championship fleet at these events for experienced racing sailors, so we really do have something for everyone from rookies to whizz kids! Find out more about the BYS Regional Junior Championships and enter online for our Midlands events. Please please remember to share the details with junior sailors and parents at your club!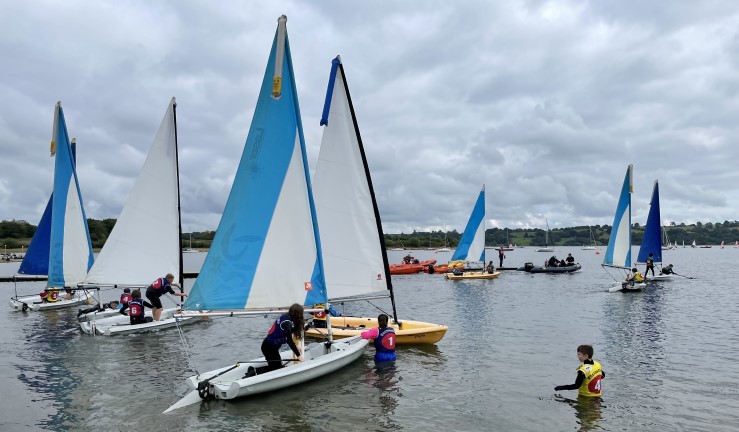 John Merricks Sailing Trust
If you know a young sailor or windsurfer who would benefit from having exclusive use of their own boat or board for two years - after which it is gifted to their home club or centre - the deadline for applications to the John Merricks Sailing Trust is fast approaching. Sailors attending the BYS Regional Junior Championships are invited to apply and the last date for applications is Monday 20 June 2022. All the details for this scheme including the selection policy can be found here.
Courses & CPD for instructors
Training opportunities currently available via our hub for RYA Midlands Instructor Courses include a First Aid Course at Kingsbury Water Park on 10 June and an RYA Dinghy Senior Instructor Course at Aztec Adventure & Andrew Simpson Centre Bartley taking place 17-18 September & 1-2 October 2022, cost £250. Please do bookmark this page for opportunities and remind your instructors and volunteers to join our RYA Midlands Instructors group on Facebook.
And finally…
Steering the Course is also coming up fast, with this festival of women's sailing taking place at the end of the month from 20-29 May 2022. We'd encourage clubs and their female members to join in and think about what activities they might be able to run during this annual celebration to encourage women to either participate or progress within the sport.
It might be that you simply highlight their stories on your social media to inspire existing and would-be members with your female role models – whether they be the commodore, a committee member, instructor, safety boat driver, race official or top level competitor. Or you may want to run specific taster sessions or events to recognise and encourage women in sailing.
RYA Midlands will be making Aspiring Female Instructor sessions available for those who might like the idea of becoming an instructor and would like to find out more. An online session on Tuesday 7 June, 7-8pm, will be followed by an on-the-water day, Saturday 25 June, at Rudyard Lake SC in Staffordshire. Please share the details with female members at your club; anyone interested or wanting further information is asked to contact RYA Midlands Sailing Development Officer Patricia Ordsmith to register their interest.
You can find out more about World Sailing's Steering the Course campaign and share your activities with the RYA here and it would be great if you would let us know about your club's involvement in the week via our social media channels by tagging @RYAMidlands on Facebook and/or Twitter.
Until next time,
Ben.