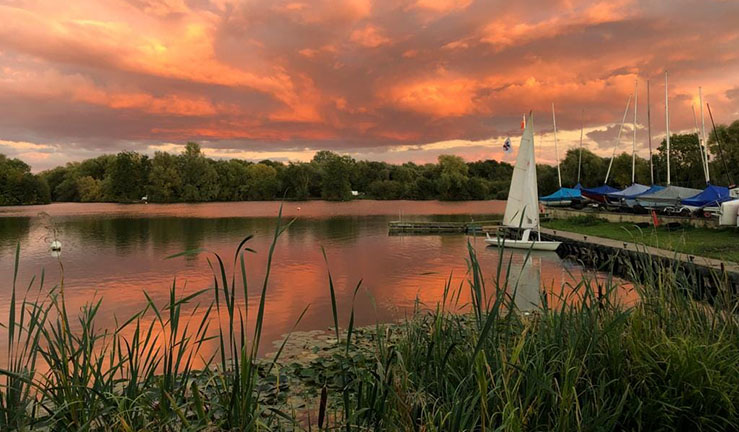 While this may be my blog, there are of course lots of other people in the regional team and if you haven't already seen it, you can find out more about who's who by taking a look at RYA Midlands on Facebook at our #MeetTheTeam series.
We'll be introducing members of the team each week in the run up to our Affiliated Clubs Conference, sharing pictures and insights about who we all are, what we love about getting on the water, and a top tip or two!
We're all really approachable and if you ever need to contact any of us, always happy to hear from you either via myself Ben Hodgson or our regional chair Steven Tinsley. We're also of course looking forward to meeting you at our upcoming RYA Midlands Affiliated Clubs Conference.
Affiliated Clubs Conference
Initial number crunching on the RYA Membership Census 2022 indicates membership in our region is at its highest-ever level at 19,249 which given the last few years is really positive.
There are challenges, however, including for clubs looking to renew leases or catering for increased demand on volunteer time. The RYA Affiliated Clubs Conference is a chance to find out more and access knowledge and help for your club.
If you missed the online introduction to this year's events, which included a chance to hear from RYA chief executive Sara Sutcliffe and an expert panel hosted by Olympian and broadcaster Shirley Robertson, please do take a look at this 30-minute recording when you get a chance at RYA Live – Club Show.
Bookings are also now open for our Midlands event, which takes place at the National Memorial Arboretum in Staffordshire on Saturday 19 November. Find out more about what to expect and book your free ticket.

Principals forum
We have our online forum for RYA Training Centre principals on Wednesday 19 October and an invite to this has been sent out. We can all work better together than apart by sharing ideas and knowledge and the feedback from our first forum earlier this year was really good.
Please do read the email about this and share with your teams: if you haven't seen it or want to know more get in touch.
Following on from this there will be opportunities for people at different levels to get together with a range of dates including Regional Training Days, so it's really helpful if you could make sure your teams know about all the forums and opportunities, especially if you are all volunteers and want to share out the time required to take part.
Instructor courses
We have the following opportunities currently open for booking at our RYA Midlands Instructor & Race Coach Courses & CPD hub:
First Aid: Burton SC, 29 October
Dinghy Instructor Double Handed Top Up Day, South Staffordshire SC, 12-13 November
Discover the Personal Watercraft Training Scheme, Marine Masters, South Hykeham, Lincoln, 26 November
Winging
I've been out and about doing inspections and a couple of venues have now gained RYA Recognised Training Centre accreditation, while others have gained recognition for additional elements enabling them to expand the variety of RYA courses they can offer.
Hello and welcome to Derbyshire Canal Boat Training near Swarkestone, who will be running inland waterways courses. And congratulations to Carsington Sailing Club, who have now been accredited to run winging courses, one of the first centres in the Midlands to do this, so it's really good that this training scheme is starting to now be available in the region.
We're expecting a further two or three centres to be accredited for running winging course by the end of the year. If you want to know more or have people asking about it, and you offer board sports already, it's quite an easy one to add and it provides an opportunity for you to widen the courses you have available to get people on the water. Please do feel free to contact me for further information.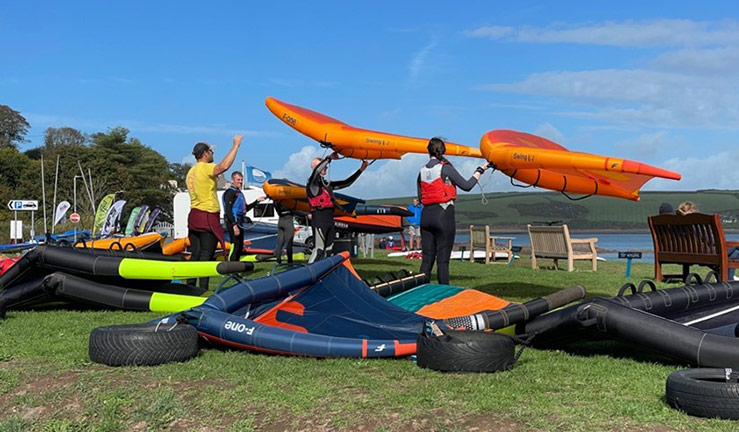 Water levels
Dropping water levels are still affecting a number of venues, creating challenges for around half a dozen clubs and centres, which are either no longer operational or having to limit their activities. Stretches of some waterways are also being closed to cruising.
With mud starting to appear at the bottom of slipways, a reminder please that if you are having to make any changes to the way you operate, it is important to double check that you are still launching and recovering boats and running your activities in a safe way.
For those clubs and centres which are not currently impacted by low water levels, it would be really good if you could please welcome people from those venues which have been forced to close or curtail their activities, and perhaps offer to accommodate any open meetings which may have to be moved.
While there is nothing we can do about the water levels, what we can do as a boating community is help each other out as much as possible.
Going green
Have you taken The Green Blue Boating Pledge? We can all do our bit to respect and protect the environment and this new initiative by The Green Blue aims to encourage all of us to make a commitment to ensuring our inland and marine boating is sustainable.
The pledge provides a set of simple everyday actions for us to consider when we are undertaking activities on the water and it would be great if you could join us and encourage your members and customers to do the same. Find out more and make your pledge!
And finally….
A huge congratulations to Leicestershire & Rutland Youth Sailing Association's members and dedicated volunteers, pictured below, who have just celebrated the official opening of their new clubhouse, complete with modern classroom and changing facilities and a newly levelled and gravelled boat yard.
There is much to celebrate as this incredible £350,000 project replaces a collection of sheds with no electricity or running water and a muddy compound! I was struck by how many grants LRYSA was able to access and if you haven't already seen this story, please do take the time to read about LRYSA's new clubhouse as it includes lots of ideas and info for clubs and centres who may likewise want to improve their facilities.
Until next time,
Ben.