It's been great to see ever-increasing amounts of activity across the region as clubs and centres make the most of summer and staycations, with not only club racing, junior clubs and socials but also open days, training and events.
There is still plenty to look forward to this season and remember, we have Discover Sailing available to support clubs wanting to raise their profile and attract new members, with lots of advice and downloadable resources available for you in Club Zone.
We also have recordings from five recent Club Development Webinars for anyone wanting to take another look at these or if you want to catch up with anything you missed.
These webinars are perfect for flag officers, committee members, volunteers and staff involved with running clubs and include digital marketing know-how for clubs keen to improve their reach to make it easy for new audiences to find them and get in touch.
The full collection of recordings is now available at RYA North East Club Development Sessions and comprises the following topics:
Google My Business

How Potential Members use your Website

Equality, Diversity and Inclusion Workshop for Committees and Boards

Staycation Opportunity - Ingredients for a Successful Junior & Family Activity Week

An Introduction to Corporation Tax
We also have a Sailability Forum coming up on Wednesday 18th August at 7pm, including updates from Sailability activity across the region and an opportunity to share ideas and be inspired!
RYA Census
A big thank you to all those who have already returned the 2021 RYA Club Membership Census. We've had the second highest return rate of any RYA region or Home Country so far and the time taken by clubs to fill out and return the census is very much appreciated.
This year's census will be more important than ever for measuring inclusivity and progress as we emerge from the pandemic, providing a stocktake of the sport in the region so we can tailor RYA support, and also valuable insights for clubs, highlighting opportunities for development.
If you are still in the process of completing the census or have not yet had a chance to look at it, you can find out more about why it's useful for both the RYA and our affiliated clubs here. The census has been sent out to the person at each club who filled it in last year but if you haven't seen it yet please email me and I'll get a link sent out to you.
Regional Junior Championships
The British Youth Sailing (BYS) Regional Junior Championships will be returning to Derwent Reservoir Sailing Club over the weekend of 25th-26th September 2021. With OnBoard, Regatta and Championship fleets, we're looking forward to a fantastic inclusive festival of all that's great about junior sailing in the region, so look out for when entries open this summer and please encourage parents at your club to save the date!
There will also be a one-day event for North and Midlands windsurfers on Saturday 18th September at Glossop SC. Both this event and the Regional Junior Championships the following weekend are a must-do for any aspiring young sailors or windsurfers wanting to be considered for selection to the BYS Regional Training Groups later in the year.
Another date for the diary is the Eric Twiname Youth & Junior Team Racing Championships at Oxford SC, 9-10 October, for which applications are now open.
In the meantime, if you know a deserving junior sailor or windsurfer who would benefit from having their own boat or board, the JMST scheme is now open again for nominations. Find out more here.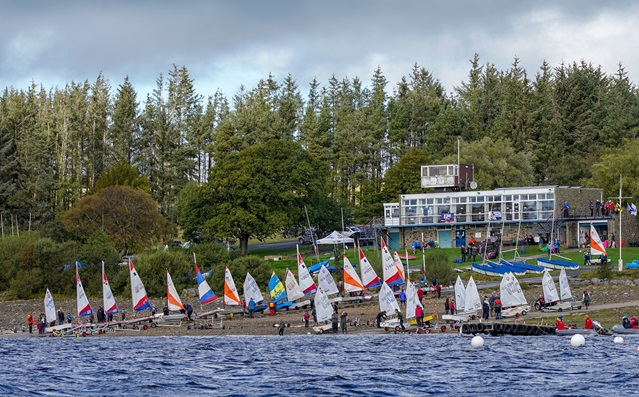 BYS Kite Surfing
A really exciting development for youth sailors is that the RYA North East region will have one of five locations for a new BYS Kite Transitioning project, which will see BKSA coaching at KA Adventure Sports at Beadnell, Northumberland.
The aim is to bring together young people from across the sailing disciplines who want to develop their skills towards racing kites in the future. The full details are due to be announced very soon but if you're super keen, you can already apply here!
Affiliated Clubs Conference
As many of you will know, this year's RYA Affiliated Clubs Conference will be a hybrid virtual and physical event over two dates, and I can now confirm that the North East venue will be Catterick Racecourse on Thursday 4th December 2021.
This will offer a relatively central venue for Yorkshire and the North East and an opportunity for us all to meet up in person following on from the national online part of the conference on the evening of Monday 8th November 2021.
This new-style conference will offer the best of both worlds, with national updates online from the comfort of home, plus a chance for us all to share ideas and reconnect with friends, colleagues and clubs from across the region at our own North East event.
Look out for updates over the coming months about keynote speakers and workshops and in the meantime please do save the dates for both parts of the 2021 RYA Affiliated Clubs Conference!
Instructor and foiling courses
We have an Instructor Training Day coming up at Welton Waters Adventure Centre on Saturday 31st July for anyone wanting to refresh their skills up or pick up new ideas.
And if you've ever wanted to take off with your dinghy sailing or windsurfing, we have lots of one-day RYA First Flight courses taking place from 13th-15th August at Filey SC, plus for those who've already begun their dinghy foiling journey, a two-day RYA Sustained Flights course 14th-15th August at the same venue.
You only need to turn up with your kit - the equipment is provided - and the First Flight courses cost just £30. We had great feedback from these courses last time we ran them so if this is an area of the sport you'd like to explore, this is a great opportunity to find out more!
All our RYA North East courses are bookable online here.
Regional Volunteer Team
I'd like to say a huge thank you and welcome to our new Regional Volunteer Team, who will be supporting RYA North East, clubs and centres, to promote boating in the region to get more people on the water, more often.
Members of the team come from across the region and are all boating enthusiasts, who between them bring a breadth of experience from their working lives and their involvement in sailing. It is great to have them on board!
Find out more about more your new team here and look out for members at events, or get in touch via chair.ne@rya.org.uk if you would like to support their work or find out more.
And finally…
If you're planning a staycation and thinking of taking your boat or hiring one, remember to check out the new RYA Dinghy Trails and also share them with your fellow club members. There are a dozen cruising trails now available including one for Glorious Ullswater.
To keep up to date with all the latest news and updates from the region as we head towards the summer holidays, remember to follow @RYANorthEast on Facebook and/or Twitter.
Until next time, Sam.