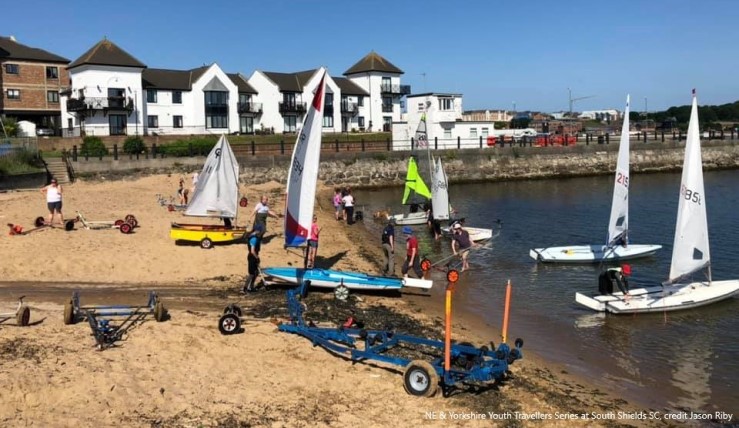 As we head rapidly towards Spring it's been great to see lots of clubs having working parties and welcoming back members for another year and the new season.
We have lots of events to look forward to in the region, with clubs and classes getting set for open meeting circuits, and the British Keelboat League returning to the North in 2022, with its opening event Ullswater Yacht Club in RS21s over the weekend of 21-22 May.
Entries are also now open for the North East & Yorkshire Youth Traveller Series, which as ever will provide an accessible and fun platform for our young sailors to meet friends and make new ones while developing their racing skills at clubs across the region.
The 2022 series kicks off on Saturday 23 April at Ripon SC. Enter or find out more about the series here and please do share the details with young sailors and their parents at your club!
Instructor courses
There are lots of instructor courses and upskilling days across the sailing, windsurfing and powerboat training schemes, which are all bookable at RYA North East Instructor & Race Coach Courses & CPD. Encourage your club members, volunteers, instructors and coaches to take a look!
We have RYA Dinghy Instructor courses at Ripon SC, 9-13 April, and at South Shields SC, 30th April, 1-2 & 7-8 May; a Dinghy SI course at North Yorkshire Water Park 12-15 April; and an Advanced Dinghy Instructor course at Filey SC, 16-17 April; plus various Discover Instructing and Skills Days.
There are also Start Windsurfing Instructor courses coming up at Kielder Water SC, 11-15 April, and Welton Water Adventure Centre, 18-22 April, plus skills development and prep days and a Senior Windsurfing Instructor course at Yorkshire Dales SC in August.
Race coaching
Race Coach Level 2 and 3 courses include a four-day Level 3 course at Leigh & Lowton SC, 9-10 April and 11-12 June and a Race Coach Level 2 Course at Yorkshire Dales SC, 28-29 May. Details and booking for these can be found via the RYA Race Coaching hub.
Our race coach development programme in the region has seen as seen participants taking new ideas not only back to their clubs but also into their daily lives at home and work. Read more about the benefits of developing coaching skills with us here.
Power & safety boat
We have lots of opportunities for people to develop Powerboat Instructor and Safety Boat skills. Find out more about how clubs are benefiting and take a look at what is currently available here.
Next up will be a Powerboat Instructor course in Scarborough 6-8 May; a Safety Boat Course at Tees & Hartlepool YC, 30 April-1 May; a Discover Instructing Day at North Yorkshire Water Park, 21 May; and a Powerboat Instructor Skills Development Day at Welton Waters Adventure Centre, 22 July. If you are looking for a course which is not currently available please get in touch.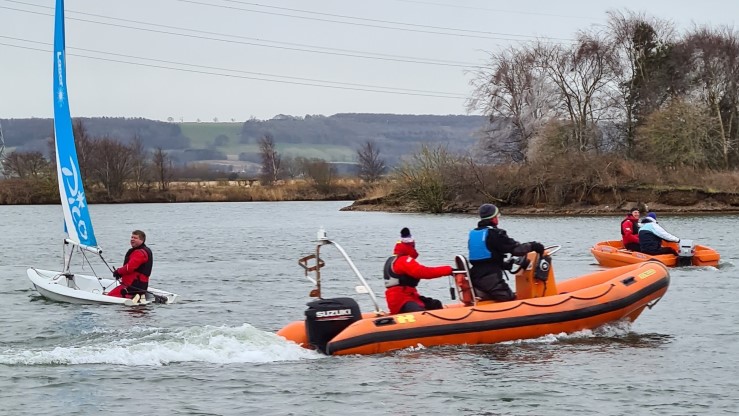 Online instructor sessions
An ongoing series of RYA Instructor Online CPD sessions has been taking place over February and March and it's the last chance for your instructors to sign up if they haven't already, with two left to run before the series finishes:
23 March: Tom Davenport, RYA Sailing Development Officer and Dinghy Trainer, will be looking at how to develop confidence for delivering sessions when teaching people from different and diverse backgrounds.
29 March: RYA Training Scheme Updates with Amanda Van Santen, Sailing and Windsurfing Chief Instructor, and Rachel Andrews, Chief Instructor for Powerboat, Personal Watercraft and Inland Waterways. This rescheduled session will conclude the series.
Recordings and registration for all of the sessions are available here.
OnBoard CPD
For our OnBoard instructors, there are three online sessions on Thursday evenings this month with Jake Elsbury, RYA Dinghy Trainer and OnBoard Tutor, who you may remember from his engaging lockdown videos for children!
Instructors can sign up for their free place to enjoy this OnBoard series here. Participants are invited to then come along to a free OnBoard Dinghy Instructor Skills Day at Ripon SC on 25 June.
Funding opportunities
For those interested in taking an instructor or coaching course with a view to supporting participation at your club or centre, there are grants of up to £250 available through our RYA North East Volunteer Development and Martin Boatman Legacy Fund, which aims to support volunteer development and young people aged under 30 who would like to become race coaches. You can apply for grants from this funding programme here.
For clubs and centres, latest funding opportunities from Sport England include the Queen's Platinum Jubilee Activity Fund and match funding through the Return to Play: Active Together initiative.
There is also the new partnership between the RYA and easyfundraising, enabling everyday online spending by your club members and supporters to accumulate donations towards your activities. Register before 23:59 on 31 March 2022 and your club could also be in with a chance of winning £250! If you'd like to find out more, there is a free easyfundraising webinar on 24 March at 7:30pm to learn how it works, see a live demo, get advice on how to sign up and have the chance ask the easyfundraising team questions!
Club development webinars
Clubs looking at rebuilding or developing their premises will find our latest series of Club Development Sessions useful. The first one took place this month and provided an introduction to the 'Plan Of Work' - a definitive model for the design and construction process.
This will be followed up on 5 April with a look at marine and terrestrial planning processes and permissions, with a final 'facilities webinar' on 17 May exploring how to ensure a successful procurement and build process. Book your free place to join live or catch up with the recordings at RYA North East Club Development Sessions.
There is also an online training session coming up soon looking at Unconscious Bias on Wednesday 6th April, 7pm-8:30pm. This will explore how anyone may form inherent or learned stereotypes without realising - positive or negative - and committees, clubs, training centres and class associations are invited to register for this webinar to find out how learning about unconscious bias can help us to create a more diverse and inclusive environment.
And finally…
Huge congratulations to windsurfer Ethan Weeks of North Lincs & Humberside Sailing Club who was one of 10 young people from across the country presented with an RYA Musto Youth Award at the recent RYA Dinghy & Watersports Show, in recognition of both his own personal achievements in the sport and his dedication to now volunteering his time to inspire the next generation of young windsurfers. Ethan's story is truly inspirational and sums up what makes our sport and our incredible network of clubs so special.
To stay up to date with the latest news from the RYA North East region, follow us on Facebook and/or Twitter.
Until next time,
Sam.