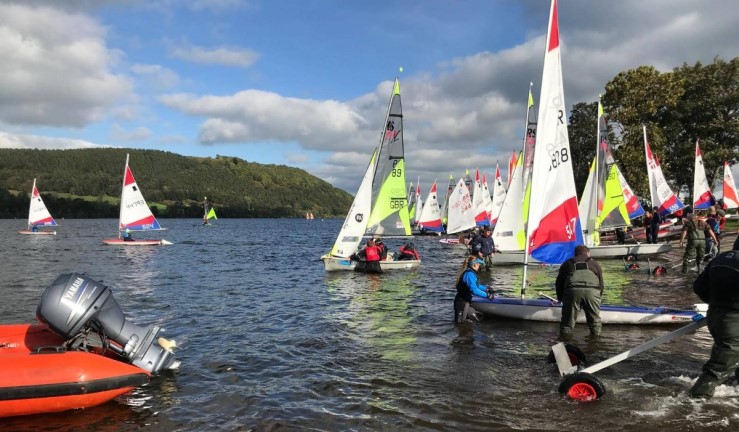 Entry is now open for the British Youth Sailing (BYS) Regional Junior Championships, which for the North region will be at Glossop SC for our windsurfers on Saturday 11 June and at Ullswater Yacht Club for our dinghy sailors the following weekend, Saturday and Sunday 18-19 June.
These events will again include OnBoard fleets and it would be great if clubs could think about entering as a team – it's a great opportunity to strengthen engagement with your junior sailors and their parents, and we know from experience that many youngsters who experience this welcoming championship are inspired to continue improving their sailing and windsurfing - and can't wait to then return the following year in the coached Regatta fleet for aspiring racers!
With the event moving to earlier in the year, it allows for camping and socialising, making it ideal for developing and strengthening friendships on the water and on shore, so I think it will be a fantastic event for creating memories and getting summer underway in style for junior sailors of all levels.
With OnBoard, Regatta and Championship fleets, these events really do have something for everyone from rookies to top level racers! Find out more about the BYS Regional Junior Championships and enter online for our North events – and please please remember to share the details with junior sailors and parents at your club!
John Merricks Sailing Trust
If you know a young sailor or windsurfer who would benefit from having exclusive use of their own boat or board for two years - after which it is gifted to their home club or centre - the deadline for applications to the John Merricks Sailing Trust is fast approaching. Sailors attending the BYS Regional Junior Championships are invited to apply and the last date for applications is Monday 20 June 2022. All the details for this scheme including the selection policy can be found here.
Cruising & yacht racing
Our popular winter cruising talks continue to be available online via our Facebook page and you may want to make time to sit down with a cuppa to watch these as you make plans for your summer adventures!
Making the Most of Weather Forecasts with British Sailing Team meteorologist Simon Rowell – this entertaining talk was full of top tips for matching up the forecast, charts and what we see out of the window to get the best out of our boating.
Electronic Aids to Navigation with expert Graham Stones takes a look at how to use your onboard kit to make life easier.
It was great to see the North East Cruiser Racing Association (NECRA) having a great winter of racing out of Tees & Hartlepool YC and there's a full programme now underway for summer as well, with inter-club yacht racing, cruising and associated social events for keelboats along our stunning coastline for clubs also including Scarborough, Whitby, Hartlepool, Sunderland, Royal Northumberland, Coquet and Tynemouth. NECRA welcomes new members and if anyone at your club would like to know more, all the information can be found at www.necra.co.uk
Whatever your cruising or yacht racing plans, you may like to keep a look out for stories about local sailor Guy Waites from Scarborough Yacht Club, who has qualified for the 2022 Golden Globe Race which will see him competing over 30,000 miles, singlehanded and non-stop. You can find out more or support Guy's quest at www.guywaitessailing.com and follow his progress as he gets set for the start this September @GuyWaitesSailing on Facebook, Twitter, Instagram or LinkedIn.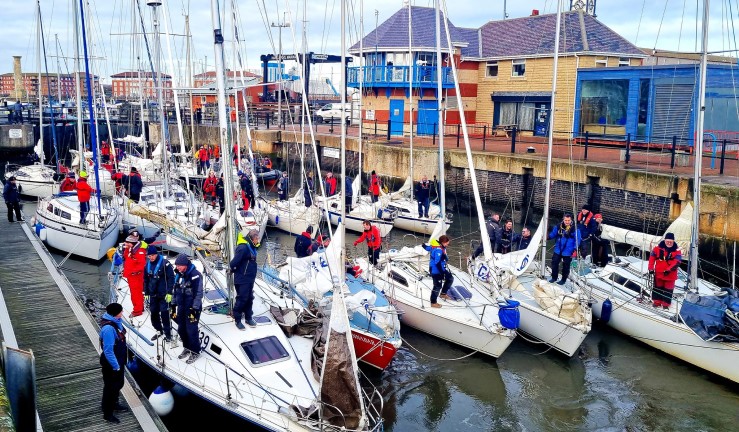 Instructor courses and opportunities
Training opportunities available via our hub for RYA North East Instructor & Race Coach Courses & CPD currently include an Instructor Skills Development Day at Welton Waters Adventure Centre, Friday 22 July, for existing Dinghy, Windsurfing and Powerboat instructors.
For windsurfing instructors looking to advance their ticket, we have Senior and Intermediate Instructor Prep Days at Yorkshire Dales SC, 12 June and 26 June respectively, followed by Senior and Intermediate Windsurfing Instructor courses at the club in August. These are all bookable here.
RYA OnBoard instructors meanwhile are invited to register for a free or an OnBoard Windsurf Instructor Skills Day at Yorkshire Dales SC on 9 June or an OnBoard Dinghy Instructor Skills Day at Ripon SC on 25 June.
For anyone wanting to become a Race Coach Level 2, there is a course at Yorkshire Dales SC, 28-29 May. Find out more and book for this one via RYA Race Coaching.
ReDiscover & Discover Sailing
It's been great to see quite a number of clubs reaching out to their local communities, with Tynemouth and South Shields among those hosting open days this month, sharing their enthusiasm with potential new members through taster sessions.
Remember that we have our RYA ReDiscover & Discover Sailing campaign resources, templates and tips to support you with promoting events to re-engage existing or lapsed members or recruit new ones, which are all available in Club Zone. And if you do have an open event planned, remember to tag @RYANorthEast on social media to let us know and if you'd like any support with marketing, contact our Regional Communicator.
Facilities webinars
For clubs thinking about rebuilding or developing their premises, the final webinar in our Club Development series looking at facilities takes place on Tuesday 17 May and will be exploring how to ensure a successful procurement and build process. Find out more and book your free place to join live or catch up with the recordings at RYA North East Club Development Sessions.
And finally…
Steering the Course - World Sailing's global festival of women's sailing - takes place from 20-29 May 2022 and we're encouraging clubs and their female members to join in and think about what activities they might be able to run during this annual celebration to encourage women to either participate or progress within the sport.
It might be that you simply highlight their stories on your social media to inspire existing and would-be members with your female role models – whether they be the commodore, a committee member, instructor, safety boat driver, race official or top level competitor. Or you may want to run specific taster sessions, races or events.
You can find out more about Steering the Course campaign and share your activities with the RYA here and it would be great if you would let us know about your club's involvement in the week via our social media channels by tagging @RYANorthEast on Facebook and/or Twitter.
Until next time, Sam.