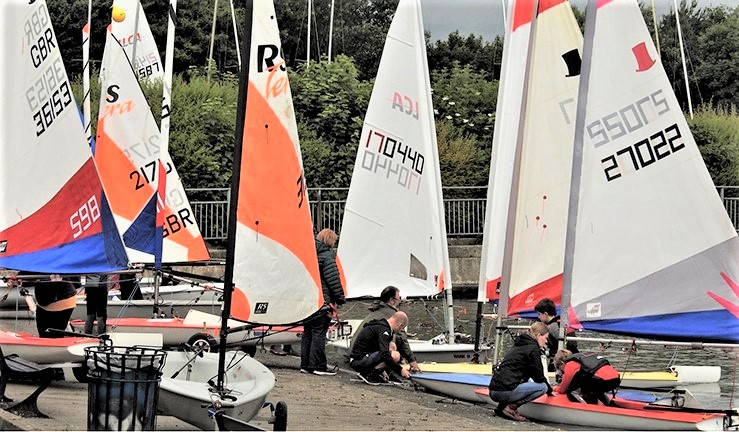 It's been great to see the success of the North East & Yorkshire Youth Traveller Series 2022 and how it's grown and taken off with a new enthusiasm driving it forwards.
The series started in the 1980s and this year saw the largest ever entry! A big thank you to organiser Fiona Spence and all the many volunteers and clubs which enable the series to provide such great opportunities for our young sailors to explore new places and develop their skills.
Feedback from participants indicates that this series is brilliant whether you are at the top of your game – read what our winning helms have to say about it here – or just starting out on your sailing journey.
Planning is already underway for next year's series so if you're involved in making that happen – thank you!
Affiliated Clubs Conference
Headlines emerging from the annual RYA Club Membership Census indicate that membership has continued to grow and stabilise since recovering from pandemic restrictions and is now at a record level of 14,309 in the region – to find out more about all the insights available from the census, remember to sign up for our Affiliated Clubs Conference.
There was an online introduction earlier this month to the themes we'll be exploring, which included a chance to hear from RYA chief executive Sara Sutcliffe and an expert panel hosted by Olympian and broadcaster Shirley Robertson. If you missed this club briefing, please do take a look at the 30-minute recording when you get a chance at RYA Live – Club Show.
Our in-person event for the region takes place on Saturday 3 December at Catterick Racecourse and will provide a one-stop shop for your club to tap into RYA expertise while accessing information and know-how to support your activities and development in the year ahead. Find out more about what to expect and book your free ticket here.

Training Centre Principals & Instructors
Save the date! The 2023 RYA Training Conference supported by Gallagher – for centre Principals and RYA Trainers across all schemes - will return on 04-05 February 2023. As ever this event will provide an ideal opportunity to network and catch up with all the latest information and CPD. Look out for further details when bookings open.
There will then be our RYA North East Instructor Training Day on 1 April 2022. The venue is still to be confirmed but please do share this date with your teams in the meantime so they are able to attend. This is always a great day out and will support your instructors to develop their knowledge and hear all the latest updates ready for the season ahead.
Sport England Together Fund
There continues to be opportunities for clubs and centres to access the Sport England Together Fund, with grants available for projects which can run any time between now and the end of September 2023.
Grants are available not only to provide sessions but also for initiatives which will create a legacy of being able to widen participation, for example by supporting instructor training.
The aim is to tackle inequalities by targeting four key audiences: lower socio-economic groups, culturally diverse communities, disabled people and people with long-term health conditions.
Applications are invited for grants of up to £10,000 - the average application tending to be an ask for around £3,500 - and it's a great opportunity for clubs in the RYA North East region, many of which are in priority areas for encouraging more people to become active.
Find out more about the Sport England Together Fund and if you have an idea but are not quite sure how to develop it or fill out the forms, please get in touch with me as we can support you through the application process.
And finally….
I've taken The Green Blue Boating Pledge! We can all do our bit to respect and protect the environment and this new initiative by The Green Blue aims to encourage all of us to make a commitment to ensuring our inland and marine boating is sustainable.
The pledge provides a set of simple everyday actions for us to consider when we are undertaking activities on the water and it would be great if you could join us and encourage your members and customers to do the same. Make your pledge!
Until next time,
Sam.