Welcome to the start of another year!
I would like to begin the first blog of 2022 by congratulating everyone for their winter events and races, wishing you all a fantastic new year and I hope that you and your clubs are feeling prepared ahead of the new year!
Covid-19
The omicron variant is in circulation, but the rules aren't stopping us from getting back to boating and enjoying the sport that we love. Please remember to stay aware of the covid variant, to take care of yourself and those around you, and maintain personal responsibility throughout this difficult time.
Courses & Training 2022
The North West booking page is live shortly so, so please keep an eye on the website as the full calendar for 2022 including Keelboat and Personal Watercraft courses will be available soon. The training plan for 2022 includes all disciplines, so make sure you watch the page to stay updated. The first powerboat course has already sold out, so I hope to book another one soon, and the next dates will go up in early February.
In the meantime, please save the following dates if you are interested in doing any of our courses:
- Start Windsurf Instructor - 19th to 23rd February at Crosby Lakeside Adventure Centre
- Dinghy Pre-Entry Assessment - 12th February at The Anderton Centre, New Road, Chorley.
- Dinghy Instructor Course - 21st to 25th February at The Anderton Centre, New Road, Chorley.
- Dinghy Instructor Revalidation Day -13th February -The Anderton Centre, New Road, Chorley.
- Dinghy Senior Instructor - 19th, 20th, 26th & 27th March at Wirral Sailing Centre.
There is more planned for April onwards as well so watch this space and book your spaces via the link below:
https://www.rya.org.uk/training/teaching/regional/north-west-instructor-and-race-coach-courses-and-cpd?fbclid=IwAR1R_X3ubz9kkcdjx1FNbXxc85gPOu8LLD79r_50jiXfKclFBGOx44Irttc
North West Instructor Training Day
All Instructor Training days have been cancelled for 2022, due to concerns about the covid-19 variant, and the RYA had to give great consideration about people travelling. These dates are being replaced with a comprehensive range of development resources starting live in February.
Wing foiling
The North East and Midlands regions are hosting an introduction to wing-foil event, so sailors from the North West region very welcome to join the training scheme. Please register for the event via the link below:
https://rya.eventsair.com/mid-iws-Feb-22/dsi/Site/Register
Queens Jubilee Fund
I would like to spread awareness about a new fund for 2022 which would be helpful for clubs thinking about what opportunities they could offer to enable less active/inactive people to become active within the community. The Queen's Platinum Jubilee Activity Fund aims to use sport and physical activity as a means of bringing a community together and tackling inequalities via awards of between £300 and £10,000 from a pot of £5 million of National Lottery funding. This may be particularly relevant for Sailability centres which could use these funds to help improve quality of equipment.
More details can be found via the link below:
https://www.sportengland.org/how-we-can-help/our-funds/queens-platinum-jubilee-activity-fund
E-sailing Winter Club Championships
It is the time of the year again when I am encouraging all clubs in the North West area to put forward a representative in the E-sailing Winter Club championships. Clubs can select their champion however they wish, or simply just put forward your best e-sailor. Submit your club's champion by 7th February 2022. This sailor will represent the club in the national heats with 19 e-sailors progressing to the final, replayed on the Suzuki Main Stage during the RYA Dinghy & Watersports Show.
More details may be found via the link below:
https://www.rya.org.uk/racing/esailing/rya-esailing-winter-club-championship
Club workshops
The remaining club development workshops for January will be covering the topics below, so please sign up if you are interested:
Facilities development – 24th January
Legal and Governance – 31st January
Regional Volunteer team
I am keen to catch up with the North West region clubs and training centres, so please do email me if you would like a 1:1 meeting or if you would like me to sit in on a committee meeting or equivalent. The Regional Volunteer Team is currently working on plans for the future of the region in terms of volunteering, instructor training and diversity amongst many other subjects, and therefore, the regional plans will have similarities with the more localised club and training centre plans.
Membership renewals
A reminder to remain well connected with your members at this time of year, to ensure that they keep motivated and keen to stay part of the club ahead of another year of sailing. A great way to increase your members this year would be to hold a discover or rediscover sailing event as detailed in the paragraph below.
Discover and Rediscover Sailing
Add your club's event to the Discover Sailing 2022 map by logging in and adding your event details. You can also convert an existing 2021 event into a 2022 event by changing the event date.
The deadline for the first print and resources is 7th February 2022, followed by the 7th of each month, so get signing up now:
https://www.rya.org.uk/club-centre-support/affiliates/finding-new-members/adults/discover-sailing
Discover Sailing is the RYA Demand Creation Campaign which supports clubs by providing both physical and online resources, regional communicator support as well as allowing clubs to benefit from being part of the national promotions. Each year, venues across the UK run events to encourage new participants to have a go.
Whether they are new to the sport, returning to the sport or existing members, Discover Sailing is the perfect opportunity to be part of a national campaign and help people get out of the water. RYA provide resources to help you promote your event along with advice and guidance to make your event a success.
You can order a choice of ReDiscover/Discover Sailing resources to suit your individual club/centre needs as well as additional resources at cost. Each club and centre have an £80 a year contribution towards the cost of their resources from the RYA. Should you wish to order additional resources you will be taken to a payment page. Please note that the event sign-up and shop is hosted by our printing and fulfilment company Trojan Mailing. It will be possible for you to amend your order once you have submitted it, however once the print run date has passed it will not be possible to amend the printed resources.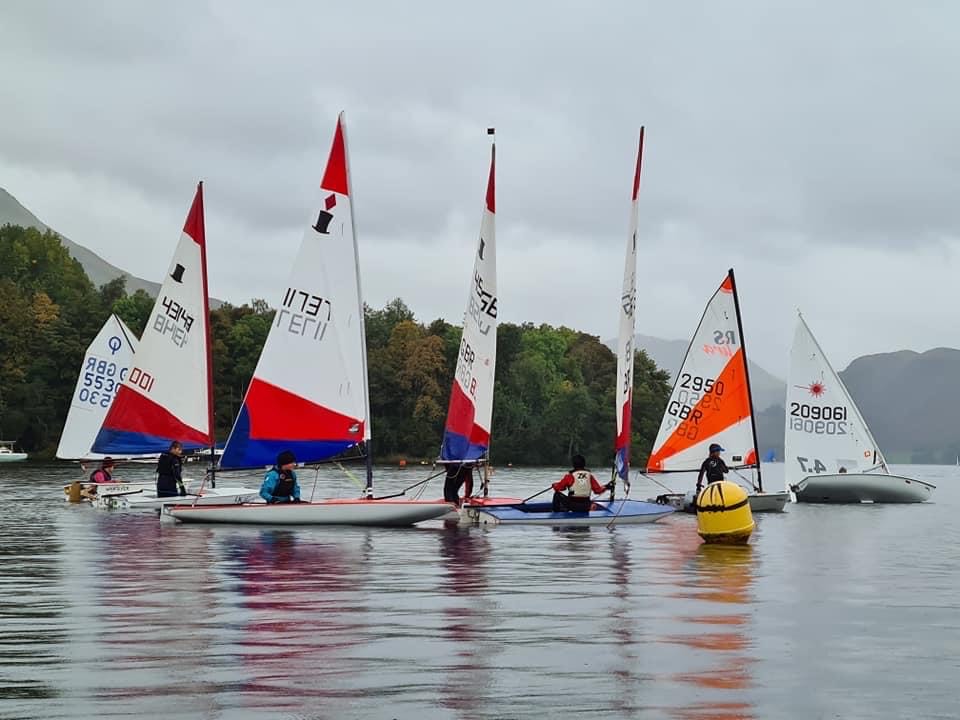 If your club would like a one-to-one chat with me to discuss any concerns or queries about returning to boating in the upcoming new year, please don't hesitate to get in touch by email.
Happy sailing,
Adam McGovern
Facebook: https://www.facebook.com/RYANorthWest
Instagram: @ryanorthwest
Twitter: @RYA_NW