In this blog: New opportunities, Courses, club and centre support,
Things have been moving so fast it is hard to stop and report progress. We now have the chance to deliver boating and racing at clubs, as well as training at centres. Yes there are restrictions and controls, but we all need to use the chance to re-engage with existing members & volunteers, to help with the recovery effort. That will also allow us to satisfy the growing demand from new boaters, and potential new members, in particular as the Tokyo Olympics (hopefully) draw near.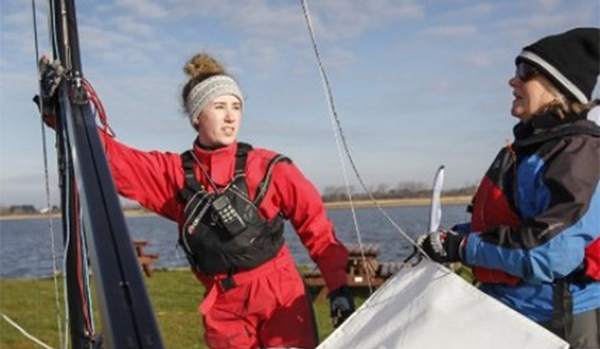 On workforce development, new officials have been qualified, thanks to some new online courses run in particular by Robin Gray. Instructor development has been slow to restart, due to lockdowns and venue restrictions, as well as the shortage of opportunities to have the necessary pre-requisite items in place beforehand. After failed attempts to run Dinghy and Senior Instructor courses, we now have a DI Pre Entry Assessment ready for 5 June, and likely to be fully booked. The management of interested candidates who had already booked and or paid for courses has been challenging, as well as dealing with the large number of others inquiring. Race coaches have been more fortunate, as Ballyholme YC were able to run a course in April. James Farrell and Chris Penney are both now Race Coach Tutors and able to discuss race coaching ideas for your club.
We now have Re-discover Sailing at several clubs running during June, to re-engage members, and the Get Wet NI programme which will promote similar events locally.
We have now adapted the RYA guidance for formal Training, to suit the NI situation, and this will be published very soon.
A number of volunteering opportunities now exist at clubs, centres, and at RYANI sub-committee level. Also several clubs and centres are looking for qualified instructors to deliver courses and programmes this season. I have asked instructors to make sure their qualifications are revalidated, and to register themselves with RYA as 'Available for work'. His is important as it allows contact details to be shared and connections to be made.
As the RYA facilities survey closes we face the new RYA club membership census opening for 2021. This is a really important exercise for RYANI as it gives us the insights we need to develop our programmes for the coming year, as well as showing recent progress against targets we set to attract funding. Going forward it will be even more important to know the accurate make up of club membership in terms of gender, age, and disability for example, and not from estimates but actual figures. Only in this way can we move to a position where inequalities can be addressed and diversity improved in all our activities. This will benefit clubs directly as it will remove barriers faced by some sectors of society who would wish to engage in boating.
Our meetings with clubs have started to become face to face again, and whilst online webinars and meetings continue, it is now easier to hold smaller meetings on site. We have found some people more able to engage online, and we hope that some of the positive learning from that will guide us as we plan the year ahead.
New Website
We are delighted that our new website is now up and running, following significant transfer form the old website. There have been some of the expected glitches that are getting steadily resolved, however, the new site will allow much better search and capability options, including logging in to check your qualifications.
Affiliated Clubs Conference
We are now starting to plan the content for both the Affiliated Clubs Conference and Club Development Sessions programme and we would really value your help with ideas for how we ensure these events remain useful and relevant to clubs. This is your opportunity to feed in the ideas that you have always wanted to learn more about so that you can improve the offering your club gives to its members or potential members. There is no such thing as a bad idea at this stage, together we will find the information and ideas that you are looking for. Let us know what you think!
Dinghy Trails
A new Dinghy Trail on Lough Erne is to be published as part of a UK wide network of trails. Watch for more details in the next few days.
Reopening changing facilities
The Department of Communities has published some guidance on the re opening of changing rooms, as well as other re opening advice and resources, available on the DfC Return to Sport webpage.
Small Grants Scheme
Some new funding for capital/ equipment has opened through DfC. Full criteria and information is available on the DfC website.
Red Diesel delay
RYANI and RYA have both welcomed the announced delay to the changeover date for white diesel for private pleasure craft in NI. This came after ongoing engagement with HMRC/ HM Treasury by both organisations on the issue. More details are available on our news webpage and our Representation page.
Youth Championships
Finally we are preparing information about the Youth Champs, and plans to develop OnBoard activity for clubs and centres. Watch this space!
RYANI staff continue to work from home where possible, but there is a presence at the office so the post and landline are getting through. We hope to meet or talk to you very soon!