Hi everyone,
As we approach the end of the year may I wish everyone a merry Christmas and happy New Year. 2021 has been yet another challenging year and as I look back over the last 12 months, we have certainly been through quite a lot. It started of course with another lockdown and online learning for many children but as the year progressed activities were once again able to resume.
In our region, which was also reflected nationwide, people were keen to return to the water and our clubs bounced back from being closed to seeing more people than ever before enquiring about how to get involved with watersports or returning back to the sport.
COVID Guidance
As the Government is starting to reintroduce both Covid related guidance and regulations, the team at the RYA are working hard to keep our information for you on this topic up to date. We know that at times there is a delay between the Prime Minister's announcements and us being able to update our guidance; this is normally a result of us waiting for the Department for Digital Culture Media and Sport (DCMS) to update their guidance or at times for us to have sight of the wording of the legislation which can make a significant difference between what is and is not permitted. We will continue to apply pressure to these bodies as we know how important it is for you to know what is permissible or advisable as quickly as possible. Our guidance is available here, scroll down the page to find our "FAQs on COVID-19 Guidance."
RYA Discover Sailing
This year, the RYA Discover Sailing scheme helped many clubs manage this influx of enquiries with resources to help run successful open days. Next year we will once again be running the Discover Sailing and ReDiscover Sailing Schemes, providing yet again lots of helpful resources to help clubs reach out to local community groups and run great events.
The closing date for the first print run for your club to order materials and resources is 7 February 2022, and from then on subsequent deadlines for ordering marketing resources will be the 7th of every month. So please do consider signing up. More info can be found here.
ClubZone - free online resources
Did you know that there is a whole host of valuable resources available for all RYA affiliated organisations and recognised training centres in ClubZone, which can be found here.
ClubZone is an exclusive on-line resource which was introduced as part of the re-launched RYA website earlier this year. It contains a range of useful contents including club legal advice and club management, tips on finding and retaining members, club premises guidance, managing on water activity and volunteer support.
To access ClubZone you need to log into 'My RYA' (or registering an account), and you need to make sure that your account is linked to your affiliated club. To do this you will need a password which you can get from your club, or us. Once this is completed you will be able to enter the ClubZone area immediately and take advantage of everything that it offers.
Affiliated Clubs Conference
As I mentioned last month, I'm so sorry that I wasn't able to see you all at last months in person event in Southampton. If, like me, you were unable to attend, you can still get involved online! Watch our South regional video update featuring myself, Leon, Duncan and South Chair Mike Samuelson here
The core topics from the national event are also moving online in the shape of four workshops. The interactive club workshops, which will be led by experts to support you with your planning, will take place in January 2022, all in the evening at 8:00pm – 9:00pm. Book here.
• Retaining members - How can we recruit and retain more members? 10th January
• Recruiting volunteers - How can we recruit and retain more volunteers? 17th January
• Facilities development - How can we develop or replace our facility? 24th January
• Governance and legal challenges - What advice is there for the governance and legal challenges our club is facing? 31st January
Registration for these online sessions is available HERE
If your club has a small number of volunteers doing the majority of work, then the volunteer workshop will be really useful for you. Whilst, if you would like to learn more about the differences of being an incorporated or unincorporated club then the governance workshop is for you.
With 90% of club renewals taking place in the first three month of the year, the how to retain members workshop is extremely timely and will be of great benefit. There is also some handy information about positive communications at renewals time here.
Following on from this being discussed at the national event, I know that many clubs are now creating club development plans. I am more than happy to facilitate a session at your club with your club committee to help develop your plan. Please do get in touch with me if you need some help in this area. You can also catch up and watch the national event here.
Inclusivity
I know that more and more clubs are trying to be more inclusive so that they can attract more members. So to assist you with this we have created an inclusivity toolkit which is designed to help clubs and centres to establish where on that journey they currently are and offer guidance on how to move forward from there. The tool itself comes with loads of templates and additional resources to help clubs and centres to navigate their way through the tool. The toolkit is now ready to be tested by a small number of clubs and we are looking for some volunteers to take part in the "Phase 2 Pilot". This will involve a select number of clubs trailing the tool within their clubs through the winter and then providing feedback to us on how they found the tool and provide us with a case study. If you would be interested in joining the phase two pilot and helping us to create an incredible resource, please talk to me or contact the equality team on equality@rya.org.uk.
Vote for our Club of the Year finalists
As mentioned last month, congratulations go to Brading Haven Yacht Club and Lymington Town Sailing Club – on becoming our two regional finalists in the 2022 RYA and Yachts & Yachting Club of the Year Award.
In addition, Brading Haven Yacht Club has been recognised for its Sustainability achievements and Lymington Town Sailing Club has also been awarded in the Modern & Innovative category. Both clubs will receive their awards at a presentation at the RYA Dinghy & Watersports Show at Farnborough International, on Saturday 26th February 2022, when the overall winner will also be announced. At the show Warsash Sailing Club will also be presented with a Certificate of Commendation.
And now its over to you in the public vote. We need you to share with as many colleagues as possible and encourage club members to vote here.
Instructor and Race Coach Training Day
The Instructor and Race Coach Training Day will take place next year on 19 March 2022 at Thorney Island. With a name change reflecting how this day is now open to Race coaches as well, the day aims to refresh skills and reconnect with other instructors and race coaches. Booking will open soon.
CPD
Clubs should be planning now for the upcoming spring season. Please do contact me so that I can help make sure that your club is as fully prepared as can be. If your club is interested in Race Course Level 2 in particular then please contact Duncan West - duncan.west@rya.org.uk - South Regional Performance Manager, as he is keen to hear from you. You can also complete this Race Coach Level 2 expression of interest form
In addition, do keep an eye on the South region hub here for all our upcoming regional courses. You can also complete this RYA Qualification Courses & Club Support Sessions expression of interest form.
Volunteer awards
Congratulations to all the volunteers from the South region who have been recognised at the annual RYA Volunteers Awards. Carla, Lady Stanley of Alderley, receives the Honor Preston Award. Brian Grubb of the Civil Service Sailing Association (CSSA), Charles Cooper of Guernsey Yacht Club and Robin Ebsworth of Bembridge Sailing Club receive Lifetime Commitment Awards. Ellie Gaddes from National Schools Sailing Association, Andy Pavey of Brading Haven Yacht Club and Steve White from Cody Sailing Club receive the Outstanding Contribution Award. A full round up is coming soon and in the meantime you can read more about the presentation including a video here.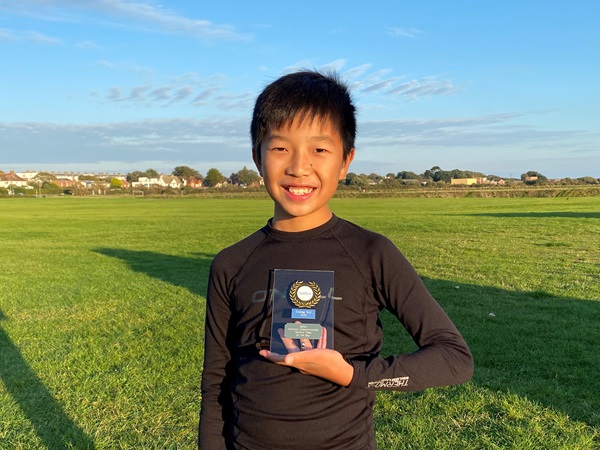 John Merricks Sailing Trust
Congratulations to Jayden Siu from Andrew Simpson Watersports Centre – Portsmouth, who has been selected as the South recipient in the OnBoard and John Merricks Sailing Trust scheme. Jayden will shortly receive a brand new Bic Techno windsurf. After two years the board will be donated to the club for other youngsters to progress in the sport too. Well done Jayden! You can read more about all the recipients here.
Save 30% on RYA Membership
The RYA is currently offering 30% off new RYA Adult and Family memberships until 31 March 2022, using the discount code ACCRYA30 at the online checkout. This discount is not for renewals or re-joins. Please feel free to share this code with your club members.
Kitesurfing and wingsurfing insurance now available
Members of the RYA can now take advantage of free third-party insurance for kite surfing, kite foiling, wing surfing and wing foiling as part of their RYA membership. Discover more here. Let your members know!
The Green Blue webinar – seagrass in The Solent
On Thursday 16 December at 7:30pm – 8:30pm, a free LIFE Recreation Remedies webinar on sustainable anchoring & moorings and amazing seabed habitats in The Solent will take place.
Led by the RYA and The Green Blue, this is a great opportunity to learn all about best practice techniques to help minimise impacts on these sensitive seabed habitats and discover why protecting seagrass beds is so important to the health of our seabeds. Register to book your FREE place here.
Save the date - 2022
• RYA Raymarine Training Conference (virtual) 5th February
• RYA Sailability Conference, Wyboston Lakes, 12th February
• RYA Dinghy and Watersports Show, 26-27 February, Farnborough International Exhibition & Conference Centre
• RYA South Instructor and Race Coach Training Day, 19 March, Thorney Island
• RYA Youth Nationals, Plas Heli, North Wales, 9th - 15th April
• Discover Sailing (April-Sept) – first deadline 07 Feb, 07 each month thereafter
• RYA Eric Twiname Junior Championships, 30th April - 2nd May, Rutland SC
• BYS South & South West Regional Junior Championships (windsurfers) 11th – 12th June, location tbc
• BYS South & South West Regional Junior Championships (dinghy) 18th – 19th June, WPNSA
• RYA Eric Twiname Team Racing Championships, 8th - 9th October, Oxford SC, Farmoor
Help and support
I know that the link from last month's Clubroom may have taken you to an earlier Susie's Scoop blog. The November blog can be found here.
Please remember that the RYA South team are here to help and support you. As ever, please don't hesitate to contact me - susie.moore@rya.org.uk if your club has any concerns, questions or would like advice.
The South team and I will be taking a break over the festive period and HQ will be closed from the 23rd December until the 4th January.
Until next time - I wish you all a very happy Christmas and a safe and healthy new year,
Susie