Hi everyone,
I, along with millions of people around the world, am deeply saddened by the loss of our Patron, Her Majesty The Queen. This is a tremendously sad time for the nation, and for the many clubs in the South region with royal connections.
The Queen visited the South region many times during the 70 years of her reign, and The Royal yacht Britannia was a regular visitor to The Solent, where the Queen along with members of the Royal Family would embark in Southampton Docks.
In 1948, Bluebottle was presented to Her Majesty The Queen (then HRH Princess Elizabeth) and HRH Prince Philip as a wedding present from the Island Sailing Club of Cowes, Isle of Wight.
The Queen's last visit to the Isle of Wight was during the last day of her Diamond Jubilee tour in 2012. Whilst on the island she opened a new RNLI lifeboat station and along with The Duke of Edinburgh met some of our region's youngsters taking part in the RYA OnBoard programme.
The Queen christened many ships from Southampton, which began when she was still Princess Elizabeth, launching Cunard White Star Line's Caronia in October 1947. Her final visit to our area was for the naming of Britannia in 2015.
My thoughts and condolences are with The Princess Royal, RYA President, and the entire Royal Family.
Summer activity
During the last few weeks, I, like many of you, have been out on the water and enjoying the lovely warm waters and competing in regattas. A win at Dartmouth Regatta was an added bonus!
Our region has been really busy this summer with heaps of training, racing and regattas, along with lots of junior and family events plus open events. And the season hasn't quite finished yet, with clubs taking part in Bart's Bash activity this month – a popular event for many clubs in the South.
Instructor Skills Development Sessions
I have also been improving my dinghy instructor training skills. I certainly learnt a lot from my recent Trainers Course.
We will soon be launching some brand-new skills development sessions for instructors in our region. Details on these will be announced soon, if you are interested and would like more information then please contact the South's Sailing Development Officer, Polly Schafer.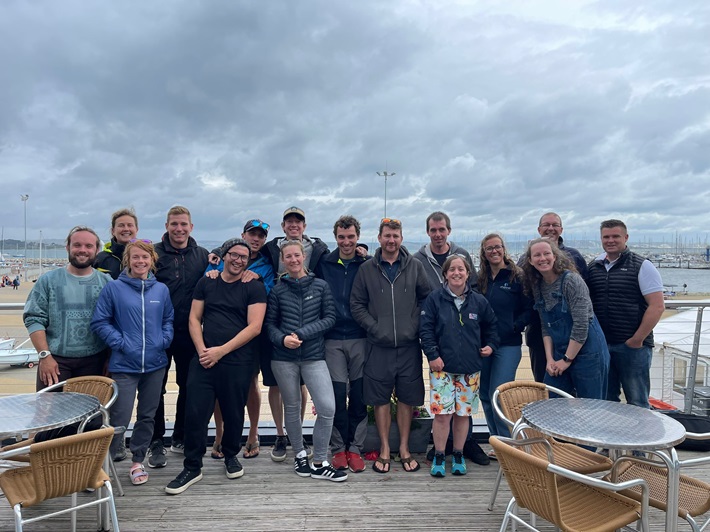 RYA Club Membership Census
I'm delighted to report that the majority of our clubs submitted data for the RYA Membership Census. This is a fantastic achievement which meant we reached the 80% target of clubs returning their forms.
A big thank you to everyone - I know that sitting in front of a computer is difficult especially when clubs are extremely busy with activity. If you haven't submitted yet it's not too late!
Whilst we are still awaiting the full results - which will be available at our regional Affiliated Clubs Conference - early indications for the South point to an increase in membership from last year.
Affiliated Clubs Conference
This year's conference will be preceded by a scene-setting national Online Club Briefing at 7pm on Wednesday, 5 October 2022, hosted by Olympian and broadcaster Shirley Robertson. Look out for further details on our social media channels and remember to register for the RYA Live Club Show online!
The South in-person event will once again take place at the National Oceanography Centre in Southampton on Saturday 12 November. This world-class research centre is a fascinating place to visit and network with other clubs. It is open to all club committee members and you can now sign up for your FREE ticket here.
The day will focus on meeting the needs of your club and members – new and old alike. Specialist workshops will take place and we will in particular look at participation pathways, volunteering, diversity, equality & inclusion.
The RYA South Region AGM will also take place during the day and provides the ideal opportunity to meet members of the Regional Committee and find how our volunteer team can help your club.
You will also be able to meet myself and the regional team, plus additional RYA experts. We are all here to help you. This is the major event of the year – you don't want to miss it!
Youth and Junior news
I am extremely proud of the efforts which our clubs go to in attracting new youngsters into sailing AND encouraging them to stay in and compete in our sport.
The RYA OnBoard programme offers excellent opportunities across the country for youngsters to ty out sailing for the first time. I am pleased to announce that three more clubs from the South region have joined this excellent programme. I warmly congratulate Calshot Activity Centre, Netley Sailing Club and the University of Southampton on becoming RYA OnBoard venues.
Over this summer, lots of youngsters competed and raced in RYA organised activities. Over the next few weeks, some of these will be contacted by Duncan West and invited to join the British Youth Sailing Regional Training Groups. We will announce the names of all the sailors and their clubs in next month's blog.
Activity throughout the winter
This year saw an increase in families and youngsters taking to our South waters. Our challenge now is to keep new and retained members alike involved throughout the winter months, whilst also taking into consideration the rise in cost of living.
On shore activities which can take place whatever the weather throws at us can prove very popular. How about organising non-boating events and activities such as a litter pick up or a local wildlife count, or even invite a local expert to host a talk?
Perhaps organise an evening showing of the British Sailing Team's brilliant new documentary, Chasing Tokyo. The film follows the team in the run up to and during the Tokyo 2022 Olympics. There's lots of footage from the South region with many familiar South region faces.
Some more top tips to help inspire your members all year long can be found here.
Until next time,
Susie