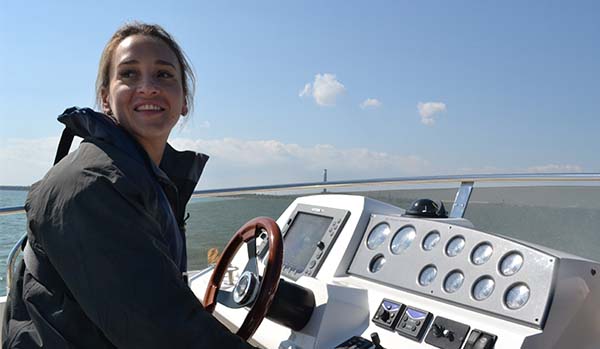 Motor cruising is great fun, and a comfortable and convenient way to explore. You can travel greater distances in a much shorter time than on a sail cruising yacht, and with accommodation and cooking facilities onboard you'll be much more comfortable than on a small open powerboat.
You are much less reliant on the weather or wind, and the electronics on new boats can make navigating seem relatively straightforward.
Sounds good right? Well with a little bit of training you'll be out cruising in no time.
Do I need a licence to skipper a motor cruiser?
Requirements vary from country to country, but here in the UK there is no legal requirement to hold a licence to skipper a vessel.
So why bother doing a training course?
The answer is relatively simple. The more competent you are at handling a boat, the more you will enjoy your time on the water. You'll also ensure you have the knowledge and skills to keep you, your crew, your boat and other water users safe.
RYA qualifications are highly respected worldwide and the courses in the Motor Cruising scheme offer something for those of all ages, abilities and experience levels.
The RYA Day Skipper Motor qualification will enable you to safely and confidently take charge of a 25-60ft motor boat on day trips in familiar waters.
It will also help you get the most out of your modern electronic aids such as GPS and radar, which are now virtually standard equipment on all modern motor cruisers.
If you want to hire a boat for a day, a weekend or even on holiday, having a Day Skipper certificate will show charter or boat share companies that you have enough knowledge and practical experience to take their boats out safely.
It will also enable you to apply for an ICC (International Certificate for Operators of Pleasure Craft) which means you can go cruising abroad.
Finally, if you're a boat owner you'll want to protect your investment. Many insurance companies now require some evidence of training before they will agree to insure your vessel.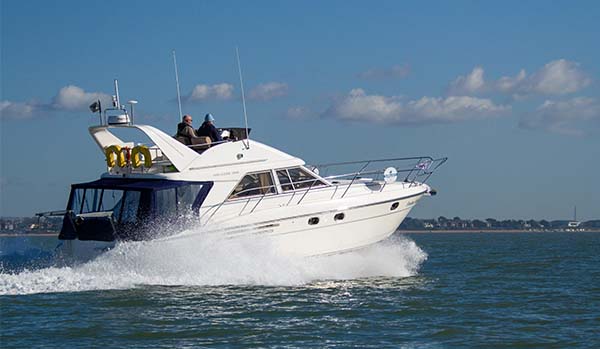 Where do I begin?
The RYA Day Skipper Motor qualification is perfect for new boat owners looking to get to grips with their first boat, or more experienced skippers wanting to increase their knowledge - it's also the ideal course for powerboaters wanting to move on to larger vessels.
The four-day practical course can even be taken on your own boat, enabling you to practice your boat handling in your local cruising area, all with the help of an experienced instructor.
Here's everything you need to know.
What experience do I need?
Before attending the practical course, you should have a basic knowledge of navigation and theory and are encouraged to complete the RYA Day Skipper Shorebased course or have knowledge to that level.
The shorebased course will take around 40 hours to complete and can be taken either in the classroom, online or by distance learning, with many centres offering flexible learning options to fit in around work or other commitments.
You'll cover safety, collision regulations, chartwork, electronic navigation, meteorology and the basics of seamanship.
Next, provided you have some motor cruising experience (at least five days on a motor boat) you can get out on the water!
The practical course
The RYA Day Skipper Motor practical course takes four days on a motor cruiser. It can be taken in one block or split over two weekends.
An instructor will always be with you to ensure your safety and to guide and encourage you through each manoeuvre, either on the school's boat or your own vessel if you have one.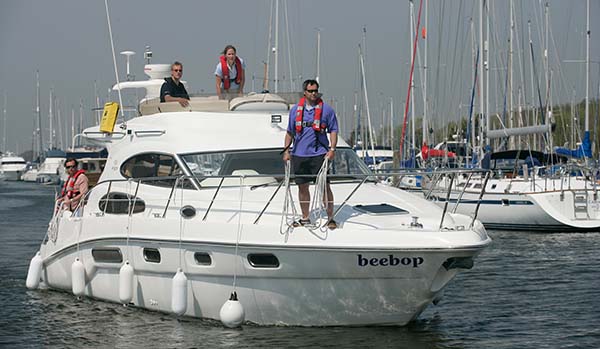 What will I learn?
You will learn how to take charge of the boat and her crew safely. By the end of the course you should be confident to:
Safely manoeuvre a boat at high and low speeds
Be able to react to emergency situations
Understand the effects of weather conditions and tides
Make informed decisions about whether to go out in certain forecasts
Decide where to berth and what time of time of day to arrive
Delegate tasks and direct your crew
Adapt your plans when challenges arise
Look after all aspects of safety on board
Understand the rules of the road
Undertake some night cruising
Do I have to stay onboard?
No. The RYA Day Skipper Motor course is non-residential and usually day sails from the training centre's home port. You can arrange overnight accommodation nearby, or if you are local go home every night. You should expect at least one night with a later finish when you do your night cruise.
If you are completing the course on your own vessel, you can of course stay onboard. The training centre may also be able to organise for options such as not day sailing from your home port, but cruising for the 4 days with your instructor also staying onboard or locally.
What are the benefits of using my own boat?
If you have your own boat and it is suitable for a Day Skipper course this is a recommended option. The course can be tailored to you and your local cruising area. You'll also get to know the boat better while practicing all the manoeuvres with the safety net of an instructor.
You will need to bring along a few people to act as crew for the duration of the course. This might be friends or family that already have some experience, or they might want to gain some experience and do an RYA course at the same time.
The RYA Day Skipper Motor course can be run for more than one person or can be combined with entry-level courses like RYA Start Motor Cruising or RYA Helmsman. Up to five people can attend so it's a perfect way for family or friends to learn together.
Training on a school boat
Of course many people who are considering attending a Day Skipper course do not have their own boat. You might be thinking about buying one in the future, chartering one or just want to learn more to help a friend or further your knowledge.
If you don't have your own boat, or it's not quite big enough or too large to learn on, then using the training centre's vessel is a better option.
Using a school boat is also a good opportunity to learn with other students that are on the same course. It might even influence the type of cruiser you want to buy in the future as you learn more about the characteristics and what will suit your needs.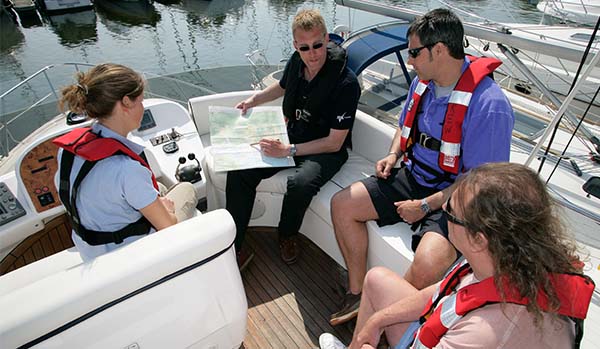 What about cost?
If you're an individual it will be cheaper to do your course on a school boat, but if there's more than one of you and you have the option of using your vessel this is usually more cost effective.
Is it for me?
RYA Chief Instructor of the Motor Cruising scheme, Vaughan Marsh says: "RYA Day Skipper for Motor is a brilliant investment for anyone thinking of chartering, has bought or is thinking of buying a new vessel, especially if you're moving from a powerboat to something that you can cruise in more comfortably. Not only is it a fun course, it teaches you how to use your boat and enjoy it."
Find out more
The RYA Day Skipper Handook Motor (G97) is the official handbook supporting the RYA Day Skipper Motor Cruising course and ideal for anyone looking for a guide to the practical elements of motor boating. Get your copy from the RYA Webshop.
Find out more about the RYA Day Skipper Motor course, or other courses within the RYA's Motor Cruising scheme here.
Or to find a centre and book a course, visit rya.org.uk/wheres-my-nearest