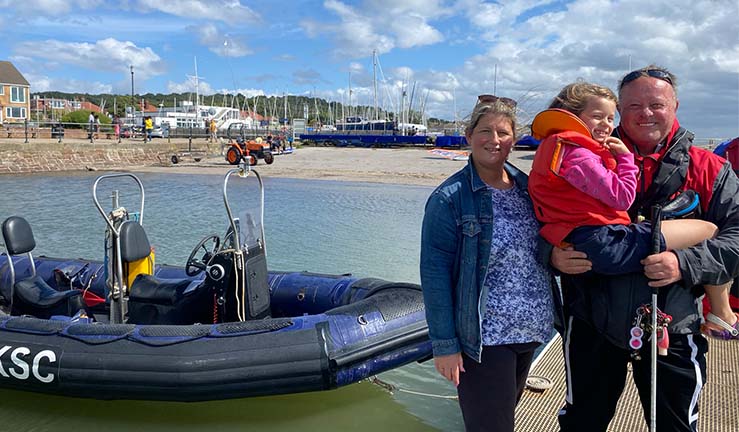 Dave with his wife Eva and daughter Silke, after completing the course
Ask Dave Kelly what sparked his interest in powerboating, and he'll respond with a smile. "I'm definitely a man who loves a challenge," he laughs. "When you have a disability, everybody is constantly telling you what you can't do – but I want to show what I can do."
Dave lost his sight 18 years ago due to a rare eye disease but has dedicated his life to supporting others with disabilities via his Liverpool-based charity, Daisy Inclusive UK.
"Through sport, education and employment we help people achieve what mainstream society typically assumes is impossible," explains Dave. "Sailability is close to our hearts, and you bet I was up for trying powerboating."
It was Phil Hastain, Daisy Inclusive's disability hate crime officer, who had the idea of getting Dave at the helm of a powerboat. Phil is also Chief Powerboat Instructor at West Kirby Sailing Club and was confident Dave would be able to master the manoeuvres – as long as he worked closely with a sighted commentator.
"I approached James Wheeldon, RYA North East's Disability Development Officer, about it last year," explains Phil, "he thought it would be achievable and that, if successful, Dave would be the first blind person to pass Level 2 Powerboat Handling. Of course, we couldn't resist trying it then."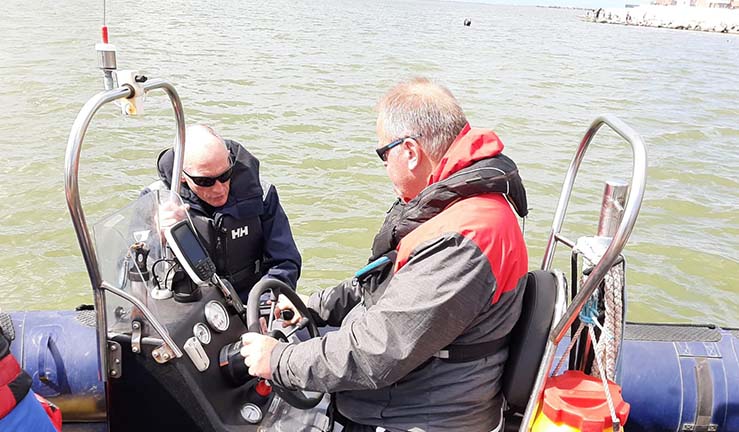 Dave on the helm (in red) with Phil Hastain (in black)
Learning the theory
In order for Dave to learn the syllabus, he needed a version of the coursebook that his iPhone could read aloud. "But there are so many diagrams in the book that just hearing the words wouldn't be enough," says Phil. "He needed to 'see' the illustrations, to have every detail narrated – what's known as audio description. So I contacted the RYA: could they make a version for Dave?"
Little did Phil realise, but RYA eBook Editor Sarah Pavey had already completed accessible versions of many other coursebooks, so she was ready to adapt Start Powerboating (E-G48).
"We're proud of our approach to accessibility," says Sarah. "For digital use, we produce Apple Books and Google Play Books, which offer image descriptions, navigable headings, video captions and customisable fonts, so we welcome requests from students with accessible needs. Everyone should be able to enjoy our publications."
Getting on the water
After a few weeks, Dave was ready to get on the water, so Phil asked Brendan Little, a former police surveillance specialist, to act as Dave's guide.
"His training means he's an excellent communicator," says Dave. "To practice, we went out in his car and he described everything he saw – we developed a kind of verbal shorthand, very clear and concise."
Brendan also took the Powerboat course so he was familiar with its content, and in August 2021 the trio headed to the marina. "I was immediately hooked – it was like flying," recalls Dave. "The freedom of being on the water was fantastic, as was the trust we had in each other."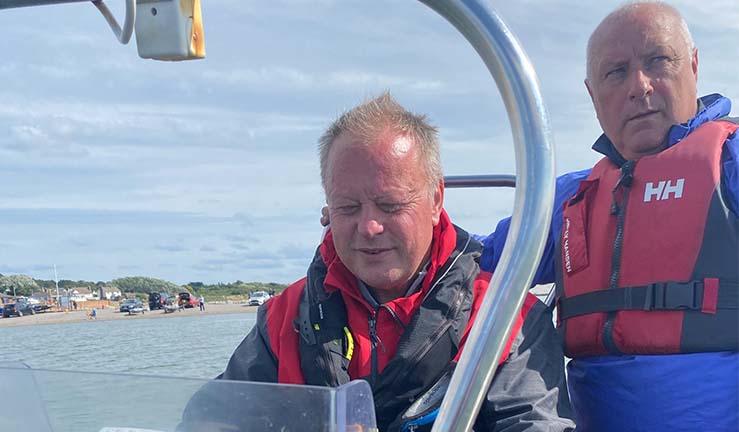 Dave on the helm with Brendan Little
Under Phil's guidance the group completed the course, with Brendan narrating obstacles, distances and conditions, while Dave felt the wind direction, engine power and physicality of the manoeuvres.
"I was amazed by his precision," says Phil. "He was so skilled at using wind direction and his senses to position the boat."
Dave was awarded the Powerboat Level 2 certificate after two "intense but incredible" days, with the endorsement 'assistance required to complete the course'. "I couldn't have done it without them both, nor the special coursebook, which I know will help so many others," says Dave.
"The icing on the cake was taking my six-year-old daughter for a spin afterwards – she was so excited, and so proud of her daddy. I know we'll both treasure that moment forever."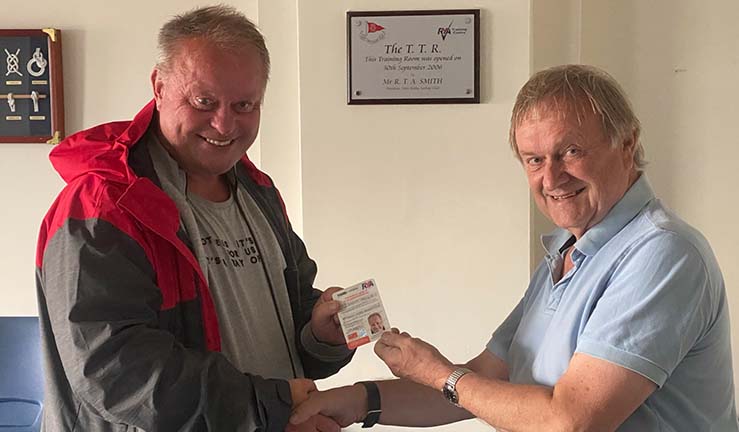 Dave being presented with his certificate by Club President, Peter Bramley
The course
The RYA Level 2 Powerboat Handling course is aimed at anyone wanting to drive small open powerboats for either leisure, work or in connection with another activity such as sailing or rescue.
The entry-level course covers slow-speed close quarters handling, man overboard recovery, driving at planning speed and collision regulations.
Duration: 2 days
Minimum age: 12
Required experience: None
For more information about RYA powerboat courses and to find an RYA recognised training centre near you, visit www.rya.org.uk/training/powerboat.
Or to find out more about RYA's approach to accessible publications, visit www.rya.org.uk/go/accessiblebooks